Features
New Books Celebrating Badass Women of Sci-Fi
Villainous queens, vampires, androids, knights, necromancers, and witches (re)tell their own stories in these Spring novels out now.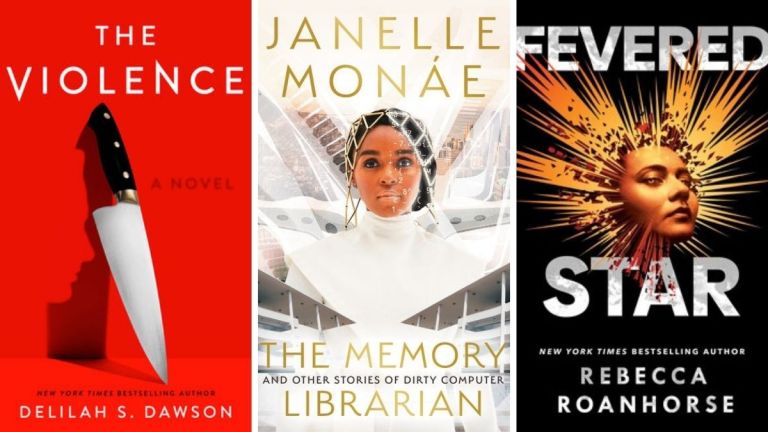 The summer is approaching, the sun is sort of sometimes coming out and you might find yourself on the look out for something to read. We're rounded up a collection of novels that were released this spring which feature the stories of some badass women from all areas of sci-fi.
Any favourite female sci-fi characters you'd like to recommend? Let us know in the comments.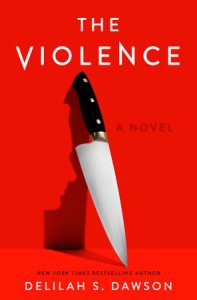 The Violence by Delilah S. Dawson
Publisher: Del Rey
The prolific (writing across YA, horror, Star Wars, and more) Dawson's latest is a pandemic thriller that turns victims into victors. Three generations of women (wife Chelsea, her daughter Ella, and mother Patricia) are held captive by controlling husbands or fathers. But when they become infected by a strange condition called the Violence, the symptoms of which are surges of animalistic rage, they find a brutally fitting way to break their respective cycles of abuse.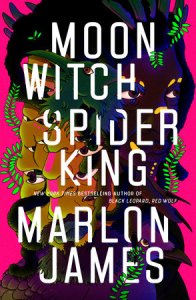 Moon Witch, Spider King by Marlon James
Publisher: Riverhead Books
The highly anticipated second book in James' epic fantasy Dark Star trilogy takes a Rashomon-style approach by retelling the events of Black Leopard, Red Wolf through the eyes of one of its minor characters. Sogolon is a 177-year-old Moon Witch who crossed paths with Tracker, searching for a missing boy. While initially depicted as an untrustworthy adversary due in part to being a woman, Sogolon's version of events presents a different take on the truth.
The Bone Orchard by Sara A. Mueller
Publisher: Tor Books
When the Emperor dies, he charges his favorite concubine with solving his murder. But Charm is more than a ruler's plaything: she is a necromantic witch, her once-great powers reduced to tending the empire's bone trees. As she deduces which of the Emperor's sons should be named his successor and which should be jailed for regicide, she must grapple with obeying this final command versus taking back control of the rest of her life.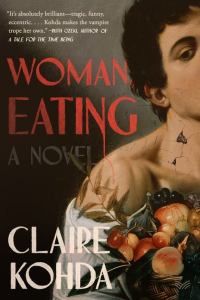 Woman, Eating by Claire Kohda
Publisher: HarperVia
This debut examines the modern vampire story through binaries: a biracial bloodsucker squats in a London studio space wishing she could befriend other artists but binges Buffy instead. Too tempted to bite any human friends, what she really craves is the sushi that would connect her to her Japanese father. Kohda examines women's complicated relationship with food and hunger through the lens of a young immortal who has seemingly everything but companionship and control.
Saint Death's Daughter by C.S.E. Cooney
Publisher: Solaris Books
A necromancer with an allergy to violence, Lanie Stones is nonetheless well acquainted with death. The shocking murder of her mother and father forces her and vicious sister Nita to settle their parents' unfinished business—namely, their outstanding debts—or else lose their childhood home. Aided by some family ghosts, and terrorized by others, Lanie must embrace her birthright as a daughter of the goddess of Death in this new trilogy from World Fantasy Award-winning Cooney.
The Memory Librarian and Other Stories of Dirty Computer by Janelle Monáe
Publisher: Harper Voyager
Monáe's 2018 album 'Dirty Computer' showcased her penchant for Afrofuturist narratives via songs and music videos, featuring the artist as dystopian android Jane 57821, struggling to escape a homophobic society. This new collection expands those tracks into stories about queerness, gender, race, and love. Monáe collaborated with contemporary SFF authors including Alaya Dawn Johnson and Sheree Renée Thomas to further explore the concept of the "dirty computer": finding beauty and hope in what society considers flaws.
Fevered Star by Rebecca Roanhorse
Publisher: Saga Press
Black Sun, the first book of Roanhorse's Native American fantasy series Between Earth and Sky, unbalanced the world. Now an eclipse threatens the great city of Tova as its survivors navigate the Meridian, a land where legends are made flesh-and-blood. From a sea captain taking hold of her destiny to Clan Matriarchs staving off war to a resurrected Sun Priest struggling to hold on to her personhood, there is no shortage of badass women here.
Spear by Nicola Griffith
Publisher: Tordotcom Publishing
Hild author Griffith genderbends Arthuriana by reimagining tales of Percival and the Holy Grail with a young woman who basically knights herself. Not a chosen one by destiny, Spear's armored heroine nonetheless chooses to place herself within an epic quest, armed with a stolen spear and aimed for Camelot. Despite the short novella length, Griffith weaves an epic, queer adventure that will no doubt live on as part of the new Arthurian canon.
Kaikeyi by Vaishnavi Patel
Publisher: Redhook
In the Indian epic the Ramayana, queen Kaikeyi occupies the familiar Western role of evil stepmother, exiling protagonist prince Rama in favor of her own son. However, Patel's debut reexamines Kaikeyi as a princess witnessing what little power she wields as a woman, while begging the unsympathetic gods to intervene. In this retelling, Kaikeyi accesses an ancient magic that transforms her into a warrior-diplomat, but the price will threaten the destiny of her beloved Rama.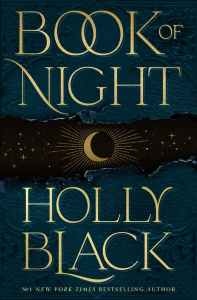 Book of Night by Holly Black
Publisher: Tor Books
Black's adult debut will thrill fans of her YA faerie stories and new readers. This urban fantasy set in the Berkshires follows bartender Charlie Hall, the thief that magicians contract to steal from one another. After spending half her life working for gloamists (sorcerers possessing people's shadows), Charlie is trying to get out of the shadow business, but her desperate sister, soulless boyfriend, and a past opponent threaten to pull her back into the darkness.