Features
All the Tides of Fate Exclusive Cover Reveal
We have an exclusive first look at the cover for Adalyn Grace's All the Tides of Fate, the second book in the All the Stars and Teeth YA fantasy duology.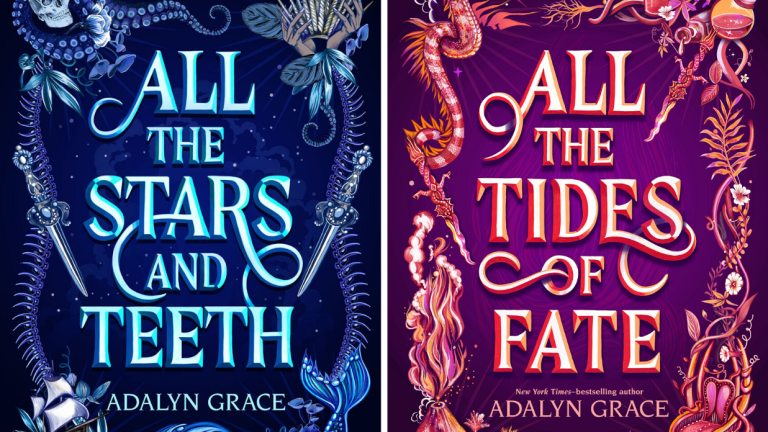 The year 2020 hasn't been all bad. In February, we got the release of Adalyn Grace's All the Stars and Teeth, a vivid YA fantasy featuring mermaids, pirates, and a princess on the run. In February 2021, we'll be graced with the next and final installment in the duology: All the Tides of Fate. Den of Geek is very excited to reveal the cover for the much-anticipated conclusion…
All the Tides of Fate will continue the story of Amora Montara as she and her ragtag crew (including fan-favorite mermaid Vatea) go on another high seas adventure to recover a powerful mythical artifact.
"I'm so excited to be sharing the cover of All the Tides of Fate with everyone!" Grace told Den of Geek via email. "Sequels are notoriously difficult to write—especially when they're the conclusion to a story that's been with you for so many years—so seeing this beautiful cover out and live and no longer a secret is making everything feel so real. I guess this means I officially wrote a second book! It's not just one big fever dream!"
Speaking more specifically about the story elements in the series, Grace teased: "Having faced so much in the previous book, there are many new facets of Amora and her relationship with herself and others that are deeply explored in this book. Where the first book was much more focused on her exploration and discovery of the world, All the Tides of Fate is more deeply rooted in the characters. I wanted to honor the pain and challenges that Amora endured in Book 1; I wanted them to become part of her, and to examine how they would shape her and her future."
Speaking about the writing journey for All the Tides of Fate, Grace shared: "Writing this book was an emotional process—I cried way too many times, both because I'm so attached to these characters, and because it was taxing to settle into Amora's character and to help her pick up the broken pieces of herself—but I'm very proud of this conclusion to Amora's story, and I can't wait to share it with readers."
Designed by Natalie Sousa with art by Gemma O'Brien, here is the gorgeous cover for All the Tides of Fate…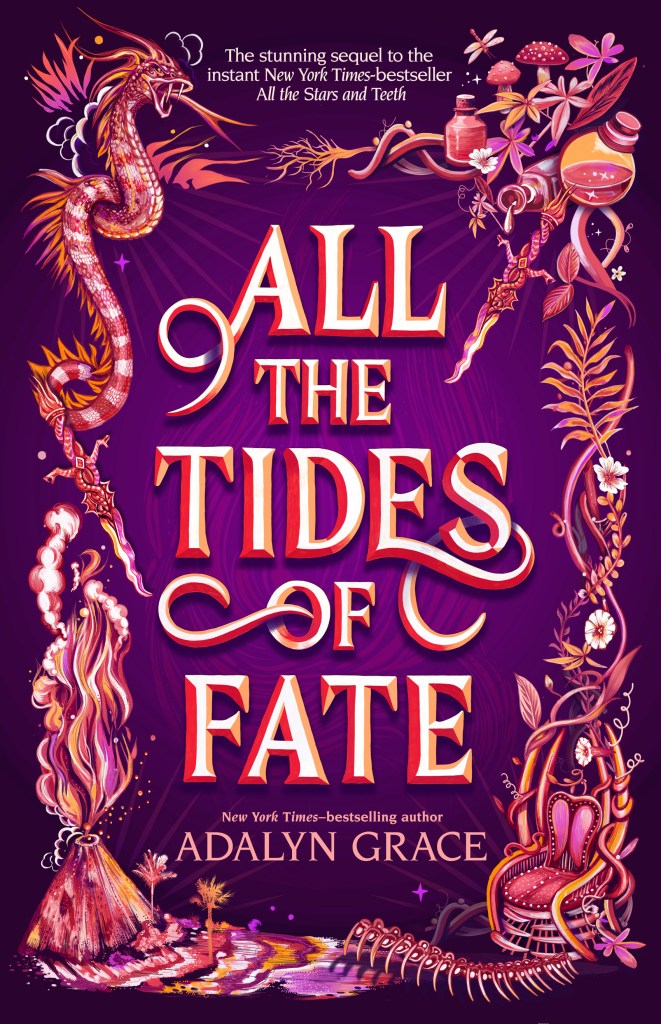 Grace shared some insight into the cover design, saying: "Everything here represents something in the story, and clever readers may already pick up a few hints about the sequel and where we travel! It's funny, because when this cover was first being designed, I was still drafting the book. I hadn't even shared the story with my editor yet, so when she came to me asking about thoughts for the design, I had this moment of panic like, 'Well, I think this happens, so maybe we can include something like this.' or 'I'm currently working on this island, and here's what's going on right now. Hopefully it makes it to the final draft!' Thank goodness it all did, because this cover is so stunning and I would have hated changing anything about it."
Grace had only wonderful things to say about the work artist Gemma O'Brien did for this cover, calling it "out of a dream."
"I'm so luck to have her as the artist behind this stunning cover," says Grace. "Natalie Sousa is the brilliant designer, and I'm so grateful to have had them both as the team behind this cover. They nailed it—I'm so in love with this cover, and hope everyone else is, too!"
For more information about the world of All the Tides of Fate, including information about the first book in the series, you can check out the All the Stars and Teeth website, which includes an excerpt from the first book as well as fun bonus materials. And here is the official synopsis for All the Tides of Fate…
"Through blood and sacrifice, Amora Montara has conquered a rebellion and taken her rightful place as queen of Visidia. Now, with the islands in turmoil and the people questioning her authority, Amora cannot allow anyone to see her weaknesses.
No one can know about the curse in her bloodline. No one can know that she's lost her magic. No one can know the truth about the boy who holds the missing half of her soul.
To save herself and Visidia, Amora embarks on a desperate quest for a mythical artifact that could fix everything―but it comes at a terrible cost. As she tries to balance her loyalty to her people, her crew, and the desires of her heart, Amora will soon discover that the power to rule might destroy her."
All the Tides of Fate is available for pre-order now! You can find out more about author Adalyn Grace by visiting her website.