Features
9 Fantasy Books Set at Magical Boarding School
Did your favorite magical boarding school book make the list?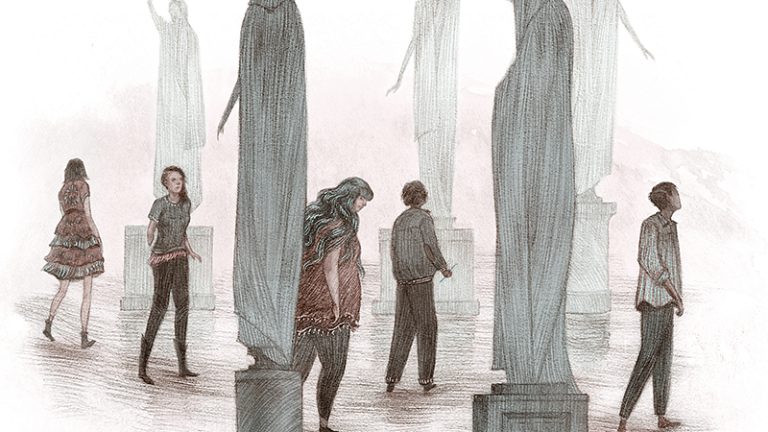 Beneath the Sugar Sky, the third novella in Seanan McGuire's excellent Wayward Children series, is out this week, giving me the perfect opportunity to write about one of my favorite fantasy subgenres: the magical boarding school story.
Here are nine fantasy books that use the magical boarding school setting to help tell their story…
[Note: The featured image comes from Beneath the Sugar Sky's gorgeous illustrations, done by Rovina Cai. Check out more of Cai's work for the Wayward Children series over at Tor.] 
Wayward Children by Seanan McGuire
The novellas of Wayward Children, the series from Seanan McGuire, are examples of smart, affecting fantasy stories that both tells its own story and uses that story to comment on the genre in clever, subversive ways.
In the first book, Every Heart a Doorway, we meet the children and adults at Eleanor West's Home for Wayward Children, a place children returning from a fantasy adventure to help acclimate back to life in our reality. (Narnia's Pevensies or Wonderland's Alice would be great candidates, for example.) When children start to turn up murdered, the children have a mystery to solve.
The second installment, Down Among the Sticks and Bones, tells the story of Jack and Jill—how they ended up in their fantasy world, and what led to them getting kicked out. The third installment, Beneath the Sugar Sky, returns to Eleanor West's Home for Wayward Children for a new story. All of the novellas work as standalones, but can also be read together.
Carry On by Rainbow Rowell
Carry On, the standalone follow-up to Rainbow Rowell's Fangirl, is another example of recent fantasy that has some things to say about the stalwarts of fantasy literature. In Carry On's case, the work it comments on and critiques is Harry Potter, and it's the perfect read for anyone who grew up reading the fantasy classics, but who wants to lovingly critique the story as an adult.
Carry On is the story of Simon Snow, a young wizard at his final year at Watford School of Magicks. Simon is The Chosen One, but he's not very good at it—unable to control his powers and desperate to do so to curb the magic-stealing villain with his face who keeps causing trouble. It doesn't help that his girlfriend recently broke up with him or that his roommate/nemesis/possible vampire Baz is nowhere to be found. His absence is very distracting.
This book is a delightful subversion of the Chosen One narrative, giving the story not just to Simon, but to Baz and witches Agatha and Penelope to tell. It's a queer love story. It's meta-commentary on Harry Potter and fan culture. And it follows the best of fanfiction tropes (meant here and always as a total compliment) to tell its story.
You'll start Carry On by trying to figure out which characters equate to which Harry Potter characters. By the end of this book, you'll realize that this is a story worth loving all on its own.
Among Others by Jo Walton
Real talk? I haven't read this one yet, but Jo Walton is brilliant, so I feel confident recommending it to fans of magical boarding school literature (even if both its magical and its boarding school elements are more subtle and complicated than other entries on this list).
Among Others tells the story of Mori, a young woman raised by her magical mother in Wales. When her mother begins to use dark magic, Mori is forced to confront her in magical battle, which ends with Mori's twin sister dead and Mori with a disability.
Mori goes to live with her father, whom she barely knows, and is sent to a nearby girls' boarding school. Struggling to live in a world largely without magic, Mori dives into science fiction and fantasy literature, reading many of the genres' classics. A book about trauma and stories, Walton writes: "There are some awful things in the world, it's true, but there are also some great books."
Vampire Academy by Richelle Mead
Better than the underrated Vampire Academy movie adapted from it, the Vampire Academy book series is the gloriously not-Twilight of the young adult vampire fiction world.
The six-part Vampire Academy series follows vampire best friends Moroi princess Lissa Dragomir and her bodyguard-in-training Rose Hathaway. After two years on the run, the girls are returned to St. Vladimir's Academy, where they are forced to be separated into their respective training tracks. However, unbeknownst to the instructors and students at the academy, Lissa and Rose share a psychic bond that keeps them connected even when they are apart.
The first book follows Rose and Lissa's reacclimation into the interpersonal drama of school, as well as the growing danger vampire royalty Lissa faces from the Strigoi, an evil race of vampires. These books are more supernatural school than magical boarding school, but this series is so addicting, I doubt you'll care about the fine print.
All the Birds in the Sky by Charlie Jane Anders
The Hugo-nominated book from the co-founder of io9 Charlie Jane Anders, All the Birds in the Sky follows childhood friends Patricia and Laurence, who are reconnected as adults after years apart. Both living in San Francisco, Laurence is a genius engineer working to avert the imminent disaster caused by global climate change and Patricia is a magician working to repair the some of the problems caused by this deteriating world.
The magical boarding school elements of the novel (Patricia attends a boarding school for the magically gifted) are not the main setting, but this book is too good not to mention. A melding of science fiction and fantasy, All the Birds in the Sky is a beautifully-written novel that takes the all-too-familiar pre-apocalyptic structure and imbues it with a sense of hope and wonder that never downplays the very real, relatable problems its characters have to face.
The Magicians by Lev Grossman
You may be familiar with the excellent Syfy TV adaptation of The Magicians, but have you read the book trilogy its based on? Unlike the majority (though not all) books on our list, The Magicians doesn't follow children or teens, but rather 20-somethings as they navigate what is basically magical graduate school.
The protagonist of our story is Quentin Coldwater and—unlike the TV adaptation, which, perhaps by the nature of TV drama, expands the viewpoint almost immediately—the books are very closely tied to Quentin's journey and perceptions. In the first book, in particular, this can make for a challenging read, as Quentin is purposefully a bit of a self-involved whiner, someone who does not understand that to live in one's favorite escapist fantasy story is a lot less fun in reality.
Over the course of the series, Quentin goes from being a student at Brakebills to returning as a teacher, giving us a more complete perspective of its magical boarding school setting. Extra points!
A Wizard of Earthsea by Ursula Le Guin
A Wizard of Earthseais a fantasy classic. Published in 1968, the story takes place on the fictional archipelago of Earthsea, a land of both humans and dragons, and follows young mage Ged as he heads to a school of wizardry and beyond. While at the school, Ged clashes with a fellow mage and inadvertently releases a shadow creature during a duel. The novel follows Ged's efforts to rid himself of the dark creature.
A Wizard of Earthsea is a classic coming-of-age fantasy novel, as Ged must overcome the arrogance of his great power to learn humility and the responsibilities of power. The series quickly moves beyond magical boarding school, telling a much broader story. The Earthsea books span a trilogy, two more novels, and a short story collection, and they are essential for any fantasy lover.
Harry Potter by J. K. Rowling
So, there's this kid named Harry Potter and he lives with his terrible, abusive relatives named the Dursleys. When Harry turns 11, he finds out that he is a wizard and he has a spot at a magical boarding school waiting for him. Hogwarts School of Witchcraft and Wizardry is the home Harry has always lacked. While there, he makes friends like Ron, Hermione, and Hagrid, and learns about his magical powers and identity. He finds a place to belong.
The seven-part series follows Harry's adventures as he furthers his magical education, grows up, and fights the second-coming of Lord Voldemort, the evil wizard who killed his parents and tried to kill Harry when he was just a babe. If you're never read Harry Potter, there's no time like the present! I'm a big fan of the recently-released The Cursed Child, which continues Harry's story into adulthood, as Harry struggles to be a good father to middle child Albus. (Wait to see it on stage, if possible!)
The Name of the Wind by Patrick Rothfuss
The first book in the Kingkiller Chronicles series just celebrated its 10th anniversary and it's never looked better. Like A Wizard of Earthsea, much of The Name of the Wind doesn't take place at a magical boarding school, but that shouldn't keep you from diving into this modern fantasy classic, if you haven't already—especially now that it is being adapted into a series by Showtime, with an assist from fan Lin-Manuel Miranda.
The Name of the Wind is "Day One" of The Kingkiller Chronicle series, telling the story of musican/magician Kvothe in two separate timelines. Narrated by the older Kvothe to Chronicler, we learn of Kvothe's tragic childhood as an orphan, beggar, and pickpocket following the murder of his family. From there, Kvothe manages to secure a spot at a magical university, the seat of all accumulated knowledge and a place where he might find more information about the Chandrian, the mysterious group of beings who killed his family. 
Come for the magical boarding school, stay for this lovingly-constructed fantasy world. But, be warned, we're still waiting for the third and final installment in the trilogy.
What are your favorite fantasy books set at magical boarding schools? Let us know in the comments below, and come talk all things books with us over at the Den of Geek Book Club!