News
Epic $1,300 Giveaway: Win Cash For a MacBook Pro!
Upgrade your work from home (or play from home) game with a brand new MacBook Pro! We've teamed up with a bunch of tech and pop-culture geeks to give away cash to one lucky winner.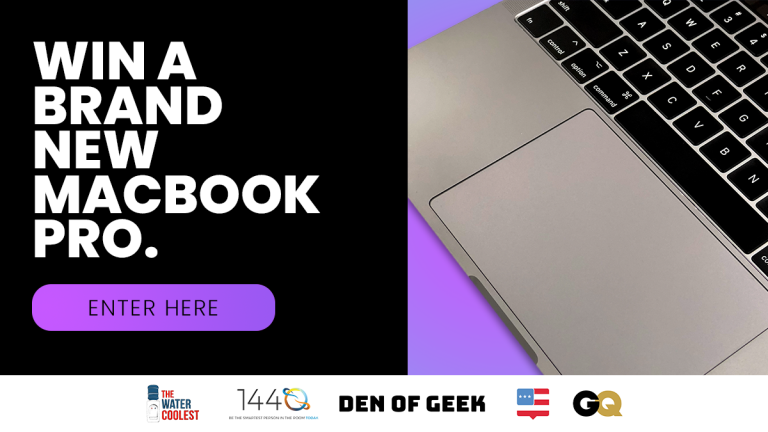 With a once in a century pandemic changing the work environment, geeks around the world are adapting to this new phenomenon of working and playing from home… every day. That means the Slack channel is up 24/7, you are your own IT department, and WiFi is worth its (figurative) weight in gold. Even if your kids are now also your students, you still have to get those spreadsheets and reports out to your boss who has taken great delight in emailing you at 10 p.m. on a Thursday night. And you still have to keep on top of the latest news, which really means learning all the new TikTok dances.
Well, we've got just the thing to help you get your work done while sneaking in the occasional Tiger King episode on your lunch/afternoon coffee/beer breaks.
Click here to enter via our official giveaway entry page!
We've teamed up with a bunch of tech and pop-culture geeks who want to equip you with a better computing experience: 1440, TTF, Newser, GQ and the finance & business guys at The Water Coolest have joined forces with us to give one lucky geek $1,300 to go towards a new MacBook Pro to make working from home that much more bearable.
Up to 10 hours of battery life means you can take your laptop into the bathroom with you for some peace and quiet and be good for the day. Not that we're saying this is a good idea, but we're not saying it's a bad one either. On a MacBook Pro, the internet connection is fast, the processing is faster, and the keyboard won't get full of bread crumbs from scarfing down a sandwich while working. The sleek design makes it an instant upgrade to your work from home desk (AKA the dining table). And of course, it works seamlessly with your AirPods for perfect conferencing, assuming your pet or housemates don't interrupt.
Entries will be accepted until May 18th. One (1) lucky winner will be chosen and then notified via email. The winner must reply to the email (within one week) with shipping information in order to accept the prize. Otherwise, another winner will be chosen. Good luck!