Features
Thunder Force: Why Jason Bateman Steals the Movie as The Crab
Melissa McCarthy and Octavia Spencer's Netflix superhero comedy, Thunder Force, has plenty of problems. Jason Bateman as Jerry The Crab is not one of them.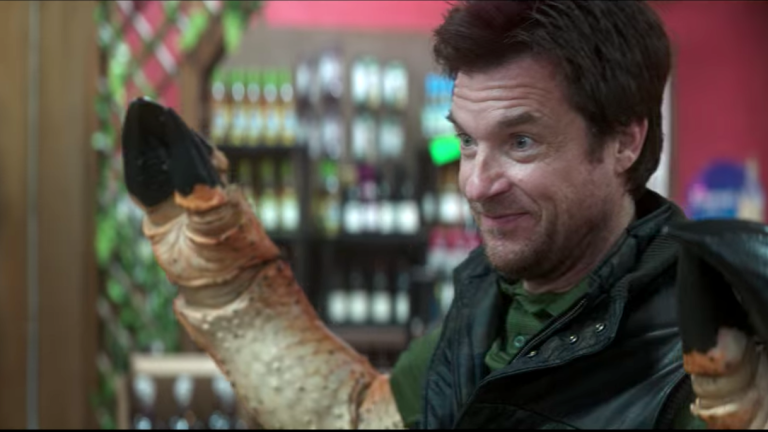 Most of the humor in the Melissa McCarthy–Octavia Spencer superhero comedy, Thunder Force, doesn't really work. The film has nothing funny or interesting to say about superheroes, as concepts or movie franchises, and it relies way too heavily on messy montages that weirdly double down on comedic bits that didn't work the first time. There are more laughs to be found in Zack Snyder's Justice League. (Relax, I like ZSJL.)
That said, Thunder Force features one thing that myself and the internet simply cannot get enough of: Jason Bateman as mid-level crime boss Jerry the Crab, a dude with crab claws for hands. It's exactly as goofy as it sounds. At one point, Bateman describes his Zodiac sign as being "you'd think Cancer," then snaps his claws twice, before revealing that he's actually a Capricorn. The scene then devolves into a not-particularly funny dream/dance sequence, but it doesn't matter because I was still laughing at Bateman's big meaty claws.
Just as any sane person would be
McCarthy's character Lydia is attracted to Jerry, pinchers be damned. She swoons at his provocative one-liners. She fantasizes about licking his orange propodus (crab anatomy, folks). She falls for the flippant way he dismisses the murderous streak of his colleague in crime Laser (Pom Klementieff).
Out to dinner, The Crab fills Lydia in on his backstory; while on his honeymoon in Bermuda, he was bit in the genitals while skinny dipping over a radioactive coral reef. The scent of Old Bay causes Lydia to lose herself in the moment, and eventually she's buttering his knuckle. Yep, it's pretty erotic. Bateman and McCarthy have worked together before, and their chemistry is an undeniable highlight of an otherwise forgettable Netflix original.
Besides getting "low country boiled" to tune of the Isley Brothers' "Voyage to Atlantis," Jerry works for "The King," played by Bobby Cannavale. Cannavale is a natural working as the heavy, trying to become the mayor of Chicago by any means necessary, but Bateman steals every scene as his loyal half-crab capo. Bateman is his typical wry, faux-cheerful self, imbuing him with plenty of Michael Bluth-energy. He gently reminds The King that he can't just off all of his best henchman when he's in a bad mood. Eventually Jerry pushes his luck a little too much with The King and finds himself declawed. At least things end happily, with Lydia and Jerry together and his claws growing back.
The character already has Twitter fan-cams, lengthy appreciation posts (and now a second, wow), and Letterboxd raves. Maybe after so much time spent working on the dramatic and dimly lit Ozark and the Netflix seasons of Arrested Development that we'd rather not remember exist, we have all collectively forgotten how goofy and great Bateman can be. Remember his endlessly quotable Dodgeball scenes? The way he makes the deadpan sarcasm and frustrated flailing in Horrible Bosses and Game Night just sing? If Paul Rudd weren't busy being everyone's favorite ageless comedic actor, that gap would be filled by Bateman. Bless him and his big, bulbous crab hands.
While this is only Bateman and McCarthy's second movie together, the film also marks the fifth collaboration between McCarthy and her husband Ben Faclone as the writer and director. Like their past efforts, McCarthy and Falcone sure seem to be having a blast goofing around and making each other laugh; they simply struggle in making it funny for the rest of us. When they do happen to stumble upon a good bit, like the one involving the henchman Andrew "Andy" in Thunder Force, they run it into the ground.
After her breakout role in Bridesmaids, McCarthy has struggled to recapture the wild energy and physical comedy mastery that she brought to Kristen Wiig's 2011 hit (her success in dramatic fare like Can You Ever Forgive Me? not withstanding). We know she's got the goods; remember her time on SNL as Sean Spicer? It's the only reason anyone should remember Sean Spicer.
Maybe she just needs to strap on some crustacean-like appendages and things will start cooking for her again.