News
The Ingrid Pitt Column: Robert Quarry
Ingrid recalls the fine actor once thought to be the successor to Vincent Price...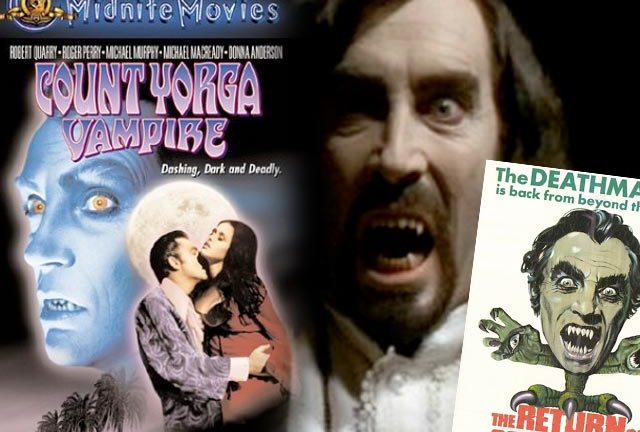 It was only a month or so ago that sci-fi legend, Forry Ackerman, died. I thought that was pretty close to home. Now I have just heard that America's answer to Count Dracula, Bob Quarry, died a couple of weeks ago, on 20th February. I think Bob must be one of the most underrated actors of all time. If not, he was terribly unlucky. In spite of the fact that he was friendly with some of the biggest guns of studio-led Hollywood, he never seemed to be able to get the chance at something really substantial. Something that put him up on the Marquee.
I have never met anybody who has anything nasty to say about him. In spite of being in loads of films, it wasn't until he took up the cape and fangs that he came into his own.
It was about 20 years ago that I first met him. I had heard about him, of course. People kept writing to me and asking me if I had seen the film Count Yorga, Vampire. The reason they wrote to me was because there was a scene from The Vampire Lovers in Bob's film and they wanted to make sure that I saw it. But I never did.
When I first met Bob it was one of the first things he asked me. When I told him I hadn't seen it he promised to send me a copy. I never got it. There are a lot of stories about Bob and Vincent Price not getting on. Bob denied this. He said it was all to do with Price's sense of humour. Which, he said, was rather British(?) He worked on Dr. Phibes Rises Again and he seemed to be all set to take over from Price as THE man in American horror after his success as Yorga.
He had all the attributes that Lee had sewn into the cape; tall, dark, and handsome with an easy manner, he could have given his predecessors a run for their money in the Fanging Stakes, but again ill-luck blocked his path. Crossing the road he was mown down by a drunken driver and it put him on the back burner for many years.
Fred Olen Ray, prolific producer and carnie man, was a friend and kept him in employment whenever he could. I was with Fred when I first met Bob. I had been invited to the Chiller Theatre Convention in New Jersey. When I think about it, it was probably the first Chiller. I wasn't in a very tranquil mood when I finally battled my way through the pathologically malignant Customs Officers of Newark Airport. My mood wasn't enhanced when I found out that the limo sent to pick me up had left. For no reason, the driver had supposed that I wasn't on the flight. I was getting heavy with one of the porters when Fred drove into view, calmed me down and insisted he took me to the hotel in his car – which turned out to be one of those long white cars that look like a circumcised bus.
One thing is for sure. It is impossible to get in or out of them with any degree of elegance. Already aboard was Bob Quarry. He listened to me fume about the US Customs and then introduced himself. He had a wonderful voice. Like jelly covered titanium in a mink glove. By the time I flopped out of the limo at the hotel, he had managed to put me in a more friendly mood. That evening I sat in the bar with Fred, Bob and Jesse Lilley, editor of Scarlet Street magazine and chewed the fat 'til well after the haunting hour. Bob was great. He was on first touch terms with practically everyone in the US film industry and had tales to tell. Jess would occasionally come up with a zippy tale to supplement what Bob had said while Fred and I sat and listened. Unusual for me, I know, but they were on their home turf and I thought it would be impolite to compete. Fred is a good listener, more laid back than second hand lino.
Later, I was in Los Angeles for the 100th anniversary of Bram Stoker's Dracula and Bob rang and said he was coming to the hotel the following day to see me. I explained to him that I was doing a spot of filming the next day but I would ring him as soon as I had finished. It wasn't to be and I left without seeing him. Fred told me that Bob had been involved in an accident of some sort and that was why he hadn't come. Whenever I was at a festival or convention, Bob would turn up with a little present, a bunch of flowers or a box of chocolates. One time he brought me a bucket of ice cream. And when I say bucket, I mean bucket. By the end of the day I felt as sick as a hermit crab and twice as sluggish. And so did the people who had all been diving in. Bob was even worse than me. At least I was able to go out for dinner that evening while he wallowed in his bed groaning.
It was good news when I was asked last year to do a film with him. We were to play husband and wife in a screenplay adapted from Edgar Allen Poe's Tell-Tale Heart with embellishments from an American Civil War story by Ambrose Bierce. Originally it was supposed to go in the Spring. Then I got a call from the producer, Mark Redfield, to say that shooting had been postponed because his money man had kicked the proverbial bucket. He said he was rescheduling for August/September. Bob rang me a couple of days later. He was still fairly upbeat but admitted that he wasn't too confident about the film. As he explained to me, he felt that if the film didn't shoot before the end of the year, he wouldn't be around to do it.
The after effects of the car accident he had in the Eighties, and further health problems, curtailed his body of work and gave him time to become a Grand Master – or whatever it is called – in Bridge. He also turned his brilliant mind to cooking and wrote a book called Wonderfully Simple Recipes For Wonderfully Simple Food.
I feel really sad that we didn't have that last chance to work together. But you have to admire the grasp he had on the essentials.
Read Ingrid's column every Tuesday at Den Of Geek. Last week's is here.