Nicole Bartner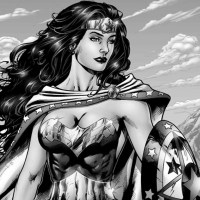 Nicole is Editorial Director and In House Counsel at Den of Geek.  She is also a Barrista, a Diner Waitress, a trained Cheesemaker, a heck of a good cook and the Mucker in Chief of her farm in Central Vermont.
Nicole was a Geek back before we were called Geeks, back before we were "winning" (we were SO not winning in the '80s people).  Nicole remembers when Madonna was cool (as opposed to a frightening Cougar), she saw the original Star Wars trilogy in theatrical release and watched every episode of Star Trek: The Next Generation when they premiered.  
Nicole was one of very few females to attend LOTR's Trilogy Tuesday.
One of Nicole's many super powers is pop culture references. She is the keeper of huge amounts of random and seemingly useless information, which makes her the best dinner/bar conversationalist you've ever met and helps immensely when writing/editing for Den of Geek.
Nicole received her BA from Cornell and her JD from Syracuse.
Best Movies:  Groundhog Dog, Stripes, Galaxy Quest, The Long Kiss Goodnight
Best TV Show:  The Closer
Best Band:  U2
Best Rock Star:  Bruce Springsteen
Best Straight Up Rock 'n Roll Drummer:  Max Weinberg
Best Drink:  Hendrick's Gin with Fever Tree Tonic
Best Meal:  Huevos Rancheros at Wasp's Diner and Snack Bar in Woodstock, VT
Best Sushi: Tona Sushi in Ogden, Utah.  Totally random, I know.  Ogden, Utah, who'da thunk it?  But this place is the REAL DEAL and Nicole has eaten A LOT of sushi in A LOT of different places.  Honestly, worth the trip to Ogden (Ogden has plenty more going for it): www.tonarestaurant.com
Nicole is also Owner and Head Waitress at The Hartland Diner: www.hartlanddiner.com World. Diner. Domination.