Meryl Gottlieb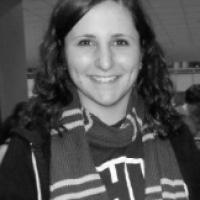 Meryl Gottlieb is an editorial assistant for Den of Geek. 
Meryl is currently a senior in the E.W. Scripps School of Journalism at Ohio University and hopes to be an entertainment journalist. For all four years of her college career, she has worked for the culture staff of OU's independent daily student media outlet The Post. She has previously worked for USA Today College, The Daily Quirk and The Columbus Dispatch. 
In her free time, she likes to hate-watch Ryan Murphy shows, chat endlessly about the Marvel Cinematic Universe, sob over how amazing Tatiana Maslany and Orphan Black are, constantly listen to Broadway musical soundtracks, live tweet award shows, read yet another biography on Judy Garland and take photos of her dog. She is very curious what her brain could do it it wasn't an encyclopedia of acting credits and quotes. 
You can follow Meryl on Twitter and Instagram.