News
Exclusive: Henry Selick on Coraline
The director of The Nightmare Before Christmas talks to us about Coraline, horror and Harryhausen...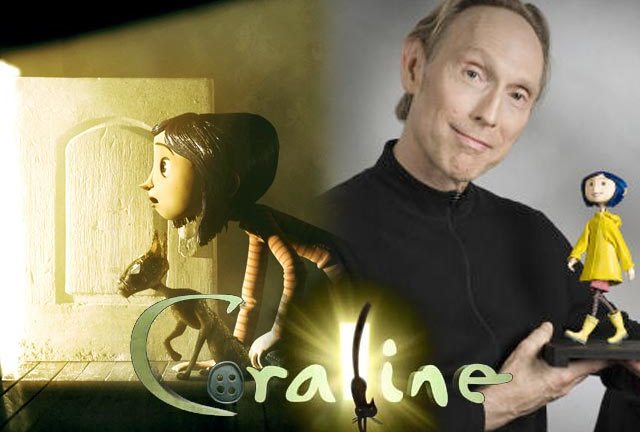 Director Henry Selick's latest picture, Coraline, has been a long time in the making. I got the chance to sit down with the man, and chat about his influences, his work methods, and adapting Neil Gaiman's Coraline novel in stop-motion 3D. We also spoke about the place of the macabre and the creepy in children's film, something which all of Selick's films exhibit, from 1993's The Nightmare Before Christmas to 1997's James And The Giant Peach (DoG Towers' contender for the most under-appreciated children's film of the 1990s). Henry, it's a pleasure to talk to you. To start with, please could you take us through the long production process behind getting Coraline to the big screen.
Well, in the year 2000, Neil Gaiman had completed his book, something he'd been working on sort of on the side for many years; it was his side project inspired by one daughter of his and completed for the second. He sent me the pages and I loved it immediately, I loved that it was a scary story for kids. The Alice In Wonderland meets Grimm's Fairytale in a modern setting was appealing – I loved the character of Coraline, and I loved some of the amazing details, you know, buttons on human eyes.
It's an amazing image – it sticks with you.
Yes! So I was right there, and I took it to a producer, who used to work at 20th Century Fox, who was head of motion pictures, Bill Mechanic. And Bill also responded, and I convinced both Neil and Bill to give me a shot to try and write the screenplay, and adapt the novel. There was a problem, though. Bill in his company had this output deal with Disney, that he was not allowed to make animated films. It was kind of like, '…you're not?!' So for the first two years, I wrote several versions of the screenplay – the first one was awful, it was too close to the book. Neil encouraged me to go off and grow it into a film, and I did, I made the changes and a lot of adjustments. And I was terrified to bring it back to Neil – he's a hell of a good writer! And he was good with it, he said 'yeah, this is a film.' And Bill liked it, but for about 2 years we had to pretend it was a live action film. I even met with Michelle Pfeiffer, to be possibly in the role of the Mothers, but she didn't really want to have any buttons on her eyes. And I said 'but that's… kinda the point of the…'
Anyway, that was the early days. We kinda hit a dead end. We weren't going to get to make the film. A scary film for children – it wasn't going to happen. Time went on, and I had to do other things to pay the bills. I worked with Wes Anderson on Life Aquatic, and did a bunch of undersea creatures for him. And then this company Laika, which was sort of a re-formed version of Will Vinterns company in the Pacific Northwest, Portland, Oregon. There'd been a lot of animated commercials for years; claymation was something that they did. They were growing, transforming. They had an idea for a short film, Moongirl, and they asked if I'd direct it, and flesh it out. And I said that I was only going to move up there from California if I could bring Coraline with me. And they said, 'Sure, why not?'
So I moved up there, did this short for them, Moongirl, and then said 'well, it's time to do Coraline'. and at that time, the guy in charge said, 'well, actually, it's much too dark', and what changed was, Travis Knight. Travis Knight, who is the son of Phil Knight, who is the backer of Laika, happens to be one of the best animators in the world, I worked with him on Moongirl, but he also did stop-motion. And basically, going to him, getting to Phil Knight, and responding to my passion for the project got the ball rolling. So that would be about 4 years ago. And I had to do several more re-writes, had to find a distributor, but when I'd cleared all the hurdles, they gave the film a green-light. So, three and a half years ago or so, we went into pre-production, story-boarding the film, designing the characters, building the characters, set design, experimenting with 3D. Went into a flurry of activity that was only completed at the end of last year. So there was the early period – Coraline, the early days – then she's on a shelf, and then finally we're making the movie in the last four years.
It's such a long journey. And *then* you have to start with all the meticulous stop-motion direction…
But that's what I do.
So that's the easy part!
It's not that it's easy, and there's always new problems, but I work with these great people and we thrive with pushing the boundaries, and coming up with new ways to solve all the problems.
Speaking of problems, one of the aspects of Coraline that has been picked up in a lot of the media surrounding it is this sense of it being a 'horror film for kids'. What's your take on that?
I like that, although in the States I couldn't have said that. But it's definitely one of the appeals of the book – it's a scary book for kids. And underneath this tired, middle aged exterior, I'm an 11 year old kid. And kids love to be scared – there's way to do it right, and ways to do it wrong. But I think people have always loved a good ghost story, a good chill. And then some reassurance. I think it's important that kids see another kid – Coraline – who doesn't have guns, she doesn't have super-powers, she's not a super-genius. To see a pretty normal kid – I mean, she's probably a little more curious, a little more stubborn, but she's a real kid – go up against something that's truly dark and evil and powerful. And she does win.
Talking from a personal viewpoint, I loved the film. But then again, I feel that I'm from a generation that's grown up with that. I was about 7 when Nightmare Before Christmas came out, and I read Roald Dahl when I was little, and James And The Giant Peach came out when I was 11. But it seems that now, these darker films are anomalies in the landscape of children's – or family entertainment… And it's crazy, it's bullshit! It doesn't make any sense. I mean, there's this long tradition of… even Where The Wild Things Are, which many people consider the best kids' picture book of all time. It was considered revolutionary, and some libraries wouldn't carry it. But it's a classic because it taps into empowerment for kids, kids facing dangers and winning. It's inexplicable to me that people forget the early Disney films had scares, and The Wizard Of Oz! Speaking of tradition. What are your influences? Where does your inspiration come from? I know it's easy to link you with Ray Harryhausen, but where do you see yourself fitting in filmmaking?
It's pretty varied. But the names I keep bringing up besides Ray Harryhausen are Jan Svankmajer – I happened to see some of his short films when I was going to CalArts, the college I went to in California – Jiri Trnka, the great puppet filmmaker, The Hand was one of his most famous ones. The disciples of Svankmajer, you know, the Brothers Quay, they did the Street Of Crocodiles. But then it's a lot of live action films, Stanley Kubrick, Kurosawa. Then from animation, I love Miyazaki's work. I've studied a lot of different animation, Canadian Film Board short films are some of the most fantastic ever made. It's, you know, paintings, going from Kandinsky to Toulouse Latrec; obviously, Picasso is someone I go back to again and again.
So it's a real tapestry of inspiration…
Yeah, there's no one direct line that I can figure out! [laughs]
Thanks for your time, Henry.
Coraline is on general release in the UK.