News
You Shouldn't Be Excited to See Goldberg in WWE
Goldberg looks like he'll wrestle Brock Lesnar, but his heart was never in pro wrestling ...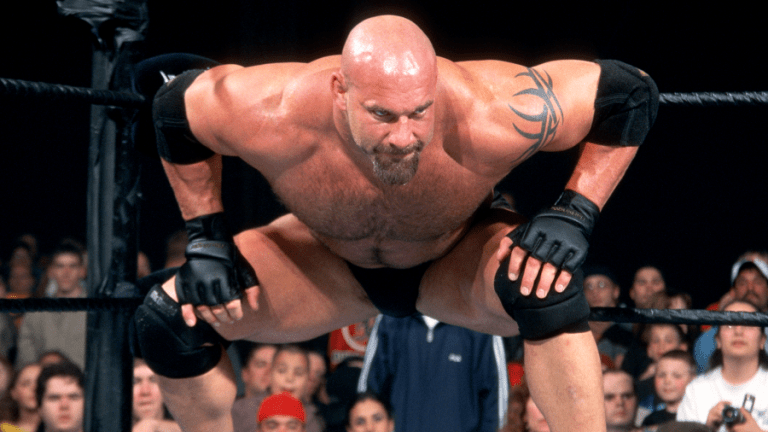 Perhaps I'm in a very small minority, but I don't have a single ounce of excitement when it comes to seeing Goldberg vs. Brock Lesnar.
Goldberg is 50 years old. He's going to go up against WWE's resident monster, and I'm sure he'll lose while being made to look relatively equal. If Goldberg isn't coming in to get squashed, I don't want him on my television screen.
Pardon me for not having happy memories when it comes to Bill Goldberg, but I can't honestly understand what people are so excited about. His WWE run wasn't too memorable with the exception of that embarrassing match he had with Lesnar at WrestleMania 20.
Goldberg knew he was on his way out the door — it was his last night in the company — and he crapped on the match and every fan in that building and watching on television. Fans who paid their hard-earned money to pay his over-inflated salary.
It's not as if Goldberg didn't have a reputation for that, though.
I never got the impression that Bill Goldberg cared about pro wrestling or the people that follow it. Pro wrestling was a paycheck for him. If you watch Raw, and you love the genre, you should be offended that WWE would even consider giving him a payoff.
Unless something has changed over the last 12 years, Bill Goldberg will come to Survivor Series, he'll have a match with Brock Lesnar, it will be a snoozefest, he'll take his money and leave.
WWE is walking a fine line here. Between this — Goldberg said he wants his son to see him wrestle — and allowing Shane McMahon to be Undertaker's opponent at WrestleMania 32, this feels like WWE's version of a fantasy camp.
As a fan, I'm not excited. I'm dreading it.
Listen to any interview with a former WCW or WWE wrestler about Goldberg, and you'll hear stories about him using the "well if this were real" excuse when not wanting to work hard in a match or put other guys over.
Well, if it were real, Brock Lesnar would send Bill Goldberg to the hospital.
Bill Goldberg is a name, but then the bell has to ring.
1. Kofi Kingston beat Cesaro
I'm finding the dynamic between Cesaro and Sheamus to be quite odd, especially the fact that Sheamus was live on Facebook during this match, shown at ringside sitting on his phone. There are certain things that WWE does that get dragged out way too long, and the story between Cesaro and Sheamus definitely feels like one of those things.
2. Bayley beat Cami Fields
Really good showcase match for Bayley, who was wrestling in her hometown. The people loved her and there was some really strong heat when Dana Brooke attacked her after the match. It's the same thought process to attacking Jim Ross every time they were in Oklahoma. They had a good, strong babyface reaction at the entrance and during the match, and Brook looked really over as a heel with the heat after the match, even though that heat had more to do with their love of Bayley. Good segment.
3. Sin Cara & Lince Dorado beat Tony Nese & Drew Gulak
Sin Cara looks like a lost soul. He gets placed in the cruiserweight division, which to the non-hardcore fan gives that division some name value, but he doesn't even get the win for his team in his divisional debut. No matter what WWE does with this character, there's just never any steam behind it.
4. Sami Zayn & Neville beat Curtis Axel & Bo Dallas
Neville, at one point, was considered in the same category as Finn Balor and Kevin Owens before those guys were running NXT. Neville was essentially the bridge between Seth Rollins and Finn Balor when it comes to the top of the card in NXT, and while those guys are "top guys" on Raw, Neville, like Sin Cara in many ways, is lost in the shuffle it feels like.
5. R-Truth beat Titus O'Neil
Time filler. If Raw's not three hours, this isn't on the air.
6. Braun Strowman beat Clay & Steven Splash in a handicap match
I've been a fan of the slow build of Strowman, watching him squash guys week after week. Some say that it's getting old and WWE needs to put their foot on the pedal with Strowman, but there's still plenty of building to do. The longer they can hold out, the bigger it's going to feel when someone with name value wrestles him.
7. Roman Reigns & Sasha Banks beat Rusev & Charlotte
Good match, though somewhat short. There's just not much to say here, I feel like. It was good, but it doesn't make me really excited to see either cell match at Hell in a Cell in a few weeks. In reality, neither of these matches require a cell. They're simply in a cell because that's the name of the show, which is an insanely dumb reason to have a Hell in a Cell match.
8. TJ Perkins beat Ariya Davari
I still can't understand why the cruiserweights do the "code of honor" deal before the match, shaking hands. Why doesn't the entire roster do it? Within WWE's narrative structure, that has never been explained.
Good match, but like much of this show, it felt sort of plain and blah. Brian Kendrick was on commentary, though, and he was good putting over his title shot against Perkins at Hell in a Cell.
9. Seth Rollins beat Chris Jericho
The crowd had a strange dynamic during this match. It almost felt like they were more behind Jericho than Rollins, who despite being a new babyface, is still acting like a heel.
In a sense, I like that. Rollins is the same person, but he's just positioned as a babyface. Still, I'd like to see his personality change at least a little bit.