News
X-Files Revival News: Everything You Need to Know
We have reviews, exclusive interviews, teasers, and everything you need to know about The X-Files revival.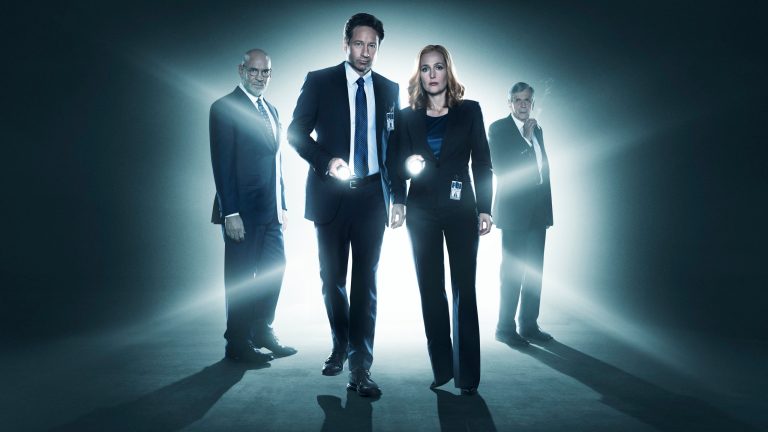 Editor's note: New episodes of The X-Files are here at last. This news hub is your source for the latest X-Files news. The most recent news is placed near the top. The "Everything We Know" details are then filed to the rest of the article.
X-Files Revival News: The Latest  
For everything we know about a potential X-Files Season 11, click here.
"Babylon" has already sparked rumors of a potential X-Files spinoff for new FBI agents Einstein (Laura Ambrose) and Miller (Robbie Amell). Ambrose spoke with TVLine on the penultimate episode of the revival, expressing her interest in reprising the role in the future. 
"All I know is it was a great place to work, and I would love to do more," Ambrose said. "I love working with Chris and David and Gillian [Anderson]. They're all amazing, talented people… and I would like nothing more than to do more." 
Chris Carter has stated that the actors don't have a series deal beyond their contracts for their two-episode guest spot in the revival. 
X-Files Season 10 Reviews
Here are the Den of Geek reviews for The X-Files Season 10:
"My Struggle" (Spoiler-free) Review
Ahead of the premiere of The X-Files revival, we've recorded an X-Files retrospective podcast. Listen here!
The X-Files Revival Premiere Date
The X-Files returned on Sunday Jan. 24, 2016 with a generous lead-in from the NFL, which hosts its NFC Championship that day. The show airs on Monday nights at 8 p.m. in its regular time slot. 
Early viewing numbers suggest The X-Files is a big overnight success, with strong DVR and online streaming numbers. The X-Files premiere drew more than 20 million viewers, plus another 1.1 millions viewers after three days of online streaming on Hulu and FoxNow.
The X-Files Season 10 Episode Guide
The X-Files Season 10 Episode 1: "My Struggle" 
Written and directed by Chris Carter
The X-Files Season 10 Episode 5: "Babylon" 
Written and directed by Chris Carter
The X-Files Season 10 Episode 6: "My Struggle II" 
Written by Chris Carter, Margaret Fearon, and Anne Simon. Directed by Chris Carter.
The X-Files Trailers
It's happening folks. The X-Files is back on Jan. 24 and Fox is dropping plenty of new X-Files footage in thetrailers. 
Here's the teaser we've all been waiting for. In a new video release from Fox, the curious case of what happened to William is close to being solved. Watch it here! 
During The X-Files panel at TCAs, Fox released the latest trailer. Watch it here: 
If you remember the Inside The X-Files documentary that aired before season six and previewed Fight the Future, Fox is giving fans another treat in the same vain. The network released The X-Files Re-Opened, a 21-minute feature on the making of the event series. You can watch the full episode here: 
For your viewing pleasure, we've collected all the rest of the trailers below… 
Gillian Anderson teased some moments from the upcoming miniseries in a new 20-second blink-and-you'll-miss-it promo. You probably won't be able to decipher all the images at one, but there are glimpses of a downed UFO, an alien corpse, an infant, and a phone that shows "William" is calling. Here's the promo:
X-Files Plot Details
The first information from the set of The X-Files revival is slowly coming in. EW had the chance to travel to the Vancouver B.C. set of The X-Files and came away with a ton of new details about the revival, as well as some new images.
Reinforcing a few things that we already know about the new season, it seems Agents Mulder and Scully will be looking into the sudden disappearance of an alien abductee, portrayed by The Americans' Annet Mahendru. Joel McHale, a conservative talk show host, will be on the scene to tip our heroes off to the case.
We've also learned that Mulder and Scully will be in much different places from where we last saw them in 2008's The X-Files: I Want To Believe. David Duchovny points the EW reporter to his wardrobe as evidence of Mulder's current state. "Mulder's not in a great place," says Duchovny in a dirty gray t-shirt, shoelace-less shoes, sporting some five o'clock shadow. "He's wearing bad jeans, so you can just extrapolate from my wardrobe. He's in a dark, dark place."
"I like where we find Mulder and Scully in their relationship," Gillian Anderson adds. The article continues to praise Chris Carter's politically resonant script.
"The X-Files ended right after 9/11," Carter says. "A lot has happened since then. A lot of rollback of rights and liberties in the name of our protection. We're being spied on now, we're being lied to — all things that, for me, remind me of when I grew up, which was right around Watergate. I think we're in similar and much more dire times right now." 
The last bit of news comes on the writing end. We already know that original series writers James Wong, Glen Morgan, and Darin Morgan will be back, but it is revealed that they'll be penning Monster-of-the-Week, the non-mythology driven, creature feature episodes that littered original seasons of the series. The titles of the episodes are "Mulder and Scully Meet the Were-Man" and "Home Again," but no, that's not a continuation of grotesque fan-favorite "Home." "We're not going to reboot any of the old favorites, although it was something we all thought about," says Carter. "These are all brand new stories. We hope to scare you in brand new ways."
We also learned that the first episode is called "My Struggle."
Read the original article, plus get a look of Mulder and Scully on the cover, over at Entertainment Weekly.
Our X-Files correspondent Matt Allair has been in touch with Thierry Couturier, the sound supervisor of The X-Files in the first five seasons when the series shot in Vancouver, and Thierry revealed he's been asked about his availability to work on the revival. Another fun note: Theirry's son, Nathan was the boy whose voice was used for the Ten-Thirteen Productions title logo, "I Made This!" 
The X-Files began production in Vancouver on June 8th according to Production Weekly.
The X-Files Revival Cast
Beyond Duchovny and Anderson, Pileggi confirmed his role in the revival via Twitter.
Den of Geek spoke with William B. Davis, best known as the iconic Cigarette Smoking Man, who confirmed his involvement in the revival. The Canadian actor said he'd "definitely" be in the first episode. Click here to read the full story. 
Fox confirmed with us that Annabeth Gish will reprise her role as Agent Reyes. Read the full story here.
Robert Patrick, known for his role as John Doggett, Mulder's season eight and nine replacement, was asked about his time on The X-Files at a Scandinavian Sci-Fi convention. He immediately jumped into why he doesn't want to be a part of the new episodes.
"I wanna do as many different roles that I can, and not just one thing," Patrick said. "So the same I feel about with John Doggett and the X-Files. I'm doing a new show right now called Scorpion, that I love. And I'd much rather be doing that show than going backwards and revisiting a character that I've already done."
Understandable. But then it got a little weird:
"I loved doing the X-Files then I did it, and Gillian Anderson is a beautiful sexy woman to work with every day," Patrick said. "And so is Annabeth Gish. And I wish them all the best with that new project."
With Community's future murky at this point, Joel McHale gets a high-profile part-time gig chasing ghosts alongside Fox Mulder. EW confirmed reports that McHale will play Tad O'Malley, "a conservative Internet news anchor who becomes an unlikely ally" to David Duchovny's Mulder. 
Of all the possible characters to make a guest spot on The X-Files event series, The Lone Gunmen are one of the fan-favorite choices. Now it appears we're going to get our wish. Dean Haglund confirmed his involvement on Twitter: 
— DEAN HAGLUND (@dhaglund) 
July 22, 2015
Haglund (Langley), Tom Braidwood (Frohike) and Bruce Harwood (Byers) will return for a one-episode arc, again proving that no one ever dies in The X-Files. 
Two new guest stars have also signed on for the revival. Robbie Amell and Lauren Ambrose have a one-episode assignment as agents Miller and Einstein, according to EW. Amell is a familiar face for fans of The Flash as he played Firestorm in season one. Ambrose is best known for Six Feet Under.
Silicon Valleyactor and comedian (and X-Files superfan and podcaster) Kumail Nanjiani will appear as a guest, helping Mulder and Scully track down a monster. 
Chuck alum Vik Sahay is locked in as guest star in an episode, according to The Hollywood Reporter.
Despite some rumors, we can confirm that Deep Throat won't be in any flashbacks in the new episodes. Our X-Files correspondent Matt Allair spoke with actor Jerry Hardin, who said he will not be a part of the revival: 
Absolutely, I'm curious to know. I've seen in various write ups that I'm part of it. (Laughs.) But Chris Carter hasn't told me I'm part of it. I'm curious to know who is and who isn't [involved]. I know of some other actors who had some nice roles, and they aren't involved either, so we're all curious to see what's going to be there.  
The Writers
We know Carter will be working with "several people who have been working on the show over the years." That includes Glen Morgan (Final Destination), Darin Morgan (Millennium) and James Wong (American Horror Story). For years, former executive producer Frank Spotnitz has never stopped believing in the return of The X-Files. Unfortunately, he is unavailable due to shooting season one of The Man in the High Castle.Spotnitz told Den of Geek he still regularly talks with Chris Carter and is leaving a few X-Files easter eggs in his new series. 
At an "Inside The X-Files Writers' Room" panel during EW Fest, Glen and Darin Morgan talked about writing for the revival and what is was like to return "home."
The family tree of notable X-Files writers extends a little further. Howard Gordon, former writer and producer, moved on to 24 after The X-Files and is currently tied to and won an Emmy for Homeland. He also confirmed that he's unavailable to return to the X-Files. 
"If Chris asked me and time permitted, I would jump at the chance to be involved in The X-Files," Howard told Den of Geek through an email exchange."I'm really looking forward to seeing what Chris, Jim, Glen, and Darin have come up with."
Vince Gilligan is busy being one of television's best and most sought-after talents. The showrunner wrapped Breaking Bad in 2013 and now premieres his next projects in 2015, including Bad spinoff Better Call Saul on AMC and Battle Creek, on CBS. However, Gilligan told The X-Files Lexicon that he'd love to be involved with a revival if his busy schedule allows it.
What will the revival look like?
Duchovny, while expressing his interest in the project, suggested a full season was off the table. He got his wish. We're getting only six episodes. A reasonable expectation would be Fox leveraging a limited series to reignite interest and lead into the long-awaited third feature film. If all goes well, let's call it the 12/22/2012** plan: Duchovny and Anderson say they're good with doing this every year and we get six episodes of the X-Files each January until the end of time.
The episodes will take place in the present, meaning they'll have to explain whether or not the 2012 alien invasion happened. Carter offered this answer to XFN: 
"I've thought about that," he says referring to the colonization date. "I don't know exactly how I'm going to address it, in a big way, a mild way, a modern way, a mention or a plot point." Then he adds, "And of course you can't avoid to deal with the William (arc) in some way or another."
In an exclusive interview with X-Files News, the Carter revealed some early production details. Among them, The X-Files returns home to Vancouver, where the first five seasons were filmed. He's surrounding himself with some of the now well-known production talent that was a major part of the show's original run (you can read more about that below). 
As for the plot, Carter is tight-lipped on the details, but did offer this: 
"We're going to tell X-Files the way that we've always told them; we will of course set them in the time and place that they exist. We're telling contemporary stories about contemporary situations, true to Mulder and Scully's characters and their relationship and the passage of time." 
David Duchovny called the script "fantastic" and admitted the waterworks flowed when he started turning pages. From an EW interview: 
"I got the first script this morning. I just read it about an hour ago and I started crying reading the first page. It was just so strange to see the names on the page. It had nothing to do with the script itself… That was nice and strangely emotional for me, and I'll have to figure out how to use that [in the performance]."
One of the obvious questions to ask an actor when reprising a role after some time away is if they were able to quickly step back into character. The usual answer is it's "like they never left." Gillian Anderson was a little more truthful when asked if returning to her iconic character took some getting used to. Turns out, getting into the mind of Dana Scully was a bit more difficult this time around.
"It feels like it's been a long time since I've played her," Anderson told TVLine. "I can't remember what year the movie was, but it felt like [Scully] was further away from me than I'd thought she would be. But I've also worked really hard at putting her entirely to sleep, so that was successful; she's just taken longer to wake up."  
Anderson also offered some teasers about the premiere of the X-Files event series, calling the opener "'Slow" and "intense." Make sure to head over to TVLine for the rest of the interview.
Chris Carter shared some details on Mulder and Scully's now rocky relationship with THR.
"We do it in an interesting way," The X-Files creator Chris Carter tells The Hollywood Reporter of his decision to break up the popular couple. "We play with that relationship [in the event series]. We put some of the tension back in that was relieved by them being together. It added to the storytelling opportunities. It's something that I came up with; I had been thinking about it. There was always talk of [breaking them up] if we did another movie."
The X-Files science advisor spoke about what we can expect in the new season, calling episode six: "extremely scary" and one that connects to earlier episodes and wraps up lingering questions.
In an exclusive interview with Variety, David Duchovny gave a potentially revealing quote about the status of The X-Files mythology. Speaking on the types of episodes in the revival, he said they have a "funny one, a horror one, a gross, nasty one and three that are extending and elaborating and negating in some ways the old mythology." The question is: what about the mythology will be negated? If you read on below, you'll see that familiar faces are returning for the new episodes that are, well, technically dead. However, we know that "no one ever dies in The X-Files," so much of the mythology could depend on how close to the heart Chris Carter takes his own comments. 
The X-Files (and all the Mulder and Scully cosplayers) took over New York Comic Con for the U.S. premiere of the first episode of the revival. Chris Carter said the six episodes are bookended by mythology episodes and the middle episodes are standalones written by Glen Morgan, Darin Morgan and James Wong.
The loudest applause of the panel came when Carter said these magic words: "The Lone Gunmen are back."
The question of Mulder and Scully's now rocky relationship came up over and over again. What we got was the answer Carter has given all along, that time has eroded their relationship. But it was Kumail Nanjiani, panel host/superfan/guest star, who gave the best answer of the panel… 
How did we get here? 
The collective sci-fi-loving web exploded when Fox made what we've speculated for months, if not years, official: The X-Files is returning to television for a limited run.
Chris Carter. David Duchovny. Gillian Anderson. Mulder and Scully together again.
All is right with the world until it isn't, because they have some explaining to do. The world didn't end in 2012. Somehow, The X-Files lives on.
Don't call it a comeback. X-Files fans know the series, Mulder and Scully, and all those wacky monsters of the week, never really went away. Years after the cases dried up and the final movie dissapointed, fans still had conversations about government conspiracies, extraterrestrial life and impending invasions, but kept it on the hush. They stayed in their corner of the internet, mostly on websites build in the early 2000s, quietly waiting for a day like this to come.
The X-Files limited run comes at the perfect time. The trifecta of Chris Carter, David Duchovny and Gillian Anderson clearly had a desire to make this happen and their schedules aligned. 
It all starts at the top with Carter. Amazon cancelled Carter's post-apocalyptic project, The After, but he still has a hand in AMC's Area 51 thriller as a writer and producer. It seems like that project will be placed on the back burner now. Fox entertainment chairman Dana Walden went as far as to say they "wouldn't do it without Chris Carter" and god-willing, he delivered the goods.
Duchovny's new series, Aquarius, debuted in the summer of 2015 on NBC and is renewed for a second season. Beyond that, he doesn't have any publicized commitments to projects after his Showtime series Californication ended last year. Now that the revivial is a reality, Duchovny sat down with the New York Times and was asked if he was nervous about reprising his role on The X-Files:
I think I'll be nervous on the day. When I'm in a scene with Gillian, I think we'll both be like, this is so weird. And I think we've both gotten better as we've gotten older, so how do we bring that to bear on these characters? If I were to look back at the first or second year of the show, I wouldn't try to act like that guy. I'm capable of doing more. She's capable of doing more. It'll be interesting to see how we keep the characters the same but also the actors are better.
We also found out that he's neighbors with Chris Carter and often spoke with him and Anderson about potential continuations of the series. "We're still trying to do the same show," Duchovny said. "It's not like were trying to make it 2.0, or whatever the .0 is now. 3.0. We're gonna make the same show. But it'll be interesting because Gillian and I are older. I don't want to act like it's 20 years ago."
Exactly 22 years after her turn as Dana Scully, Anderson is still solving mysteries. The actress is the leading lady on the British crime-drama series, The Fall. The popular BBC Two thriller only produced seasons of 5 and 6 episodes, respectively. The Fall has been renewed for a third season. She also has a recurring role on NBC's Hannibal.
Those commitments don't bother Anderson, who seems to be the ring leader for the revival. Speaking to The Nerdist Podcast, she got fans in a frenzy by asking them to tweet #XFiles2015 in support of reopening the case.
How do I get my X-Files fix in the short term?
So while we wait for 2016, the entire series is available to stream on Netflix, Hulu and Amazon.
Don't trust the internet? Chiller is the home for X-Files reruns on the tube. 
In the social sphere, comedian and actor Kumail Nanjiani has a podcast that follows his rewatching of the entire series. 
We know that X-Philes always wanted to believe. In our X-Files feature, we took a long look at the history of X-Files fandom, from early conventions to magazines to the fan sites that helped spark the revival. 
And now… what better way to pass the time then to speculate! What do you want to see out of the X-Files limited run? Stick with us for more coverage of The X-Files. We'll be updating this page with new information as soon as we get it.
You can find Chris Longo on Twitter and discuss the whereabouts of Fox "Spooky" Mulder.
The X-Files Revival Artwork:
Fox released so many X-Files posters, we had to make a new page to keep them all handy!
Have a look!