News
Wynonna Earp Showrunner Emily Andras Has New Show in Development at Syfy
Emily Andras, aka the showrunner of Wynonna Earp, has a new drama in development at Syfy and it sounds awesome.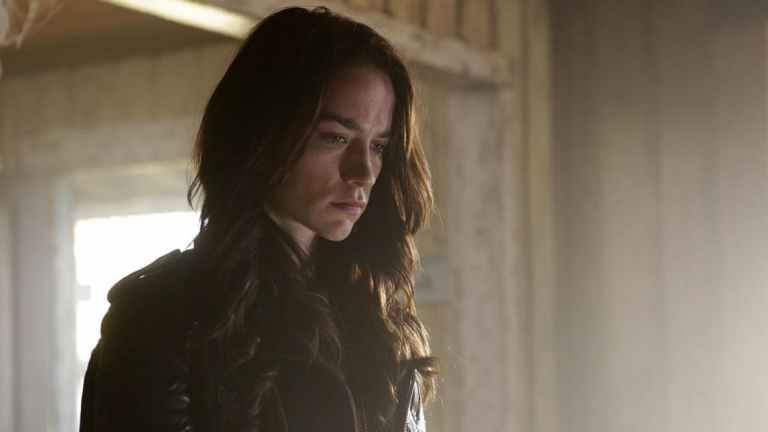 Wynonna Earp showrunner and fandom guardian angel Emily Andras is developing a new show for Syfy that sounds all kinds of clever. According to THR, Andras is teaming with Syfy to develop a meta drama called Axeholes, about a group of con-goers who find themselves magically transported to the world of their favorite fantasy series. If Axeholes moves to production, it would be a co-production between Andras and Syfy.
Here's the full description from THR:
Axeholes follows a mismatched bunch of comic convention attendees who inadvertently get transported into the real-life world of their favorite fantasy TV series, Blue Bar'Bara. In the worst role-playing game ever, the unequipped party must learn to navigate a dangerous land of profanity-spewing battle axes, sociopathic fairies, disturbingly sensual dragons and a chainmail-bikini-wearing shield maiden as they struggle to find a way back home.
Andras would be the showrunner of the series, which presumably means she would be pulling showrunner double duty with Wynonna. 
"I am excited to take on a new adventure series that is an adoring, tongue-in-cheek love letter to fandom in general, and fierce barbarian princesses in particular," Andras told THR. "I am especially thrilled that it will allow me to continue working with Syfy, who have been endlessly supportive of the hilarious, moving, action-packed feminist genre shows I love to create for television."
Syfy and Andras have already been through a lot together. After making three seasons of Wynonna Earp for the network, a planned production start on the fourth, greenlit series when producers IDW Entertainment failed to have the funding to move forward.
After a very harrowing, uncertain period in which Earpers organized a massive #FightForWynonna campaign, Andras and Syfy were able to get the fourth season back on track, with Syfy as well as a number of third-party outlets, contributing additional financial resources. Wynonna Earp Season 4 is slated for a 2020 debut. You can read more about that here.
read more: How Wynonna Earp Nurtures Healthy Fandom
Syfy also recognizes the value of keeping Andras, who is very popular amongst Earpers for the respect, appreciation, and love she shows the fandom, around. Speaking about Andras, Syfy vp original co-productions Josh Van Houdt said: "Emily Andras leads with a distinct voice and tremendous vision. Syfy is committed to Emily's brand of creative storytelling, and we are thrilled to continue our partnership with this project."
Smart network.
Kayti Burt is a staff editor covering books, TV, movies, and fan culture at Den of Geek. Read more of her work here or follow her on Twitter @kaytiburt.
Read and download the Den of Geek SDCC 2019 Special Edition Magazine right here!