News
Wynonna Earp Season 3 Episode Guide
What happened in Wynonna Earp season 3? Here's a link to all of our reviews and more.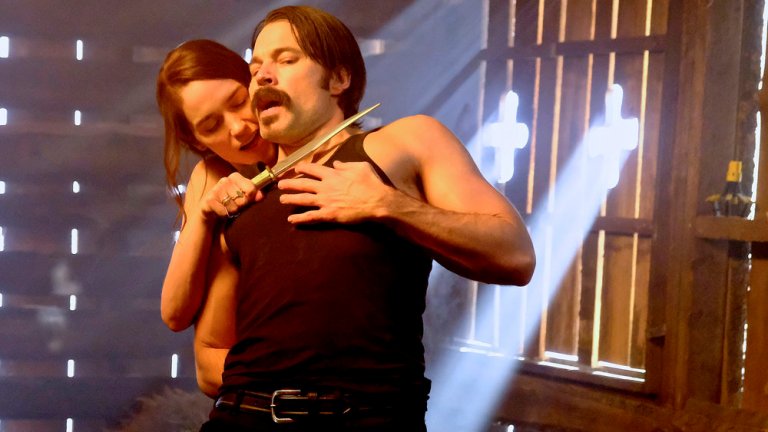 Wynonna Earp Season 3 is over, but that doesn't mean we can't still enjoy it!
In the third season, reckless and reluctant warrior hero Wynonna and her team of outmatched outsiders return to face monsters, revenants and their biggest fears as they fight to take down the demon who cursed the Earp family before he destroys the Ghost River Triangle – and the world.
Find out what's up with Wynonna Earp Season 4 here, or go on to check out all of our review from Wynonna Earp Season 3…
Wynonna Earp Season 3 Reviews and Episode Guide
Click on the links below to read our reviews.
When a mysterious bus full of sexy strangers rolls into town, Wynonna must figure out why they're in Purgatory before the entire town falls under their spell. (air date: July 20, 2018)
The demon who cursed the Earp heir reveals himself in a shocking turn of events that will leave the team forever changed. (air date: July 27, 2018)
The team must come to terms with the consequences of their actions. Meanwhile, someone claiming to be from Black Badge Division arrives in Purgatory. (air date: August 3, 2018)
The forest reveals its secrets – and a clue to Nicole's past. Meanwhile, Wynonna pays an unexpected visit to her mother. (air date: August 10, 2018)
A demon causes havoc in town as Wynonna, Waverly and Jolene must decide who they can trust. (air date: August 17, 2018)
The holiday season comes to Purgatory; Wynonna teams up with a new ally to search for a missing kid on Christmas Day; Waverly learns more about her father. (air date: August 24, 2018)
Lady Luck seems to have abandoned Wynonna and Nicole when an errand for Nedley goes terribly wrong; Mama discovers Doc's secret. (air date: August 31, 2018)
It's date night in Purgatory, which means dressing up, drinking, and fighting demons as a formidable, former foe stalks the gang. (air date: September 7, 2018)
History keeps repeating itself when Wynonna has to make an impossible choice. Waverly and Nicole visit a jeweler and a familiar face returns to Purgatory.

Air date: September 14, 2018
A mysterious woman who knows a little too much about the Earps arrives on the Homestead with a special mission for Wynonna and Waverly; the rest of the team must wrangle a deadly fire witch.

Air date: September 21, 2018
Wynonna has a run in with the Revenants that leads her to an unexpected revelation about the curse; Waverly meets an important figure from her past; Nicole tries to evacuate Purgatory before it's too late.

Air date: September 28, 2018
The Pledge Moon looms over Purgatory as Wynonna and Waverly search for a way to end the family curse before their demonic foe puts an end to the Earp line and humanity once and for all.

Air date: September 28, 2018
Wynonna Earp Season 3 Trailer
There's plenty to enjoy about the first Wynonna Earp season 3 trailer, including slow motion bad-assery, enticing one liners, and plenty of kissing. Take a look:
Wynonna Earp Season 3 Casting News
The casting news for Wynonna Earp season 3 had some good news for fans of Emily Andras' earlier series, Lost Girl. It was announced quietly at Clexacon 2018 that Bo herself, Anna Silk, would be joining the cast in a guest role. Not much is known about her character other than a name: Kevin. Silk confirmed to fans that the name comes from beloved Wynonna Earp podcast host, Kevin Bachelder.
Zoie Palmer, who played Dr. Lauren Lewis on Lost Girl, will also be appearing in a guest role in Wynonna Earp season 3. Palmer will play Jolene, who, according to Syfy Wire, is described as "a fun-loving friend who enjoys karaoke, baking for her best buddies and creating mayhem wherever she goes. She's also smart, knows a secret or two and if you don't watch out, she'll either steal your partner or your heart."
But the big news is that Megan Follows will join the cast of Wynonna Earp season 3 as Wynonna's heretofore long-deceased mother, Michelle, whose apparent resurrection (seen from the back) was the cliffhanger moment that concluded season two.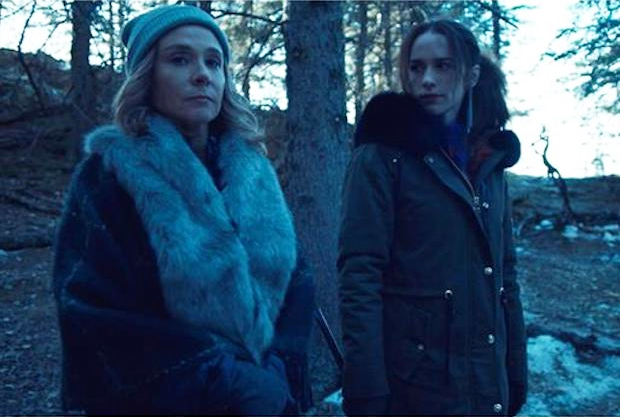 The scene in question also teased that the returning Earp matriarch is back to help combat the also-resurrected Bulshar Clootie, the late 1800s-era Purgatory sheriff who – having come from a witch family – instigated the premise-setting Earp family curse after his two sons were killed by Wyatt. As showrunner Emily Andras tells TVLine of the maternal revival:
"Wrapped in a blanket, sitting in the middle of the wilderness staring out at a river… it's safe to say she's a bit broken — but in traditional Wynonna Earp fashion, hopefully broken in the most badass way possible." Adding of the upcoming mother/daughter mission, "It's interesting that Momma Michelle has filled Wynonna's head in the past with ideas about Bulshar, so we'll have to find out what they are."
Follows, a Toronto-born actress, is probably better known to contemporary audiences from her four-season regular role on The CW's historical series, Reign and recurring appearances on Heartland. Yet, amongst a lengthy CV of guest spots on notable series such as Murdoch Mysteries, House, CSI, The X-Files, ER and Law & Order, she made an impact as a teen, starring as the title character in the acclaimed 1985 Canadian TV miniseries, Anne of Green Gables; a role she reprised in two TV miniseries sequels, in 1987 and 2000. Regarding Follows's casting, Andras states:
"Megan Follows is one of Canada's most beloved and versatile performers, and we are beyond thrilled to have her onboard for such an iconic role. Her ferocity and fearlessness will fit in fabulously with the rest of our phenomenal cast."
Kayti Burt serves as a staff editor covering books, TV, movies, and fan culture at Den of Geek. A long-term lover of all things science fiction and fantasy, she is an unabashed defender of the power of speculative storytelling and a proponent of sentimental TV. Read more of her work here or follow her on Twitter @kaytiburt.