News
WWE's Lack of Talent Development Finally Catches Up With Them
WrestleMania's main event features two part-timers, one non-wrestler and a full-timer the audience hates ...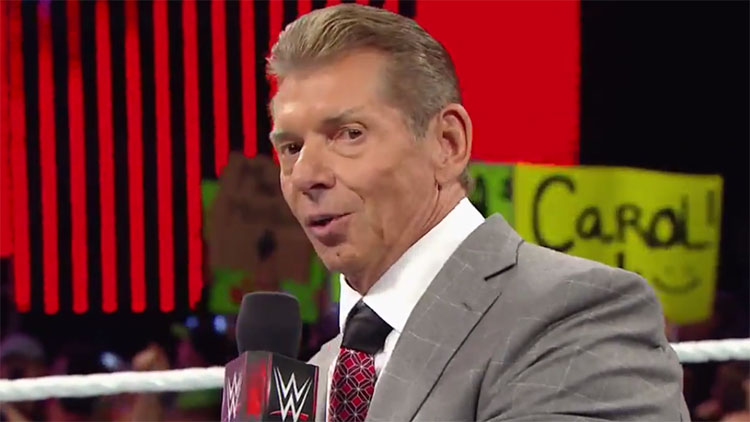 Well, they did it.
For years, critics of WWE's talent development — or lack thereof — have said that there will come a time when the nostalgia acts aren't going to work anymore, particularly for WrestleMania. There comes a time when old reliables were going to be too old to make impacts on the roster, and WWE was going to be stuck in a position of having no one else to turn to.
The more I really thought about the upcoming Undertaker vs. Shane McMahon match at WrestleMania 32,the more I realized that WWE is now at this point.
When John Cena suffered his injury and he was ruled out of the the big event, WWE had to evaluate its options for WrestleMania.Don't get fooled either, there were options there. Undertaker vs. Samoa Joe, or Balor, or someone new and fresh would have been a welcome addition to the card. At the very least, it's something the WWE audience hasn't seen before. What about Undertaker vs. Kevin Owens? Really, anything.
But instead, WWE turned to the 40-something-year-old son of the owner.
That's not a knock on Shane. By all indications he's a fun-loving guy who genuinely enjoys mixing it up in the ring.
But the top of the WrestleManiacard, his match included, is the epitome of what's wrong with WWE.
The main event features a champion who is married to the boss' daughter, and he usually wrestles no more than two or three times per year. The second match on the card features the boss' son against a wrestler who normally wrestles once per year, 2015 being the exception more than the rule.
Those are your two main events for your BIGGEST show of the year. Two very part-time wrestlers, a non-wrestler, and a full-time wrestler that the majority of the crowd can't stomach.
On paper, this show has the potential to be a disaster.
But it won't be, because it's WrestleMania,and that's just what WWE wants.
You want to know why WWE isn't developing talent anymore? They don't have to. They aren't pitching the talent to the fans, they're pitching the brand. That's why Vince can cram Roman Reigns down the throat of his unaccepting audience, and it doesn't matter. People buy tickets to WrestleManiaso that they can see WrestleMania, not so that they can see Steve Austin or The Rock.
WWE house shows are in a similar category to Disney on Ice or the Circus. You're not buying a ticket to see the star, you're buying a ticket to see the show. And that's just how WWE wants it. NO ONE IS BIGGER THAN THE BRAND. You know why? Because then no one can hold Vince McMahon over a barrel. It keeps pay down too, when wrestlers are treated as nothing more than dispensable parts in a machine who are easily replaceable.
WWE's stock price holds steady, so that's all that matters.
Sooner or later though, this strategy will catch up. The more the audience tunes out, the more it will hurt the bottom line. 
People want people that they can believe in. They want characters. They don't want to just watch a variety show. That's not wrestling. 
There is some hope, though. Any follower of NXTknows the booking style of that sub-promotion, and how well it has been received. That is Triple H's visiion, and hopefully once Kevin Dunn and Vince McMahon are out of the way, WWE takes on more of a wrestling approach. 
At the peak of the attitude era, more than six MILLION people were watching WWE alone on any particular week. Another three million were watching WCW Nitro, which means about nine million people were watching pro wrestling every Monday night.
Now? That number is around 2.5 million. That's a reduction of about 72 percent. If any other form of entertainment went through such a decline, it would be dead. 
Match Results
1. Kevin Owens beat A.J. Styles
2. Big E beat Rusev
3. Chris Jericho beat Fandango
4. Stardust fought Sin Cara and Zack Ryder to a no-contest
5. Charlotte beat Natalya in a non-title match
6. Bubba Ray beat R-Truth
7. Braun Strowman beat Dean Ambrose via DQ
Quick Strikes
1. WWE opened the show with a promo segment (shocker). Roman Reigns was again heavily booed despite being played opposite Stephanie, who might be the only character the audience would boo over Reigns. It still didn't work here.
2. Kevin Owens vs. A.J. Styles is a match that most die-hard wrestling fans have wanted to see for years. Kudos to WWE for throwing it away on free television instead of making some money with it.
3. Vince McMahon announced that if Undertaker lost to Shane at WrestleMania, it would be his last WrestleMania. That seem somewhat telling, in that he didn't say Undertaker would retire or never wrestle again, just that he would never wrestle at another WrestleMania. It's a silly stipulation, but could point in the direction of a Shane win, which I imagine would keep him around the company at least as a performer. 
It's possible that Undertaker wins the match, I guess. But if that's the plan, why not make it more on the stipulation and say that Undertaker is fired if he loses?