News
WWE's Focus Should Be On Kevin Owens' Title Win, Not Triple H
After KO won the Universal Title on Monday, the focus can't shift away from his victory ...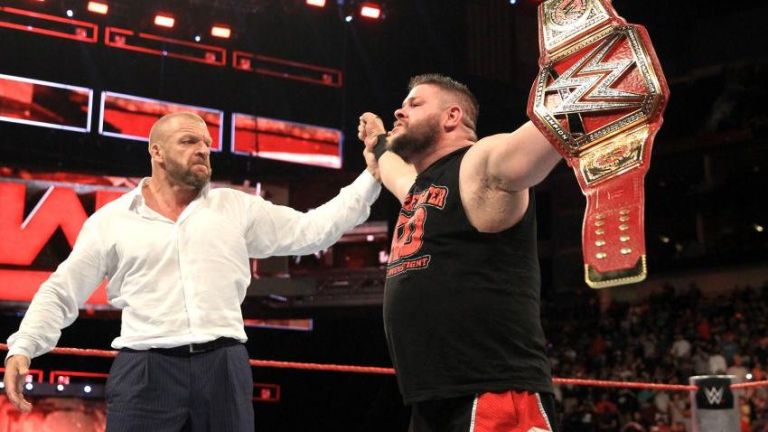 Kevin Owens is the new WWE Universal Champion, Dolph Ziggler has been relegated to Intercontinental Title contention and Brock Lesnar is going to have a rematch with Randy Orton at a live event in Chicago.
If you've been away from WWE for the past few days, that's what you missed.
OK kids, now that you're caught up, let's take a look at some of these events.
First, there's Kevin Owens winning the Universal Title on Monday's Rawand what it could mean for that show in the weeks and months ahead. First and foremost, congratulations to Kevin Owens. What a great moment for a guy who worked his butt off to get where he is. He came up through the ranks, with many people — like Jim Cornette — telling him and everyone else who would listen why he would never amount to anything in the wrestling business.
Well look at him now.
The best moment was Wednesday, when Owens' wife posted a picture on Instagram of their son posing with the Universal Title. Those are the cool moments that the Steen family will remember forever.
What the WWE fans will remember is the road Owens took to win the title. If you missed Raw, you don't know that Owens only won after Triple H returned, taking out Roman Reigns and Seth Rollins (yup, that's right) before allowing Owens to win the title.
The one issue with Owens' win was Triple H's involvement. What does this mean? More McMahon family feuds on Raw? Please, I think I speak for the entire planet when I say we're all set with that.
Stephanie McMahon looked confused at ringside and Triple H seemed to stare a dagger through her after he cost Rollins the title. Hopefully, the story is about Kevin Owens winning the Universal Title, and it's not about Triple H helping Owens win the Universal Title, but I don't have a lot of faith in that regard. The story is going to quickly center around Triple H and Stephanie feuding, because within the WWE storyline Universe, Vince McMahon believes there's nothing bigger than his own children, or in this case one of his children and her husband, arguing on television.
Wasn't Steph vs. Shane enough? That's still ongoing, no? Now Stephanie needs to feud with her husband at the same time?
No one cares about the McMahon family drama. I don't even care about my own family's drama.
On SmackDown, Dolph Ziggler was yanked out of the main event picture despite a terrific match with AJ Styles last week, and instead we learned that Ziggler will challenge The Miz for the Intercontinental Title. Ziggler's match with Ambrose at SummerSlamleft a lot to be desired. There was something missing for sure. But Ziggler more than redeemed himself with an off-the-charts fantastic match with Styles on last week's episode.
It's hard not to see this as a demotion for Ziggler. He was challenging for the WWE Title last month, and now this month he's challenging for a title held by The Miz, of all people.
Lastly, it's interesting to see WWE book the Lesnar-Orton rematch for a live event in Chicago. As of right now, that show is not scheduled to be broadcast on WWE Network, but where it was advertised, WWE will have cameras there at the very least.
It would be nice if they explained the rationale behind booking the rematch at a house show, though. They could have at least said they were worried about the brutality and decided not to televise the match. Make it something that people would be even more interested in seeing, and then leak footage to the website afterwards, or something.
UFC wouldn't book one of its most anticipated rematches on a non-televised event. Then again, UFC doesn't do non-televised events.
Raw Results
1. Chris Jericho beat Neville
No one broke an ankle, so that makes it better than the first match they had on Raw several months back. 
2. Nia Jax beat Hyan
Another squash. It's been a good slow build with Jax, but sooner or later they need to do something with her.
3. Sami Zayn beat Jinder Mahal
I never expected Mahal to have a major role in WWE, but they should have him be worth more than just a job guy, which is essentially what he has turned into since rejoining the company. 
4. New Day & Bayley beat The Club & Dana Brooke
Brooke with The Club felt very awkward and weird. It didn't work for me. Brooke looked out of place and this was also a ripoff of an angle — well, sort of a ripoff — that they did in New Japan where Gallows' wife played Brooke's role. And she played it much better, by the way.
5. Sheamus beat Cesaro
These two continually have good, solid matches, but it's getting old watching them go at it week after week. 
6. Braun Strowman beat Americo
Not much to say here. Another squash match. Strowman's power is starting to get over.
7. Darren Young beat Titus O'Neil
This feud isn't over yet, with Titus beating up Backlund and Darren Young after the match.
8. Kevin Owens beat Seth Rollins, Roman Reigns and Big Cass to win the Universal Title
SmackDown Results
1. The Hype Bros. beat The Vaudevillains
The tag division on the SmackDown side isn't very deep, and that's especially seen here. 
2. AJ Styles beat Apollo Crews
This was a fun match, but it would be nice if they protected Crews more. It's one thing to define Styles up like this, but Styles didn't need a win over Crews on this show. His win over Ziggler could have been hyped more and Crews beating a jobber may have been better use of the time. That said, Crews looked competitive here despite the match not lasting long.
3. Becky Lynch & Naomi beat Alexa Bliss & Natalya
I'm not sure why Becky took the pin here, despite being distracted to result in the pin.
4. Heath Slater & Rhyno beat The Headbangers
It was fun to see the Headbangers back on WWE television, especially someone in my age bracket who was a fan during the Attitude Era, yet at the same time, it also reminded me how old I am.
5. Baron Corbin beat Dean Ambrose via DQ
It was a cheap finish, but Corbin didn't look out of place against Dean. That could mean that Corbin is in line for a big push or that Dean just isn't the top guy we thought he would be. There seems to be something missing from the Dean Ambrose character the last several weeks. I know it's his gimmick, but he gives off the vibe that he doesn't give a damn, and that's not allowing me to get into him as much as I should.