News
WWE WrestleMania 31 Results and Analysis
WWE shocked us all when Seth Rollins captured the WWE World Heavyweight Championship at WrestleMania 31 Sunday night …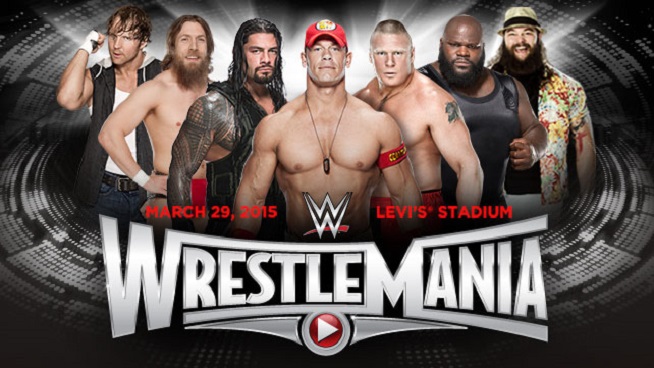 Well, they did it. I'm surprised — really surprised — but WWE didn't pull the trigger on Roman Reigns, and instead Seth Rollins captured the WWE World Heavyweight Championship in the main event of WrestleMania 31 Sunday night in San Francisco.
In the middle of the match between the champion, Brock Lesnar, and his challenger, Roman Reigns, Reigns leveled Lesnar with a spear. Rollins' music hit, and he sprinted to ringside in order cash in his Money in the Bank briefcase. Rollins did, and after ducking a spear attempt by Reigns, which resulted in Lesnar taking the blow, Rollins hit a curb stomp on Reigns and won the WWE World Heavyweight Championship.
Earlier in the night, Rollins lost a singles match against Randy Orton. But in the end, the night that was supposed to be the coronation of Roman Reigns was the night Seth Rollins became "the man."
It was a brilliant move by WWE. What's next for Rollins is unknown, but there are literally a line of contenders he could faceoff with for the title.
First, he never pinned Brock Lesnar. The champion lost his belt, and was never pinned. That seems like an obvious spot for a rematch.
Randy Orton pinned Rollins clean, 1-2-3, in the middle of the ring earlier on the same show. One would think he has a claim to a title shot, having beat the champion earlier the same night.
It will be interesting to see where WWE goes with Reigns, who is the one who looks the absolute weakest coming out of WrestleMania last night.
Reigns was decimated by Lesnar. He barely got in any offense. It was similar to Lesnar's beating on John Cena at SummerSlam this past August. He F5'ed him and suplexed him, over and over. Reigns was taking a beating for almost 20 minutes until Rollins' entrance. And then at the end, Reigns was the one to take the pin. But Reigns also has the argument that his Royal Rumble win guaranteed him a one-on-one match for the title, which he never received.
Rollins' win was a sure sign that WWE listened to its audience, and the audience forced them to adjust. Reigns wasn't connecting. There was no choice other than to call an audible on him winning the World Heavyweight Title last night.
The best route for Reigns out of this main event is to turn heel, and I wonder if they start to babyface Rollins. In a backstage interview following his win, while a member of the WWE crew changed the nameplates on the belt, Rollins wasn't his typical ego-driven heel.
He talked about waiting for his opportunity and then actually thanked Tom Phillips for the interview. See for yourself:
I expected Rollins to rant and rave there about how much smarter he was than everyone, but he didn't. I think Rollins is a great heel, but if WWE wanted to put someone else in the "Reigns spot," he's the guy. The crowd isn't going to reject Seth Rollins as a babyface. The "smart" crowd sure as hell won't, and the casual crowd — the ones that cheered Reigns to begin with — will pretty much do what you tell them to.
Assuming Lesnar is leaving town for a bit after tonight's Raw, I do wonder if WWE sticks Paul Heyman with Roman Reigns. They planted the seeds in that post-Rumble interview, where Heyman talked about how much he knew his family.
I could see the angle going something like this:
You have Rollins be very humble tonight on Raw. Maybe J&J Security try to do something over the top, and he shuts them down. Perhaps The Authority tries to claim him as "their champion," and he tells them to shove it. Basically, you turn Rollins babyface against the Authority. Meanwhile, Heyman recruits Reigns. He tells him that he was screwed.
"The people aren't behind you," he says. "Look at them. They're cheering Seth Rollins, the man who screwed you out of the WWE Championship. If you want to get ahead in this world kid, you need to come with me."
Then, while Lesnar is off until SummerSlam, or whenever it is that he returns, Rollins vs. Reigns for the title is your main-event angle.
The "in" crowd will buy Reigns as a heel. He's already one to them. And the casual crowd, we'll like I said, they'll do whatever you want them to do.
Quick Strikes
1. Daniel Bryan winning the WWE Intercontinental Championship and John Cena winning the United States Championship should do good things for those belts, as long as WWE follows up with it in the coming months. For years, the IC Title was known as the "worker's title," meaning it always went to the best wrestler in the company. Randy Savage, Scott Hall, Bret Hart, Shawn Michaels, Ricky Steamboat. I mean, just go down the line. Mr. Perfect! It's al there. Bryan can bring that prestige back to the title if he's treated correctly. Bryan fans I think are conditioned to the fact that he's not going to be a big-money main eventer for WWE at this point, they just won't put him in that spot, but if he's featured as an IC Champion who is in good feuds having great matches all the time, they'll be pleased.
Cena winning the U.S. Title is going back to his roots. There is a good story WWE can tell here. The U.S. Title is what launched Cena to his main-event status, and if Cena treats the belt as such, whoever beats him for it will be one step closer to being a "made man" in WWE.
2. There was a lot of groaning on Twitter about the finish to the Triple H vs. Sting match, and how little sense it made, but it was fine by me. I actually really enjoyed it. If you look back, the entire angle never made sense. WWE never explained why Sting just decided to show up and stop Triple H. That's as far as they went. Sting said he wanted to stop Triple H. There was never a single reason given as to why. So the was simply set up to have a match. It was for nostalgia.
And whoa, was there a lot of nostalgia.
First, D-Generation X ran to ringside to help Triple H. A few minutes later, the nWo's music hit, and Hulk Hogan, Scott Hall and Kevin Nash met and brawled with X-Pac, Billy Gunn and Road Dogg at ringside. That was quite the visual. Sure, it's 20 years too late, but D-X vs. the nWo was the big angle that never happened.
Shawn Michaels later made an appearance, super kicking Sting. Triple H eventually captured the win, and later shook Sting's hand.
It was just a cool match with a lot of surprises. Yes it made no sense that the nWo would help Sting. Absolutely none. But remember, the entire angle didn't make sense to begin with, so have fun with it for what it was.
3. AJ & Paige picked up a win over The Bella Twins in a really good match. They were hurt on their spot on the show — what else is new — as the crowd was still reeling a bit from the run-ins in the previous match. But, the musical performance before the match helped serve as a buffer, which I liked. The girls went on last year after Lesnar-Undertaker, if I remember correctly, and the crowd was still in shock. That was a terrible spot for them. They were treated better this year, as they should be.
4. WWE made mention of Ronda Rousey at ringside early in the show, which I thought was interesting, but not totally out of the ordinary. Later in the show, Triple H and Stephanie came to the ring to tout the attendance and how the thanks should all go to them.
That brought out The Rock, who ran down the duo for running down "the people."
After a good back and forth, where Triple H and the Rock got in each other's faces and talked about their old rivalry, Stephanie slapped Rock in the face. Hard. Really hard. Then goated him with, "what are you going to do Rock? You're not going to hit a woman, are you?"
So Rock left the ring as if he was going to leave. But he turned, signaled to Rousey and they went back in the ring together. Rock said he wasn't going to hit a woman, but Rousey would have no issue with it.
The crowd exploded as Rousey snatched Stephanie's arm. It wasn't a full armbar, but it was still a cool visual. Stephanie was also great as a heel even getting in Rousey's face. She reminds me so much of Vince sometimes in the way she speaks and her facial expressions as a heel.
Rousey also gave Triple H a judo throw out of the ring.
I'm not expecting that it's going to happen, because I don't think UFC would ever allow it, but Rousey & The Rock vs. Triple H and Stephanie at WrestleMania 32  in Dallas next year would be quite the spectacle.
That said, Rousey is UFC's top dog. If Dana White wants to keep her happy, and she really wants to do one WWE match (she's a huge fan), I wonder if he gives his superstar what she wants to keep her happy.
5. The Undertaker looked great in his win over Bray Wyatt. He grew his hair out, which made him actually look about 10 years younger than he has in recent years. He seemed to move a lot better as well.
Wyatt, who was four years old when Undertaker debuted in WWE, was put in a big spot on the biggest show for the second year in a row, and delivered.
Speaking of challengers to the WWE Title, if Rollins does indeed go babyface, a Rollins-Wyatt feud towards the end of this year could be very, very good.
Match Results
1. Daniel Bryan won a Ladder Match to win the Intercontinental Championship
2. Randy Orton def. Seth Rollins
3. Triple H def. Sting
4. AJ & Paige def. The Bella Twins
5. John Cena def. Rusev [c] to win the United States Championship
6. Undertaker def. Bray Wyatt
7. Seth Rollins def. Brock Lesnar [c] & Roman Reigns to win the WWE World Hvt. Championship
The Finish
As much as I enjoyed the end of Wrestlemania last year, with Daniel Bryan winning the WWE Title, the rest of the show just felt like a bunch of blah. There was the surprise of Lesnar beating Undertaker, and Bryan winning the title. Those were the two big moments. This show was filled with big moments, and it felt like a big show.
Considering the build to this event was so horrible, it was hard to believe. I was worried, with the build being so poor, that this was going to feel like a holdover show, just to get WWE to WrestleMania 32 in Dallas next year, where they hope to draw 100,000 people. But it wasn't. WWE delivered.
I'd argue that this WrestleMania goes down, at least right now, as one of the top-five of all time. Every match delivered, every angle was good, and there were so many surprises. That is what WrestleMania was supposed to be.
Congrats, WWE. I loved it.
FULL RESULTS
WWE Tag Team Champions Tyson Kidd & Cesaro vs. The New Day vs. Los Matadores vs. The Usos (Fatal 4-Way)
Winner: Tyson Kidd & Cesaro
Andre The Giant Battle Royal
Winner: Big Show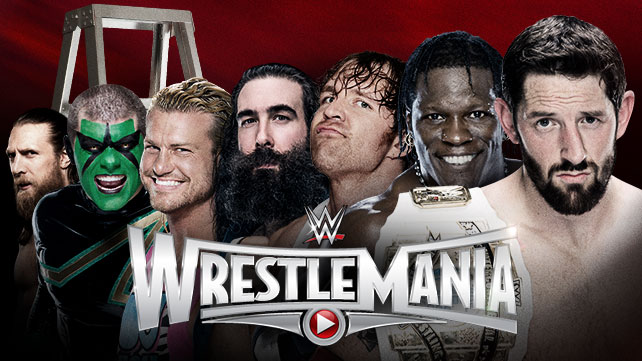 Wade Barrett defending Intercontinental Title in Ladder Match
Winner: Daniel Bryan
Randy Orton vs. Seth Rollins
Winner: Randy Orton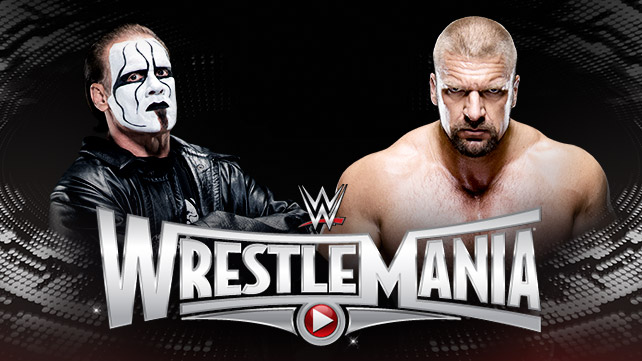 Sting vs. Triple H: The "Icon of WWE" vs the "Icon of WCW."
Winner: Triple H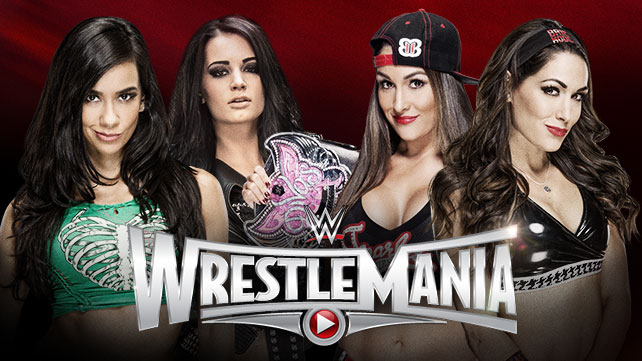 The Bellas vs. Paige and AJ
Winner: Paige and AJ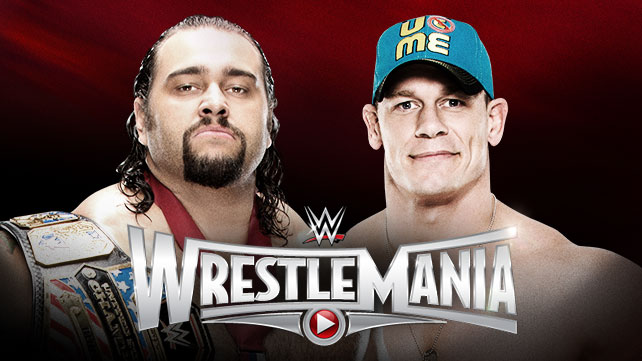 John Cena vs. Rusev for the U.S. Title
Winner: John Cena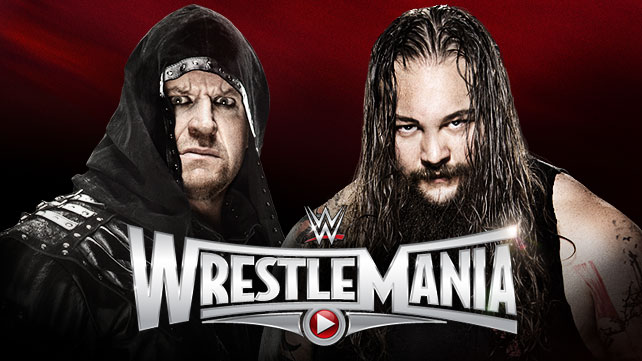 The Undertaker vs. Bray Wyatt
Winner: The Undertaker
Brock Lesnar vs. Roman Reigns for the WWE World Heavyweight Title
Winner: Seth Rollins (yes…you read that right)