News
WWE World Championship Tournament Could Revitalize Title Scene
WWE kicked off a tournament for the WWE World Title on Monday's Raw after Seth Rollins injured his knee ...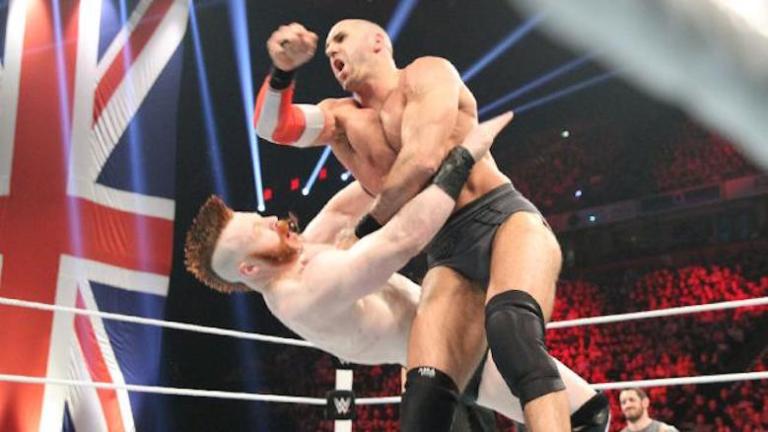 Impact Wrestling has been helped immensely by its World Title Series to crown a new TNA World Heavyweight Champion. It hasn't shown in the ratings yet — these things take time and TNA is on a hard-to-find network — but anyone who watches the show on a regular basis can't argue that the product has been vastly improved ever since their program began to focus on the wrestling matches, and giving those matches a meaningful purpose.
WWE has the opportunity to do the same thing here, now that Seth Rollins has injured his knee and could be out for up to the next nine months. Turning a negative into a positive is something that WWE used to thrive with. This will be a challenge with its roster depth, but a tournament, a format WWE hasn't used much at all for the past 10 years, is a good way to recondition its audience.
WWE's biggest challenge for the past several years has been roster depth and how to make a three-hour show feel like it's something the viewer can't miss. WWE's product is so oversatured between Raw, Smackdown, monthly WWE Network specials, original programming on the network such as NXT and others. Most people, whether you're a full-time student or someone with a full-time job, simply doesn't have 10-15 hours per week to devote to consuming WWE's various products. Raw has been and will always be the focus, but even that show has been focused through more of a blurred lens than anything sharp. 
WWE has a chance to do something within this tournament that it hasn't done in years: build a new star.
That could be a heel or a babyface. Or perhaps, even both. The bottom line is that WWE needs to pick one of each and protect them. CLEAN finishes. If Roman Reigns is your guy, he should win every match clean until he gets to the final. Same with whoever you pick to be your heel. WWE's philosophy of 50-50 booking where everyone comes out even-steven is an atmosphere that no one can thrive in. All it creates is a huge midcard with no one ready to break out of the pack, because no one has been separated from the pack. This is a unique opportunity for WWE to change that.
Pick a babyface. Pick a heel. Let them run roughshod through this tournament and meet in the finals. Then, have the heel win, and have him cheat. Now you have an undeserving heel that people can buy into, because he's won all of his previous matches, running with the World Title and a deserving babyface, who also won cleanly on his path to the title match only to lose by a heel's cheating tactics, chasing him for the championship.
Fantasy booking aside, that seems like a formula most people can buy into. It should also help create at least two new stars. It won't happen overnight, and even those two stars created need to continue to be protected, but it's at least a start. CM Punk got himself over. WWE never wanted him to. The last real star that WWE helped get over strong with its own hype machine was Brock Lesnar. 
Seriously … think about that. It's been 13 years? 
Match Results
1. Roman Reigns beat The Big Show in the WWE World Hvt. Title Tournament.
2. Kevin Owens beat Titus O'Neil in the WWE World Hvt. Title Tournament.
3. Becky Lynch beat Paige.
4. Dolph Ziggler beat The Miz in the WWE World Hvt. Title Tournament.
5. Natalya beat Naomi.
6. Cesaro beat Sheamus in the WWE World Hvt. Title Tournament.
7. Dean Ambrose beat Tyler Breeze in the WWE World Hvt. Title Tournament.
8. New Day beat Neville & The Uso Brothers
Quick Strikes
1. The Undertaker and Kane returned and beat up the Wyatt Family for, as Bray Wyatt put it last week, "eating their souls." I'm just not a fan of the mythical, magical power stuff. Too cartoonish for me. Also, a little higher up in this review when we were talking about WWE's need for even-steven booking, this is a perfect example of it here. If the Wyatts are facing Undertaker and Kane in some sort of match at Survivor Series, why did Undertaker and Kane exact revenge on Raw? Why need the match now? 
2. Kevin Owens beat Titus O'Neil … Perfect example of WWE not being able to build up top stars. Titus O'Neil is great, I actually like him a lot and I think WWE should use him more. But fact is they haven't, and he seems very out of place in a tournament to crown a new World Champion. That being said, so does Miz and Tyler Breeze. This showcases WWE's lack of roster depth. They have a lot of bodies, but shame on them for not utilizing most of these talents until now, when they're essentially forced to. Seth Rollins was on his way to becoming a star, and he was the biggest name in the company for now. But Punk, Daniel Bryan? Those weren't WWE creations. They didn't get "the machine" behind them.
The Finish
This was an OK show for being a Raw taped in the U.K. Typically not much happens on these overseas shows, but this wasn't all that bad. Kicking off the tournament was good and the last segment where Undertaker and Kane interupted Wyatt at least gave the show a good surprise moment. Still though, we have no idea what's happening at Survivor Series.