News
WWE Won't Let Old Habits Die, Raw Continues To Suffer
As long as Vince McMahon and Kevin Dunn are spearheading WWE creative, the product is going to look stale ...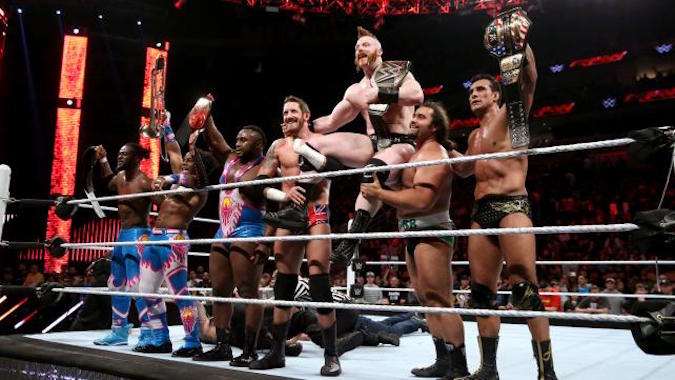 It's classic Vince McMahon thinking, honestly. Let's take some wrestlers — a group or a tag team — that creative either never bothered to "get over" or were hindered by McMahon's constant roadblocks in the creative process, and put them together in a group. That will surely get them over!
3MB. The Corre. RybAxel. ShoMiz. And there's honestly a million more.
Last night on Raw was the latest installment, when WWE lumped together WWE Champion Sheamus, Rusev, Wade Barrett and Alberto Del Rio into the new "League of Nations" group. It appears that Sheamus is the leader? But who really knows. And honestly, who really cares?
Sheamus was getting over like a fart in church before his title win at Survivor Seriestwo weeks ago, and it's not getting any better now that he has the belt. Rusev returned to Rawlast night and lost via count-out to Ryback. Del Rio made a big impact when he returned against John Cena, but more recently you could easily forget that he's even on the roster and Barrett has been a non-factor since his days leading the original Nexus.
The most disappointing thing about that list is those guys could all be near the top of the card at this stage of their careers. The problem isn't the talent, the problem is the creative. Even calling it creative is an insult to creative people, at this point. The WWE creative process is stale, dull, old and beyond broken. The presentation is as cookie-cutter as you can get. The graphics are always the same, the ring looks the same, the stage looks the same, and every wrestler practically looks the same.
Why?
Vince McMahon and Kevin Dunn. That's why.
Not every WWE platform looks like this. The big shows all do, but NXT resembles a new, fresh approach. Unfortunately for WWE's audience, the old men at the top of the creative pyramid are standing at the bottom of the creative process, blocking out the fresh ideas and instead going with old reliables.
Old reliables have put WWE in the position it's in now. Ratings are plummeting. Viewership is at its lowest since the mid-'90s. It's bad. A horrific Monday Night Football game between the Baltimore Ravens and Cleveland Browns probably did 5 times the viewers of Raw,if not more.
But instead of actually trying to fix its product, Vince McMahon and Kevin Dunn are just trying their same-old garbage. 
WWE is milquetoast, and that's not going to change without a sweeping idealogical change creatively. For now, a product that's followed by mostly 20 and 30-year-old males is going under the creative direction of a 70-year-old man who has lost his fastball, and a 60-something-year-old executive producer who is far too set in his ways.
I'd say enjoy, it but doesn't seem many people are doing that nowadays.
Match Results
1. Dolph Ziggler beat Tyler Breeze
2. The Dudleys & Tommy Dreamer fought The Wyatt Family to a no contest
3. Alberto Del Rio beat Goldust
4. The Usos fought The Lucha Dragons to a no contest
5. Sasha Banks beat Brie Bella
6. Roman Reigns beat Sheamus by disqualfication in a WWE Title Match
7. Charlotte beat Becky Lynch
8. Sheamus, Rusev, Del Rio, Wade Barrett & The New Day beat Reigns, Dean Ambrose and The Usos
Quick Strikes
1. Even-Steven booking with Breeze and Ziggler. The fresh newcomer gets his big win at Survivor Seriestaken away, essentially, by losing to Ziggler here. If you don't want to put Breeze over Ziggler, then fine. But don't put the two together to begin with, then. Tyler Breeze needs to be establishing himself, not losing matches. WWE used to debut its talent with a slow build, working mainly jobbers with long winning streaks. Breeze has tasted defeat far too early into his run to feel important. 
2. Good to see Tommy Dreamer back in WWE. It was a nice surprise there, when he returned to help the Dudleys take on the Wyatt Family. There's no telling how long he'll be back for, but it was a fun segment for sure.
3. Roman Reigns received his title rematch last night, from what Triple H said early in the show. Reigns won the match by DQ, but he's still getting his title shot at TLC.Why? Can someone explain this? Is it because the match ended in a DQ? Then fine. But Reigns receives two title rematches? That's never been done before. It could have used a lot more explaining.
4. Becky Lynch vs. Charlotte was far too short. Also, what's with Charlotte? Are they turning her heel? Wasn't she just a big babyface going against Paige one week ago? More mindless booking. WWE has no respect for its audience and never keeps with continuity, so I guess this shouldn't be a big surprise. It's just sad.
5. What a giant cluster that main event was. WWE loves them some multi-man matches, but ugh. The problem is that it was totally predictable, too. When the title match didn't actually main event the show, you knew a tag match was closing the show. … Also, six of the men involved in the main event wrestled earlier in the night. But three hours is awesome for a wrestling show.