News
WWE vs. NXT: John Cena vs. Kevin Owens is What's Best for Business
Kevin Owens made his WWE main-roster debut on Monday's Raw, attacking John Cena after a promo segment …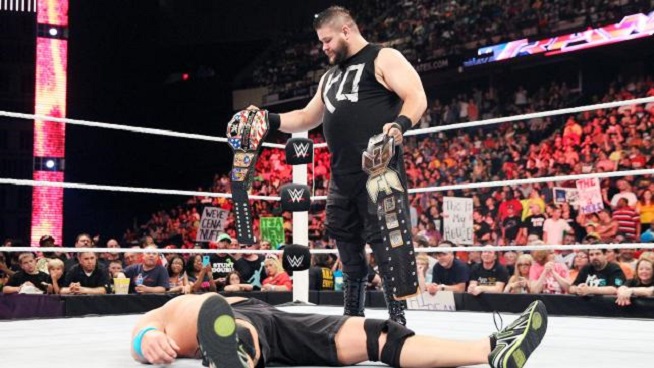 NXT will run its next Takeover special Wednesday night on WWE Network, but NXT has begun taking over WWE's main roster. After WWE Payback 2015 on Sunday, we wrote about the excitement on the show, and perhaps the main-roster WWE talent feeling the nipping at their heels being done by the NXT roster.
Last night, perhaps the highlight of that NXT roster, champion Kevin Owens, made his WWE debut, and it was a big one. Owens, the NXT Heavyweight Champion, came out to interrupt John Cena as he cut a promo before his latest open challenge for the U.S. Title.
Owens seemed nervous at first, but settled in for a back-and-forth with Cena that really displayed Owens as an egomaniacal, sarcastic and dirty heel. The live crowd was cheering Owens at first, but Owens had them booing him by the end of the promo, even though he was in there opposite Cena, who generally gets the boos from the older crowd.
Cena invited Owens to take part in the open challenge, but Owens, in perfect heel mode, refused. He said he has his belt, and held up the NXT Title. He then attacked Cena, leaving him laying in the middle of the ring with the same powerbomb that injured Sami Zayn. Later, it was revealed that Cena vs. Owens was set for Elimination Chamber in two weeks.
When Cena won the U.S. Title at WrestleMania, there was hope that he would elevate that title. For Cena, it's the first new challenge he's faced in some time, and it's reinvigorated him, it seems. He also isn't just elevating the title, he's elevating a lot of younger talent. Sure, he's winning, but he's the champ. Sami Zayn and Neville both looked to be on par with Cena in their Raw matches, and last night Owens was made to look like a million bucks, beating Cena in the middle of the ring before leaving him laying there.
Cena gets a bad rep from the "internet fanbase" that just doesn't know what they're talking about. This idea that he "holds guys down" seems to be the exact opposite of late, yet no one wants to recognize it. Yes, he's winning matches, but you can put a guy over and still win the match. Cena can't lose the U.S. Title every week. He's winning matches but making these NXT wrestlers look like superstars. And, when he's finally beaten, whoever does it will be a made man.
Cena's character has flaws. He's a white-meat babyface who is supposed to be the model for integrity, so I don't like it when he calls Lana a "ho" or uses other innuendo in an attempt to sound cool and edgy. But Cena, the man behind the camera, is doing a lot to elevate young guys who are working hard, and it's not the first time he's done it.
Let's look at some examples …
He was an advocate of Zack Ryder, and probably played a role, politically, in him getting Raw time a few years ago. He put over Dolph Zigger as a teammate last fall. He helped get CM Punk over as a main eventer with their feud after the pipebomb. He did business with The Rock when he didn't have to. He was basically squashed by Brock Lesnar at last year's SummerSlam because, as Triple H says, it was best for business.
Cena does what's best for business. Older fans for some reason don't want to admit it, but the proof is there.
Would Hulk Hogan in his prime get squashed by anyone on a major PPV?
The point is, Cena does the right thing. He doesn't lose much because he's a top guy. That's how it goes.
If Cena beats Owens at Elimination Chamber, you can bet money Owens is still going to look like a million bucks in that match. If Owens wins the match, he's an immediate star.
Quick Strikes
1. Sheamus was awesome in his match with Ryback, faking an eye injury to sneak in a Brogue Kick for the win. It's classic, old-school heel stuff that's making Sheamus seem fresh as a character. I hate the beard, and it looks ridiculous, but everything else about Sheamus right now has been fantastic.
2. Dean Ambrose will challenge Seth Rollins in a 1-on-1 match for the WWE World Title at Elimination Chamber. He was defeated by Bray Wyatt on Raw after J&J Security interfered. Normally, I don't like the idea of title challengers or champions taking losses on TV heading into a main event, but in this case, it wasn't clean and Rollins' personal security provided the screwjob, so it works.
Match Results
1. Sheamus def. Ryback
2. King Barrett def. Neville
3. Bray Wyatt def. Dean Ambrose
4. WWE Tag Team Championship: New Day [c] and Cesaro & Kidd went to a no contest
5. Dolph Ziggler def. Stardust
6. Erick Rowan & Luke Harper def. Fandango & Zack Ryder
7. Divas Championship: Nikki Bella [c] def. Naomi via DQ
The Finish
Another very good show, on the heels of a very good Payback. WWE is building Elimination Chamber really well, despite having just two weeks to get to that show. There were a lot of matches announced last night and the momentum is definitely growing. Good, disciplined booking has been a welcome refresh for WWE.