News
WWE Throwing Up Its Own Road Blocks On Road to WrestleMania
This Saturday's show on WWE Network seems ill-timed, and not necessary ...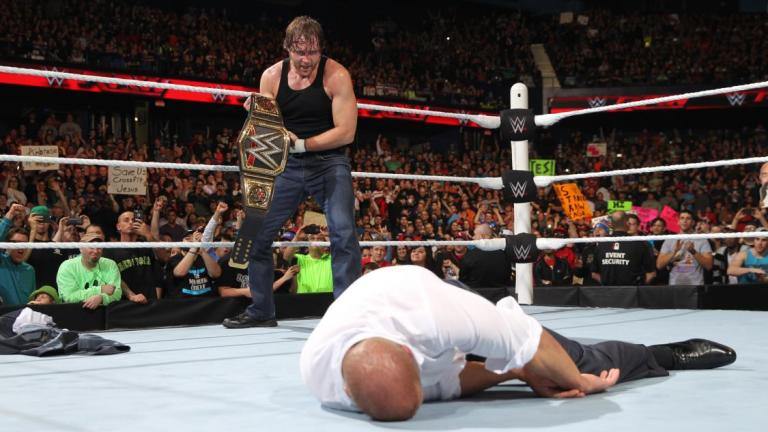 WWE will run a WWE Network special on Saturday night titled Roadblock, and the show seems to be appropriately named. Truth is, much like last year, the road to WrestleManiadoesn't seem to have much power behind it. There's a show that's supposed to block that road on Saturday night, but WWE seems to have thrown up their own road blocks well before this show was even announced.
Roman Reigns' surgery comes at a bad time, if we assume Vince McMahon is still intent on forcing him down the throat of his audience by winning the World Title at this year's megashow.
I found something interesting on Reigns at the end of last week. I listened to Steve Austin's podcast, The Steve Austin Showon PodcastOne, and Austin had on former WWE, WCW and TNA writer Vince Russo. He was the head of the show during the popular "Attitude Era" of the late-90s.
Russo made some good points — I agree that WWE needs to develop characters better and using vignettes is a good way to do so — but there was also things I absolutely disagreed with. First, he said that over the past few years, WWE has started doing something that he never thought he would see, and that's listening to the "internet wrestling fan."
Russo makes a good point that the folks like you and I, we're going to watch the product pretty much no matter what. We're fans, and it's going to take a lot for us to turn the channel. Russo is also correct that, when wrestling was booming in the late-90s, they brought in the casual viewer. We can disagree over the best way to do that again, and I'd also disagree with Russo that the way people consume their media has changed, but fact is WWE was being watched by about 4 million more people in the late-90s than now.
But back to the point where Russo says he feels like WWE is catering to that internet audience.
Is he watching the same show I am?
The "internet audience" is gagging on Roman Reigns, yet WWE seems unaware — or they probably just don't care — and continue to force him to the top of the show. That's not catering to the internet audience, that's catering to what the 70-year-old chairman wants, no matter what anyone else thinks.
Russo's time in WWE was different, and while some of his points are off base, all WWE needs to do is listen to the audience. Creative needs the ability to call an audible if it needs to. 
WWE thought it was on the road to Roman Reigns winning the World Title last year, and the audience put up road blocks. You can either swerve and avoid them, or you can crash and burn.
Reigns, as he is currently presented, is a dangerous road for WWE to head down. While most "internet wrestling fans" will continue to watch the show, if they aren't given what they want, they'll begin to tune out. And what needs to worry WWE is right now, they represent a big portion of their audience.
You don't believe me?
Listen to a crowd during an episode of Rawand tell me if the people are behind Roman Reigns?
You can avoid the road block, or you can crash and burn. Your move.
Match Results
1. Kevin Owens beat Neville
2. Summer Rae beat Brie Bella
3. Sheamus & Rusev beat Dolph Ziggler in an elimination handicap match
4. Becky Lynch & Sasha Banks beat Naomi & Tamina
5. New Day beat AJ Styles & Chris Jericho to retain the WWE Tag Titles
6. Kalisto beat Tyler Breeze
7. Ryback beat Curtis Axel
8. Dean Ambrose beat Bray Wyatt via DQ
Quick Strikes
1. I thought WWE made a mistake having Shane McMahon get physical with the security guards during this show. It wasn't very good — Shane isn't a wrestler and hasn't done "this" in 10 years, so I don't blame him — but instead of getting Shane over as a threat or a tough guy, all it did was show his awkward, jerky punches and it highiighted a lack of athleticsm, especially when compared to the rest of today's roster.
2. WWE is throwing Dean Ambrose a bone with his WWE Title match at Roadblockbut it doesn't seem much more than that. I would be very surprised if Ambrose won the WWE Title at the show on Saturday, throwing a wrench into what seems to be lock-solid plans for Reigns at the big show.
3. Good cameo by Charlotte, who attacked Sasha Banks and Becky Lynch following their tag-team win. That match is going to be very underrated at WrestleMania.
4. Can we stop with Ryback, please? I realize it's on the undercard, but Ryback vs. Kalisto at WrestleManiafeels more like a match for WWE Superstars.