News
WWE: There's Nothing Wrong With the Charlotte / Paige Promo
Charlotte and Paige cut a promo discussing the death of Charlotte's brother, Reid. And it was all fine ...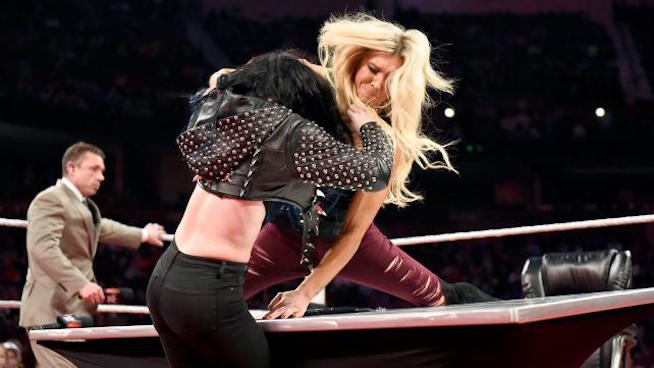 WWE Raw closed its show last night in unfamiliar fashion. The Divas Championship match at WWE Survivor Series 2015 on Sunday was featured in that main event slot, with the contract signing between the challenger, Paige, and the champion, Charlotte.
During the segment, Paige brought up the death of Charlotte's real-life brother, Reid. An aspiring pro wrestling himself, he died two years ago after overdosing on heroin and prescription pills. 
It was a powerful and impactful segment, with Charlotte clearly getting emotional. Within the context of the show, Paige never brought up Reid by name, but mentioned "your brother" after Charlotte said she had a lot of fight in her. Paige responded with, "well your brother didn't have a lot of fight in him, now did he?" That, of course, sparked a brawl as the show went off the air.
In a world where people are offended for the sake of being offended, it's no surprise that the Twitter police immediately used adjectives such as "classless" to describe WWE. Well you'd better include Charlotte and Ric Flair in thate category as well if you're going to go that far.
Reid Flair wasn't my brother and he wasn't my son. There is absolutely no way that WWE would run the angle, with that topic, if it wasn't first approved by both Ric and Charlotte. There's a zero percent chance of that happening.
So if Reid's father and sister don't take issue with it, who are you, me, or anyone else to suddenly perch ourselves on a moral high ground?
Was it uncomfortable? You bet it was. Go ahead and make the argument that it was bad television. I'm not saying you have to like the segment, but that picking out that one line? This is pro wrestling. This is entertainment. Yes, Reid's death was a real-life event, but countless television shows and movies are based on real-life events, and they're not always handled with class and dignity. 
In most cases, we praise WWE for bringing reality into its storylines. 
After all, we're talking about a company that in the past has featured an 80-year-old woman giving birth to a hand and a wrestler once accused of necrophilia, among other wild things. Undertaker and CM Punk used Paul Bearer's death to build an entire storyline heading into WrestleMania three years ago and Eddie Guerrero's death sparked a whole summer's worth of stories, including a 10-year job for his widow, Vickie.
There's a difference between using something and exploiting it. If Ric and Charlotte were fine with the line, then WWE simply used it. Exploiting it would be if they never asked permission, or especially if they went against direct orders from the family not to mention it.
So please, wrestling fans, get off your high horses. There isn't anything to be upset about here.
Match Results
1. Kevin Owens beat Neville
2. Tyler Breeze beat R-Truth
3. Dean Ambrose beat Dolph Ziggler
4. The New Day beat The Usos and Ryback via DQ
5. Roman Reigns beat Cesaro
6. The Dudley Boyz beat The Ascension
7. Alberto Del Rio beat Kalisto
Quick Strikes
1. Good on Neville in the opening match, as the crowd really believed he was going to win on a few of those near-falls. That's a good indication that the audience is buying where this character is going. I hope WWE is paying attention. 
2. Cesaro and Reigns had an excellent semifinal match. That's not a huge surprise, as Cesaro could carry me to a decent match at least. Look at what he did on Tough Enough. But this match was over 20 minutes and really well done. The only problem is that no one seemed to buy Cesaro's chance of winning at any point. 
3. The Del Rio-Kalisto match wasn't exactly star worthy. There were some botched spots and even Kalisto getting unintentionally unmasked. Nothing was going right for these two tonight. It was interesting placement, though. The most predictable tournament match (Del Rio-Kalisto) and the Divas contract signing in the last two segments isn't how WWE typically books.
The Finish
This was a pretty good show. Nothing about it was really excellent, other than the Cesaro match with Reigns, but that suffered with some predictability. The main-event segment was strong and virtually everything on the show was building towards the Survivor Series on Sunday, which is ultimately what this show was meant to do.
Mike McMahon covers pro wrestling here at Den Of Geek. If you want to tell him how wrong he is in the column above, yell at him on Twitter @MikeMcMahonPW