News
WWE Teases Roman Reigns Heel Turn With One Sentence Promo
Roman Reigns opened the Raw after WrestleMania with a one-sentence promo ...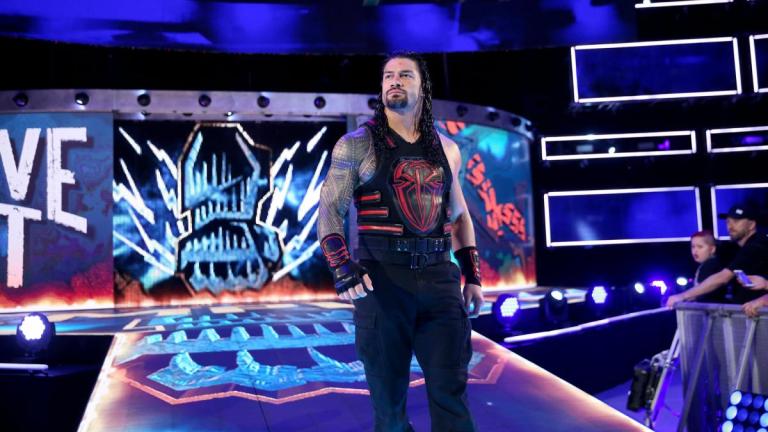 The Monday Night Raw after WrestleMania has become the biggest Raw show of the year. It's filled with hardcore fans. Take the 70,000 hardcore fans who were at WrestleMania on Sunday, and cram the loudest 15,000 of them into an arena, and that's the atmosphere you get.
That crowd is not going to be friendly to Roman Reigns.
WWE knew this, and Roman opened the show for a promo last night after five minutes of a standing ovation and "Undertaker!" chants from the Orlando crowd. At first, I chuckled. "How do they expect this to work?" I wondered to myself.
Well, they played it perfectly.
Reigns came to the ring, held the microphone for 10 minutes. Every time he lifted it to his mouth, the boos got louder and Reigns would lower his mic. After several teases, he finally said through the chorous of boos, "this is my yard now!"
Then he dropped the mic, and left.
It was perfect.
My guess is that WWE hopes the crowd is more friendly next week. But for one night, Reigns did exactly what he should have done. He was a heel. To that crowd, he was a heel, and he played it perfectly.
Moreover, I'm beginning to come around on Reigns. He's never going to be an over babyface, and that's not his fault. He's not booking the show. But if you look at his body of work this weekend, he carried Undertaker to a good match at WrestleMania. Undertaker was severely limited and Reigns created all of the movement. Then last night, he hit the nail on the head with a promo.
Roman Reigns is doing some of his best work right now, and in the buildup to the Undertaker match. He's finally finding his voice. WWE won't like that he's coming across like an arrogant heel, but he's finding his voice nonetheless.
Matt & Jeff Hardy beat Karl Anderson & Luke Gallows to retain the Raw Tag Titles
After this match, they hyped that the Hardys would be on Raw Talk on WWE Network immediately after Raw went off the air, for their first interview since returning to WWE at WrestleMania on Sunday night. I thought this was a brilliant hook for that show. Later, they revealed Goldberg would also be on Raw Talk.
The match itself was another quality match and giving the Hardys two wins like this, in their return, is huge. The reaction they got both Sunday and on Monday's Raw signifies good things ahead.
2. Neville beat Mustafa Ali in a non-title match
I thought this match was disappointing. Ali and Neville had a really great match on 205 Live a few weeks ago, and while this is surely the craziest fans WWE will play in front of all year, they were more interested in playing with beachballs than watching the match. And, this was only the second match on the show. That should spell some issues for the Cruiserweight Division as a whole, and maybe 205 Live as well. Is anyone paying attention? The rabid, older, smarter fanbase at the Raw following WrestleMania should be in love with a match presentation like this, and they couldn't seem to care less.
Kurt Angle introduced as the new Raw GM
Vince McMahon was out to make this announcement, which I found a bit odd. He was playing a heel character and introduced a babyface general manager. It was just an odd person to have announce the new GM. They couldn't have Stephanie do it either, but I'm interested in the logic behind a heel putting a babyface in charge when they, theoretically, could have chosen anyone.
That said, the setup here was also really long from Vince. Angle also only spoke very briefly, which was odd. No long promo, just saying that he was happy to be back on Raw.
Vince also mentioned a "Superstar Shakeup" edition of Raw next week. They were very specific in not calling it a draft, so we'll see what that means.
The Revivial beat New Day
The crowd exploded for the announcement that the Revival would be debuting on the main roster. I actually thought the Revival was a better fit for SmackDown than Raw, but perhaps that's something they can address in the shakeup next week.
The crowd reaction was a really good sign that the Revival is going to be an act WWE can get behind on the main roster. Here's to hoping they actually do it.
Bayley, Dana Brooke, and Sasha Banks beat Emma, Nia Jax, and Charlotte
After the match, Charlotte turned on her team, shoving Emma and Nia Jax. That resulted in Jax tossing Charlotte into the corner for a splash and dropping an elbow on Charlotte, leaving her lying in the ring.
This could mean that Charlotte is headed to SmackDown. I highly doubt she's headed to a babyface turn. It's way too early and she's too good as a heel. But that SmackDown division could use a shakeup, especially on the heel side, and putting Charlotte on the blue brand could spark some rivalries with Becky Lynch, Natalya, or even Naomi. It would freshen things up for Charlotte. That's always a match they can go back to down the road, but right now, they need some time apart.
Sheamus and Cesaro beat Enzo Amore and Big Cass
Surprised that Enzo and Cass didn't get the win here. I feel like they're cooling off a bit, and this could have been a nice win to get them heated back up and maybe, eventually, feud them with the Hardys for the titles. Imagine the promos? It could be really good and I thought WWE would begin to go in that direction for a short-term spring feud.
Sami Zayn beat Jinder Mahal
WWE is getting all they can out of the Rob Gronkowski involvement from WrestleMania, showing another replay of Gronk taking out Mahal during the Andre the Giant Battle Royal. That's smart.
Zayn was over with this crowd, especially his song and entrance. Zayn's character, his music and chanting, seems made for this Raw after WrestleMania environment.
Seth Rollins & Finn Balor beat Samoa Joe & Kevin Owens
Wow. Imagine this main-eventing Raw just a few years ago? Tyler Black and Prince Deavitt beating Samoa Joe and Kevin Steen. What a day to be a wrestling fan, watching these for former indy darlings main event one of the biggest Raw shows of the year.
And this match was good. Really good. The crowd didn't react huge for Balor, but it's because I think everyone knew he was returning, especially after they ran the injury angle with Jericho to remove him from this match earlier in the show.
But this match ended the night perfectly for a crowd that wanted to see this. As much as I thought the crowd was drained, they started hot and ended hot. Good show.