News
WWE Summerslam: Den of Geek Staff Predictions
The Den of Geek staff sounds off on one of the biggest and best WWE events of the year! With a card that includes huge matches for superstars like John Cena, Daniel Bryan, Damien Sandow, and Dolph Ziggler, this one should inspire plenty of debate.
SummerSlam arrives on August 18th, and it looks like the most impressive card of the year! With a handful of title change possibilities, a couple of terrific feuds, and at least two matches that we honestly can't predict the outcome of, the WWE has put together an impressive show. With that in mind, Den of Geek has asked one-two-three of our in-house wrestling prognosticators to put their heads together and give their thoughts on the matches and the feuds that led up to them. More than a series of predictions, these guys will get you caught up on what you need to know about SummerSlam 2013!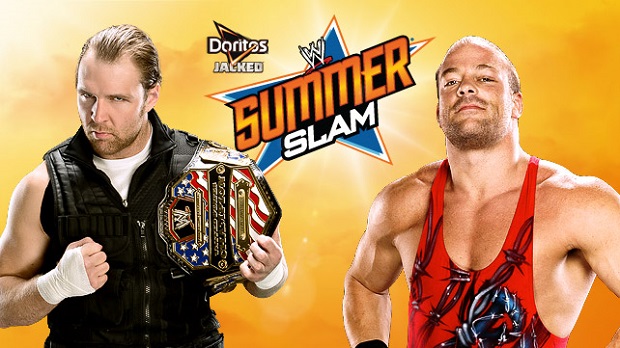 Pre-Show US Title Match: Dean Ambrose (c) vs. Rob Van Dam
Gavin Jasper: This should at least be a fun match, but I don't know who to choose. Ever since returning, RVD has become like a human placeholder. He's just there to be thrown into matches and get a nostalgia pop. By no means should he be beating Ambrose, but at the same time, the US Championship has been keeping Ambrose held down like an anchor, as it has for virtually every US title holder in the past few years. Maybe it's better that RVD holds onto the curse and sets Ambrose free.
Jesse Mateja: Ambrose has to go over for a few reasons: His star is still on the rise and needs some good matches and feuds with that title to help put him over more. It's not even on the PPV, and fans would pay to see RVD win any title. RVD supposedly doesn't have a long-term contract, so I don't see him sticking around long enough to hold any titles.
Vinny Murphy: I don't believe there is any reason for RVD to gain the title, especially when it isn't even on the actual Pay Per View. Ambrose wins, perhaps with interference from The Shield. This could end up as the start of a new angle the next night on Raw.
Mixed Tag Match: Dolph Ziggler and Kaitlyn vs. Big E Langston and AJ Lee
Vinny: This story needs to end so Ziggler can get back to business. With no threat to the Divas Title, I'll go with Ziggler and Kaitlyn. This would allow Dolph to distance himself from his former entourage and would also add another chapter to the Kaitlyn/AJ story without taking the belt off of AJ just yet.
Gavin: This is a hard one to call. I guess they're going to toss in Layla as a reason for Dolph and Kaitlyn to lose. Either way, I'm rooting for the Initial Connection because I intend to cheer on Big E Langston until the day I die. While I'm hoping this puts an end to the AJ/Kaitlyn feud, I wouldn't mind seeing Dolph's battles with Big E continue and actually put some emphasis on the two of them instead of strictly making AJ the centerpiece. If not, then whoever loses will desperately need a new feud and fast.
Jesse: Ziggler and Big E weren't together long enough to really drag this feud out. Ziggs needs the win to move on to a better program with someone else. He's in a delicate spot where fans are getting behind him, but need to see more of him as a face. Langston needs to get some more wins under his belt and beating Ziggler here wouldn't do much for him right now. As for AJ and Kaitlyn: AJ can lose this match, keep her Divas Title, and keep feuding with Kaitlyn, so a loss won't hurt her.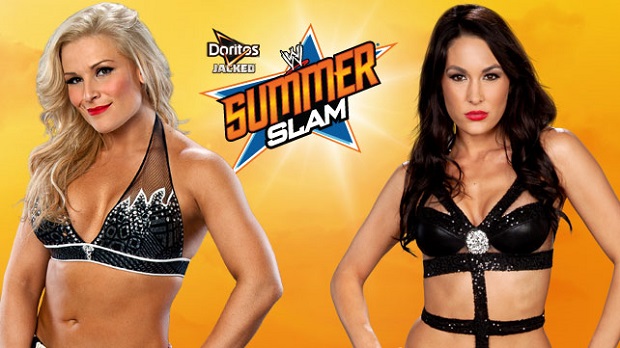 Natalya w. The Funkadactyls vs. Brie Bella w. Nikki Bella and Eva Marie
Gavin: Wait, hold on. What's this? They're really doing a Diva feud that isn't centered around the title? Well, I'll be. Brie's got the whole reality show thing pushing her, but I figure the AJ/Kaitlyn feud is on its way out, so they might as well use this to build up Natalya as the next big face contender. At least she'll try to make this watchable.
Vinny: Brie wins, it seems clear from Total Divas that the Twins will be the dominant heels for the foreseeable future. Nice to see Nattie getting some of the spotlight though.
Jesse: Brie gets the win because, just as Vinny said, The Bellas are the main heels and need to be right now thanks to Total Divas.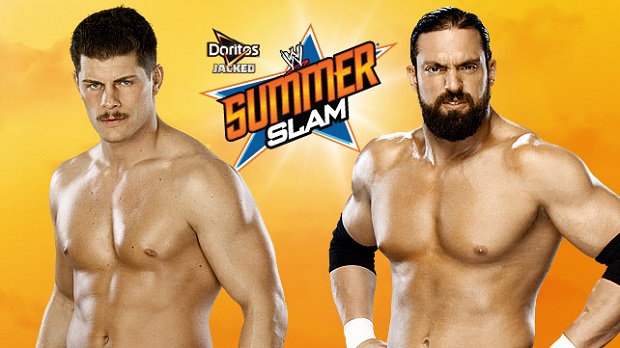 Cody Rhodes vs. Damien Sandow
Jesse: Tough one. Sandow has the Money in the Bank briefcase, and since it's not on the line, he can take the loss. Their feud can run a little longer, so I can see either one with this and the loser wanting another match. As much as I like Sandow, I'm going to go with Cody winning this due to his messing with Sandow so much since winning the briefcase. A Cody victory doesn't take anything from Sandow but will get the fans behind Cody even more in his fresh face run.
Vinny: Since the Money in the Bank case is not on the line, I'm going to go with Sandow. He'll probably cheat, but if Sandow cashes in anytime soon, he'll have a perfect rival for his run.
Gavin: This has been the best feud and really shows Sandow breaking out into something special after being given the ball. Or, in this case, the case. When you break up a tag team where they're both talented and put them against each other, you're usually guaranteed a good match, so I expect the same here. WWE has a tendency to crap down hard on anyone holding the Money in the Bank briefcase until cashing in and winning supposedly wipes all that away, so this is Rhodes' match to win. Sandow will lose, but still have his briefcase to help him lord over everyone.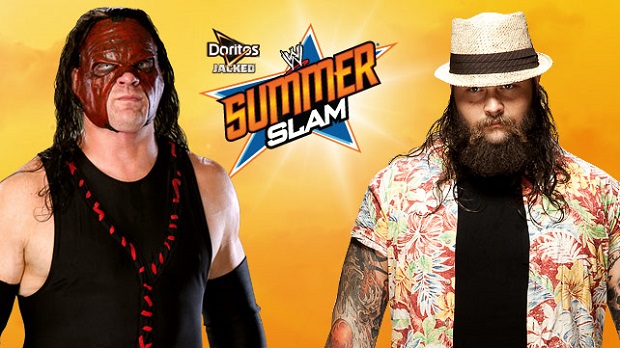 Ring of Fire Match: Kane vs. Bray Wyatt
Vinny: Wyatt goes over, as he needs to gain some momentum without his family. Also, Kane is apparently leaving to shoot See No Evil 2, so a fake injury may be in his future.
Gavin: Wyatt has this in the bag, but the most we can hope for is that it at least looks cool. We're not going to get a four star match out of this. Even if both guys were known for their cardio (and they're not), having all that fire around them is going to eat up all the oxygen and have them both gassed in record time. As long as they can make a spectacle of it, we should be good. Then Kane can go back to playing Jacob Goodnight in the next See No Evil while Wyatt can go back to playing the Devil himself on the main roster.
Jesse: Even though it's an Inferno Match (why did they change the title, anyway?) and Kane should win it, I see Wyatt winning since it's his first real PPV match, and he needs the rub right now.
CM Punk vs. Brock Lesnar w/ Paul Heyman
Vinny: Though the build up has been well-crafted, this is ultimately a fairly unimportant match. I'm going to go with Punk since I already see a Wrestlemania main event in his future, while Lesnar will likely be working towards a grudge match there. Honestly, it could go either way and work.
Jesse: Lesnar doesn't have a great record since coming back to the company, even if it is only for a certain amount of matches. With Cena and Bryan probably going to have a longer feud, Punk won't be involved in the WWE Title picture any time soon, so I see Lesnar going over thanks to help from Curtis Axel. Lesnar will get the win and can leave saying he beat the so-called "Best In The World" and doesn't need to have another match with Punk, leaving Punk to have a program with Axel for the IC Title.
Gavin: This has every right to be the match of the night. Coming in to put over CM Punk and his like is what Lesnar should have been doing from day one, so it's nice that after over a year, we're finally getting to it. I'm sure Lesnar will be written off via this match until Wrestlemania time, which saddens me because it means months without getting to hear Heyman growl, "BRRRROCK LESSSNAAAARRRR!"
World Heavyweight Title Match: Alberto Del Rio (c) vs. Christian
Jesse: Christian's build-up lately has been interesting. And Del Rio isn't that great of a heel champion right now. Even though the latter doesn't mean much, I can see Christian winning the World Title and Del Rio at least getting a rematch at the next PPV.
Gavin: Del Rio's been losing a lot to Christian in the lead-up, so that pretty much means that either he's coming out the winner or he really pissed off someone backstage and is getting buried to China. On the off chance that Christian does win, I could see Sandow cashing in on him just because everyone's too focused on the idea of Orton cashing in. This will probably be a solid match, albeit not so memorable, especially since they've been giving it away for free so much.
Vinny: I don't think Sandow will be cashing in soon, but if he did, Christian would be a logical target. Plus, they built Christian up more than I expected on RAW. Give Christian the belt now and let Del Rio chase him until Sandow cashes in.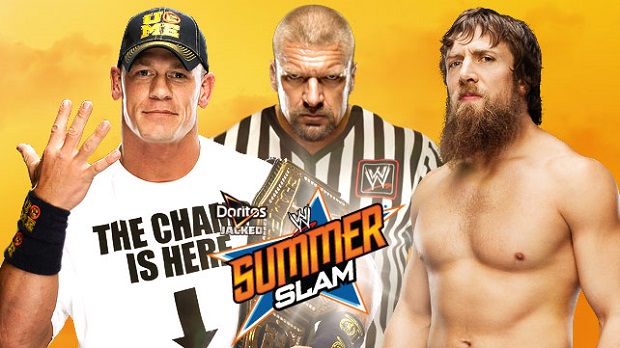 WWE Title Match: John Cena (c) vs. Daniel Bryan, Special Guest Referee Triple H
Gavin: Ah! You can tell that Bryan's push is a big deal because Triple H has latched onto it so he can enjoy the spotlight. It never fails. Having him tossed on last minute as the special referee only damages my interest in this match, as the show-defining wrestling exhibition has a good chance at becoming an over-booked mess in the final minutes. Cena seems to be injured and the company's been incredibly competent with booking Bryan, so he should at least get some kind of win out of this. The question is if there's going to be a surprise heel turn out of someone or if Orton cashes in on the unsuspecting former vegan. As long as Kevin Nash doesn't show up due to text message orders, I'll be fine.
Vinny: Should be a long match with Bryan ultimately taking the belt. I also feel like Hunter will somehow show his allegiance to Vince. The crowd will erupt and cheer "Yes" over and over again. Then, Randy Orton will cash in his contract and take the belt off of Bryan. Bryan and Orton feud through the fall.
Jesse: The two wildcards here are Triple H and Randy Orton. HHH can be impartial but might do what's best for business (side with Cena). Plus Orton keeps teasing cashing in the MITB contract. This one is a hard one to predict. With the fans so behind Bryan and no prospects for Cena to feud with in the near future, I can see Bryan winning to a huge pop, but then Orton taking advantage to cash in and win the belt from Bryan. Orton doesn't have a match on this PPV, which is suspect. This could lead to a 3-way match for the title at Night of Champions so that Cena and Bryan can get their rematches.
And that's it for us! What do you all think? Add your predictions and thoughts on these matches in the comments section!
Like us on Facebook and follow us on Twitter for all news updates related to the world of geek. And Google+, if that's your thing!