News
WWE SummerSlam 2015: Why Brock Lesnar Must Beat the Undertaker
We look at why The Undertaker's heel turn makes sense, and why Brock Lesnar absolutely MUST beat him at WWE SummerSlam 2015.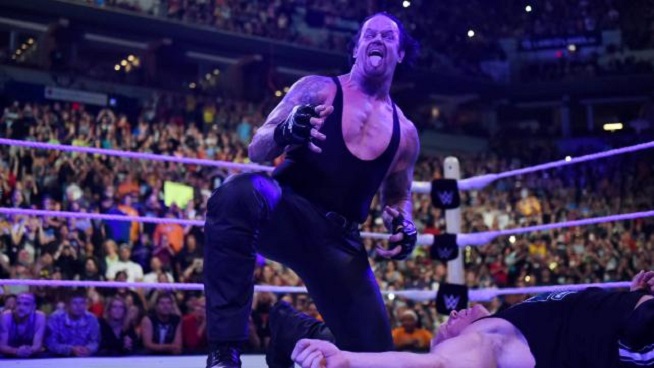 Brock Lesnar received a hero's welcome when he returned to the Target Center in Minneapolis for Monday Night Raw. Paul Heyman kicked off the show's closing segment with his typical on-point promo hyping Lesnar as the only man to ever beat Undertaker at WrestleMania. He then introduced Lesnar, and the building exploded. Streamers fell from the rafters — seriously — and confetti filled the arena.
Lesnar was Rocky Balboa returning home after beating Drago. He was a hero. Heyman continued to build up Lesnar and then — darkness.
When the lights came back up, Undertaker was in the ring and Heyman was nowhere to be found. Undertaker delivered a tombstone to Lesnar, but not before he kicked him with a low blow.
The crowd booed Undertaker. Loudly. It was palpable just watching it on television.
After years of being the "respected veteran" in the WWE, Undertaker is a heel. It's strange to even write that, but it's true. Granted the audience in New York might react a bit more favorably to Undertaker than the hometown Minnesota audience for Lesnar, but even when Undertaker cost Lesnar the WWE Title at Battleground, there was a smattering of boos from the audience once they got over the thrill of seeing Undertaker.
On Sunday, he's likely to receive at least a bit more favorable reaction. But make no mistake, Undertaker, in this story, he's the heel.
Think about it.
Brock Lesnar was the babyface at Battleground. Undertaker interfered in the match, costing Lesnar the WWE Title in his match with Seth Rollins.
Why?
Because Lesnar won a match clean at WrestleMania? Sure, Lesnar gloated over the victory, but would a babyface really cost another babyface the WWE Title for losing a match clean? Lesnar didn't cheat. Lesnar didn't do anything other than beat Undertaker, fair and square, in the middle of the ring.
So Undertaker is looking for redemption of a clean loss. In doing so, he cost a babyface the WWE Title and has, on multiple occasions, used dirty tactics — a low blow — in order to gain the upper hand in their confrontations.
Undertaker is the heel!
If WWE was going to move in the direction of Undertaker-Lesnar for SummerSlam, the only way they could do it without ruining the last 18 months of Lesnar's booking was to set up the match just as they have. The only missing component is Lesnar winning, again, on Sunday. Brock Lesnar can't lose this match. I don't care what angle is in place to give him an excuse, Brock Lesnar, the man you have built up as a beast, the man who has been unpinned in almost two years, he can't lose to a 50-year-old man at SummerSlam. Not without undoing everything WWE has done to build him up.
Match Results
1. Randy Orton & Cesaro pinned Kevin Owens & Sheamus
2. Roman Reigns pinned Luke Harper
3. Becky Lynch submitted Tamina
4. Rusev submitted Mark Henry
5. Ryback pinned The Miz
6. The Prime Time Players (Titus O'Neil & Darren Young) & The Lucha Dragons (Kalisto & Sin Cara) beat New Day (Big E, Kofi Kingston) & Los Madatores (Diego & Fernando)
7. Sasha Banks submitted WWE Divas Champion Nikki Bella in a non-title match
Quick Strikes
1. Speaking of promos, John Cena delivered a terrific promo late in the show. When Cena delivers promos like this, he's at his best. It was the best Cena promo in years, and he had the crowd emotionally invested in every single syllable coming out of his mouth. He sold the WWE Title match on Sunday as not only a big deal, but the biggest deal on the show. Cena and Rollins, in the ring together, saved the contact for Sunday, which made me like this promo even more. When this segment was done, I wanted to see them fight.
2. The Reigns-Harper match was a tad clunky and slow. There was something that felt missing from this match. He relies so much on the same movements. Reigns is another one who, ultimately, should be a heel. Last week in media interviews he compared his reaction building up to WrestleMania as being "bullied by the internet." He's in a dream world.
3. The Nikki-Sasha match was great. In the end, it should set up a Sasha Banks Divas Title match after SummerSlam is over. Certainly, after beating the champion, she deserves a title shot.
The Finish
This show felt like the calm before the storm. There's a lot about SummerSlam to be excited about, with the main event of course leading the charge. The Cena promo and Lesnar-Undertaker segments were both exceptionally strong segments.