News
WWE SummerSlam 2015: The Potential Problem With Brock Lesnar vs. Undertaker
The hype machine is in full force for Brock Lesnar vs. Undertaker at WWE SummerSlam 2015, and the set-up looks good, but...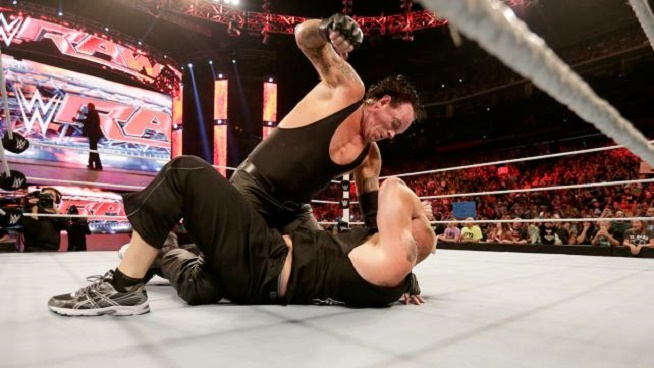 There isn't any more clarity to the upcoming Undertaker-Brock Lesnar main event at WWE SummerSlam 2015 next month, but Monday's Raw did provide excellent hype for the match. Undertaker opened the show with a promo that clearly stated why he returned at Battleground on Sunday, costing Lesnar the WWE World Title after he appeared primed to beat Seth Rollins.
But the promo did miss some new points. First, Undertaker said "streaks are meant to be broken." So he accepted losing to Lesnar at WrestleMania 30 but only returned because Heyman was gloating about it? Then why be so upset with Lesnar? After all, it's Heyman who was doing the talking.
Undertaker's delivery was terrific and the live crowd — as well as the millions of people watching on television, I'm sure — were glued to his every word. But it still didn't jive. Everything Undertaker did Sunday, and then even more in his opening promo, portrayed him as a self-centered heel who is upset about losing clean. That's fine, if Undertaker was going to be the heel in the match, but that's not going to happen. I doubt WWE would want to do it, and the fans aren't going to accept him as a heel. It's Undertaker, they're going to cheer him.
Later in the show, at the top of the first hour, there was an excellent pull-apart brawl between Undertaker and Lesnar. After Undertaker's promo, Triple H told Paul Heyman and Lesnar to stay home for the night, but Heyman appeared later in the hour and said he just had something he wanted to say.
Heyman cut a good promo that, again, left some breadcrumbs to Lesnar as the babyface. Heyman said he bragged about Lesnar breaking the streak because it was "the greatest accomplishment of Lesnar's career." He asked, "why wouldn't I?"
At the end of the promo, Undertaker's gong hit and he appeared in the ring. As Heyman was begging for his life, Lesnar's music hit and he charged the ring and Lesnar and Undertaker brawled for several minutes, with most of the WWE locker room hitting the ring on Triple H's orders to help keep the wrestlers apart.
Everything about this sequence was perfect. They didn't touch much, but it only created more anticipation for when they finally do meet again at SummerSlam.
The heel-face dynamic doesn't appear to be an issue either, at least not yet. Hopefully, and WWE needs to be really hoping this is the case, Lesnar and Undertaker can come out of SummerSlam both as babyfaces, because Lesnar's worth more as a kicking-butt babyface at this point, just as he has been built since WrestleMania.
There is obvious concern with the babyface vs. babyface match, though. Undertaker, ironically, had a face-vs.-face match with Steve Austin at a SummerSlam in New York that looking back, bombed because the fans wanted to see Austin and Undertaker kill each other.
The difference here is that Lesnar and Undertaker don't share a mutual respect. The Austin-Undertaker match spiraled into a show of mutual respect and mutual friendship, and the crowd farted on the match because they were two strong characters that fans wanted to see rip Madison Square Garden apart.
With Lesnar-Undertaker, you're going to get that type of match.
Despite some concern, everything between now and SummerSlam will be OK with this feud. Undertaker is still coming across, at least to me, as a self-centered heel, but that's OK. If more people see the story like I do, then more fans will want Lesnar to win, that's all.
But there still has to be a concern with how WWE gets out of this match. It feels shoehorned into place by WWE because of Raw ratings and presumably low WWE Network subscriptions, or at least the real desire to boost subs for SummerSlam.
I'm not sure how WWE doesn't give Undertaker his win back. But I also know that Lesnar losing to Undertaker at SummerSlam could do significant damage to the way he was booked over the last 18 months. Given the non-finish in the title match at Battleground, the worst thing WWE could do is a non-finish. Not delivering on main events is a troubling precedent to set.
Match Results
1. Charlotte defeated Nikki Bella
2. Los Matadores defeated The Prime Time Players in a non-title match
3. Big Show defeated The Miz
4. Roman Reigns defeated Luke Harper by DQ
5. Sasha Banks and Naomi defeated Paige and Becky Lynch
6. John Cena, Randy Orton, and Cesaro defeated Rusev, Kevin Owens, and Sheamus
Quick Strikes
1. Seth Rollins vs. John Cena in a champion vs. champion match also seems primed for SummerSlam after Cena and Rollins interacted on a promo at the top of the second hour. All indications are that Kevin Owens will see his push halted, and I worry he's the scapegoat for WWE's low ratings. Vince McMahon, after all, loves his scapegoats.
There's two problems with this. 1) Just like Undertaker returning, this is what Vince McMahon does when he panics. Ratings are low, so bring back a legend – 'Taker – and put John Cena in the World Title picture. 2) If Cena was going to challenge Rollins at SummerSlam, why didn't Owens beat him for the U.S. Title on Sunday? It's an easy story to tell. Owens cheats to win, but Cena turns his focus to Rollins, just the way he did.
2. The Divas Revolution has been fun to watch, but some of the current divas better start to realize that they are in real trouble. There were two diva matches on the show, which was great to see. They deserve more time. But Charlotte, Sasha Banks and Becky Lynch can out-wrestle most of the current divas, and they are more believable and come in with a lot of hype. There could be significant turnover in that division moving forward.
3. The Reigns-Harper match was good, especially considering the finish. This feud is flying under the radar a bit, but it has the potential to deliver big at SummerSlam, especially if they work Sting into the mix, which has been rumored.
4. The Authority is at the point where it doesn't appear to actually exist anymore, and that's a good thing. The bad thing is that I have no idea if Triple H and Stephanie are heel authority figures or babyface authority figures. It seems to flip back and forth, oftentimes within the same show.
The Finish
This was a good show to begin the build to SummerSlam 2015. My complaints aren't any different than most weeks. It's too long, but other than that, it was a good show.
Mike covers pro wrestling for DenofGeek.us. You can follow him on Twitter @MikeMcMahonDOG to talk all pro wrestling, all the time.