News
WWE SummerSlam 2015: Stephen Amell Will Wrestle Stardust
Will Green Arrow take on Stardust at WWE SummerSlam 2015? Yes. Yes he will.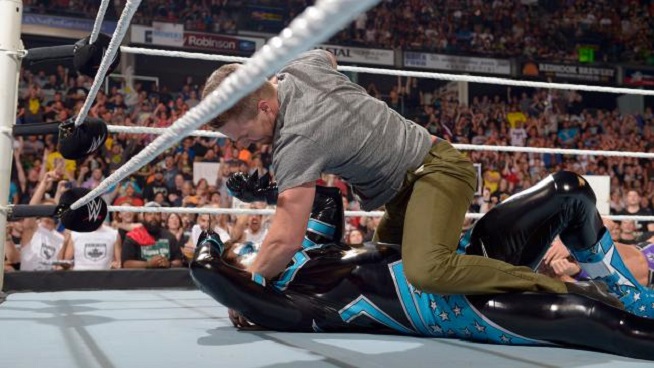 Arrow star Stephen Amell will wrestle at WWE SummerSlam 2015 on August 23, when he partners with Neville against Stardust and Wade Barrett.
Amell, who was the guest host on this week's Monday Night Raw, was sitting ringside for the entire program. Well into Raw's third hour, Amell's Twitter feud with Stardust finally spilled into physicality when Stardust shoved Amell in his ringside seat. Amell then jumped the guardrail and attacked Stardust in the ring before the fight was broken up by WWE security.
After a commercial break, backstage, Amell was begging Triple H for a match with Stardust at SummerSlam, but Triple H denied him at first, citing worries from "legal." Triple H later agreed, saying he was washing his hands of it, and booked the match of Amell and Neville teaming to face King Barrett and Stardust.
Neville, who has been nicknamed "Red Arrow," will now team with another Arrow in Brooklyn. Amell's involvement with WWE has been teased for months, since Stardust and Amell began having exchanges on Twitter. A few weeks ago, Amell posted a video on Facebook that mentioned WWE's run of shows in the Pacific Northwest, where Amell has been taping the next season of Arrow. "Why are pro wrestlers taking shots at me?" Amell said in the video post. "Are they intimidated? I'm just an actor. WWE is rolling through the Pacific Northwest in a couple of weeks, so maybe we'll find out then if I get a day off."
The hype cooled a bit when Stardust's father, Dusty Rhodes, passed away in June, but quickly heated back up again once Stardust returned to WWE television.
Amell, who is certainly athletic enough to make the match entertaining, also won't have to do much. With the match being a tag match, Amell will likely watch from the ring apron while Neville does most of the work. But it's a good spot for Stardust, Barrett, and Neville, who will all be seen in any mainstream press WWE is able to generate from this.
It's still an interesting move, and probably not much of a needle-mover for WWE. Will it generate some more buys? Probably. But no offense to Amell, I don't see his involvement suddenly creating 100,000 more network subscribers or pay-per-view buys.