News
WWE SummerSlam 2015 Matches and Results
We have the complete WWE SummerSlam 2015 matches, predictions, and analysis right here.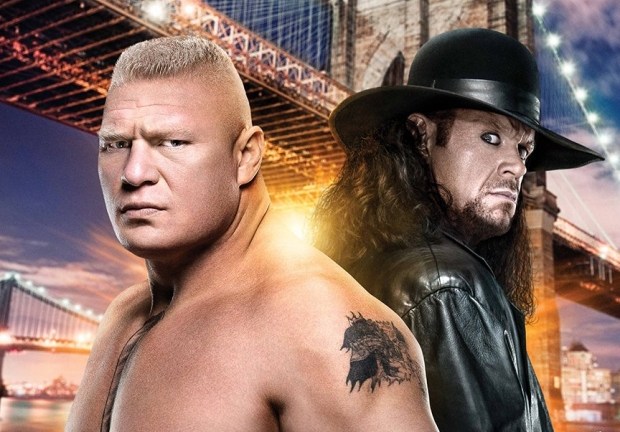 Two headline matches, two non-finishes. That's WWE in 2015. The good folks behind the program — more accurately, though, probably Vince McMahon — are once again out-thinking themselves. It was a major problem at WWE SummerSlam 2015.
First, there's no more "if" when it comes to whether or not Undertaker was the heel in this feud with Brock Lesnar. He's 100 percent the heel. First, he taps to Lesnar's keylock, the timekeeper at ringside noticed, and rang the bell when it looked like the referee was calling for the bell. But the problem is that the referee wasn't calling for the bell. So while the referee and timekeeper argued at ringside, Undertaker hit another low blow on Lesnar and locked in a Hell's Gate submission, where Lesnar eventually passed out to give Undertaker the TKO win via a ref stoppage.
In the co-main event, the WWE World Title vs. U.S. Title match pitting champions John Cena and Seth Rollins against one another, Rollins scored the win after the host of SummerSlam, former Daily Show host Jon Stewart, hit Cena in the midsection with a chair while the referee was down after a bump moments before. Rollins hit a pedigree on the chair and scored the pin.
Let's attack these one at a time.
The Lesnar-Undertaker finish buried WWE's last 18 months of booking. Brock Lesnar was a beast, and he was the man that WWE booked as being unbeatable. Now he's passed out in a submission attempt that was locked on by a 50-year-old man. I realize he's the Undertaker, and he's a big deal, but he's still a 50-year-old man.
So much for the monster …
At some point Lesnar was going to have to be beat or else you waste the opportunity after having built him up. I'd question whether using that opportunity on an aging star who is essentially on television only a handful of times per year is a smart thing. Also, he's a star that doesn't need to beat Brock Lesnar. Undertaker doesn't benefit from the win — especially in this fashion — unless he's turning heel. And even if he does, it's not as if he has another "run" left in him as the top heel in the company. It's not happening.
They protected Lesnar in the finish, explaining that Undertaker tapped out and also having Lesnar lose with a low blow before the finish, but you can't undo the fact that he was choked to unconsciousness by a 50-year-old man. I'd get choked out by a 50-year-old Undertaker, but "the beast" surely should not. Lesnar should have remained unbeatable, and unbeaten, until WWE was ready to crown a next "top star," and a win over Lesnar could have been a defining moment.
That opportunity is gone now … the man has lost.
Other than the finish, it was a terrific match. In fact, so was Cena-Rollins for the WWE World Title. It was fast and full of action to keep the viewers' attention span, but it also made sense. Nether match had spots just for the sake of spots. Everything was done for a purpose.
The Cena-Rollins finish was another attempt by WWE to get out of using a clean finish in a main event match. The two most hyped matches on the show ended in screwy finishes. That's "best for business?"
All WWE did was forward the story to another show. Another show they'll build as "must see" because Cena and Rollins are wrestling for the World Title (again) and Undertaker and Lesnar are "settling the score" (again). It's walking a fine line, because at some point not delivering on promised finishes is going to cost WWE in the wallet.
Why would I pay or go out of my way to watch SummerSlam if I only expect Cena and Rollins to wrestle again in four weeks at the next pay-per-view?
That's part of the danger with the new WWE Network era. WWE is worried about building subscriptions, but they aren't responsible for selling pay-per-view events on a month-to-month basis anymore. If you're a subscriber, they've got you. They don't need to worry about your business next month, because for the vast majority of the subscriber base, that sub is just going to roll over. At $9.99 per month, it's easy to not even think about.
It's hard to not feel like WWE dropped the ball here. Two very good matches that people were excited essentially not ending. If they only did that with one of the two co-main events, the outlook may have been entirely different. But this show ended with most fans — per the reaction on social media — feeling as if they were screwed out of something they were promised, or at the very least, left wanting more. And it's not "wanting more" in a good way either, it was fans wanting more because they didn't feel they got enough bang for their buck, even if it's only $9.99.
Quick Strikes
1. Orton and Sheamus had a good match to open the show, but man this felt like filler. It doesn't help that thanks to the three-hour Raw we have seen these two in the ring what seems like three dozen times now. That's what makes NXT, and in particular the NXT: Takeover shows seem so special. The product there isn't overexposed. It's an hour per week, mostly showcased squash matches, so when the main event talent wrestle it feels like you're seeing a big special event. That was clearly lacking here, despite Sheamus and Orton being two of WWE's top names.
2. WWE needed a tag match for SummerSlam. Overheard in a production meeting: "I know! Let's take the only four teams we have on the roster and put them all together in one huge match … again!!"
3. The Amell match wasn't bad, and it was great when compared to other "celebrity" matches. Amell has good athleticism and even though it was clear he had never been in the ring before, it was also clear that he was a fan and understood it. Well done.
4. The Cesaro-Owens match was fantastic. The crowd was a little quiet, in part because this was a long show and I think they were starting to get burnt out, but this was really good and the crowd popped nicely for Owens' win. Owens was MVP of the weekend after a great match with Finn Balor on the NXT show Saturday night and then this match against Cesaro at SummerSlam.
The Finish
We'll see how this plays out on Raw on Monday night, but at first glance, this show is dragged down by two non-finishes in the main events. Not a good look for WWE.
WWE SummerSlam 2015 Results
Brock Lesnar vs. The Undertaker
winner: The Undertaker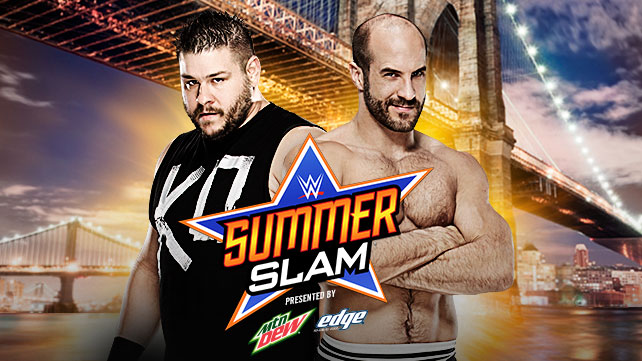 Kevin Owens vs. Cesaro
winner: Kevin Owens
PCB vs. Team Bella vs. Team BAD
winner: Team PCB
completed matches…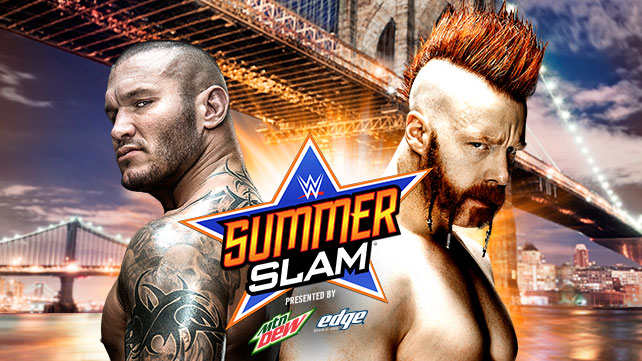 Randy Orton vs. Shamus 
winner: Shamus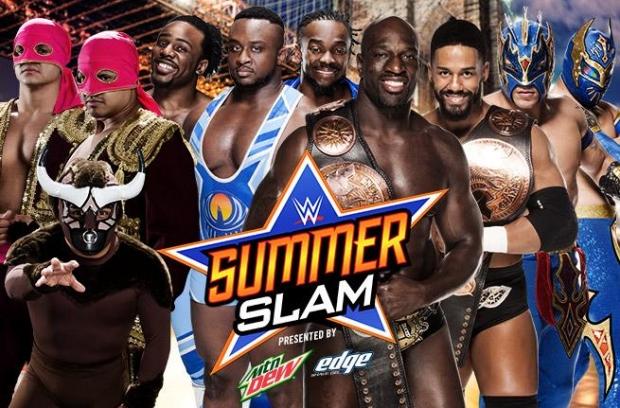 Los Matadores vs. New Day vs. Prime Time Players vs. Lucha Dragons
winners: The New Day (new Tag Team Champions)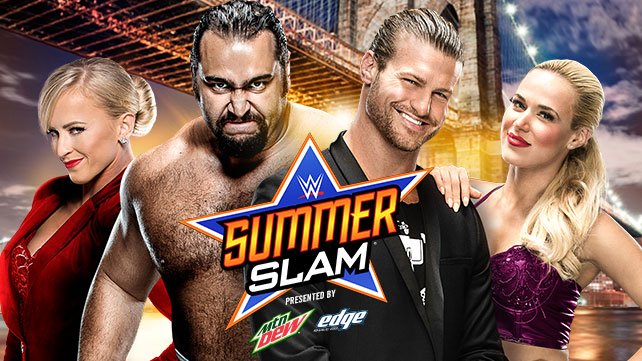 Dolph Ziggler vs. Rusev 
winner: double count out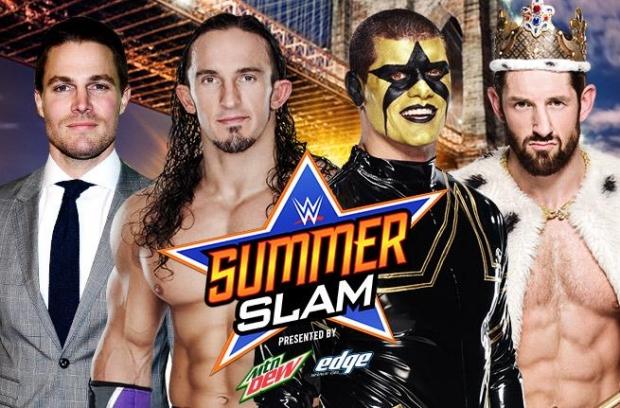 Stephen Amell and Neville vs. Stardust and King Barrett
winner: Stephen Amell and Neville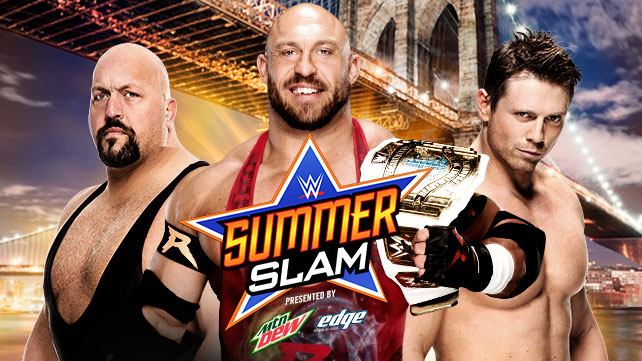 Ryback vs. Big Show vs. Miz
winner: Ryback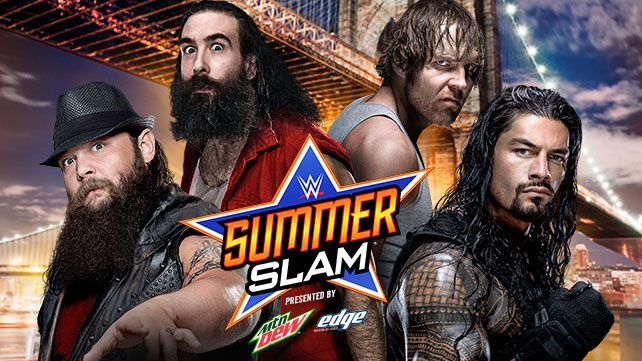 Bray Wyatt and Luke Harper vs. Dean Ambrose and Roman Reigns
winner: Dean Ambrose and Roman Reigns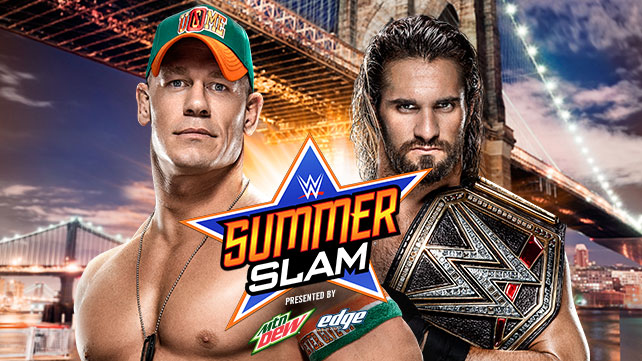 Seth Rollins vs. John Cena
winner: Seth Rollins (now both the World Heavyweight Champion and the US Champion)
Gavin Jasper would like to remind you that Heath Slater once main-evented SummerSlam. That needs to happen more often. Follow Gavin on Twitter!