News
WWE SummerSlam 2014 Results
We have all the results and spoilers from this year's SummerSlam. So many German suplexes...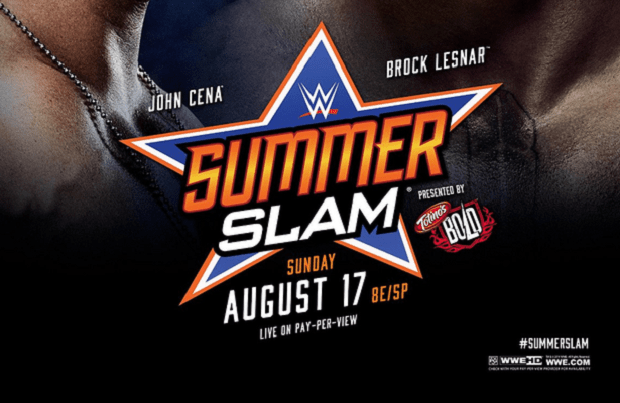 This isn't MMA, it's not about winning or losing. In wrestling, it's about telling the best story. Brock Lesnar and John Cena told a masterful tale in the main event of WWE's biggest pay-per-view of the summer, SummerSlam, on Sunday night in Los Angeles.
John Cena, the face of the WWE for the past 10 years, was savagely and relentlessly beaten by Lesnar in what amounted to a 20-minute squash match. But that's exactly what WWE needed.
Until now, "monster heels" were almost mythical creations; as real as Santa Claus or the Tooth Fairy. At SummerSlam, WWE brought a monster to life.
Cena was beaten, punched and endured 17 German suplexes. He was given the F5 just 20 seconds into the match and never recovered. There were brief (very brief) hope spots that were quickly cut off by Lesnar.
After kicking out of an Attitude Adjustment – which was Cena's only real offense of the night – Lesnar sat up from the mat like the Undertaker, the man whose iconic winning streak at WrestleMania Lesnar snapped in April. We kept waiting for Cena to mount a comeback like Superman, something we've come accustomed to seeing, but it never happened.
It was another top-of-the-game performance for Cena, who has put over other members of the WWE roster multiple times in his WWE career. RVD at One Night Stand in 2006. CM Punk at Money in the Bank in Chicago, just a few weeks after his "pipebomb" promo. Daniel Bryan last year at SummerSlam. Those are just a few examples.
Then there was this. Cena didn't just lose, he was squashed. The "Biggest Fight of the Summer," as it was billed, wasn't much of a fight at all. It was a beating.
And it was just what WWE needed.
Lesnar won't be on Raw every week. But Paul Heyman will be.
When it's all said and done, whoever finally dethrones Lesnar – despite some bumps in the road, I still think it's Roman Reigns – will be a made man. Brock Lesnar conquered the streak, and at SummerSlam, he conquered what WWE has built as being unconquerable.
Here are some thoughts on the rest of the show:
Hogan Pitches the Network
Hulk Hogan appeared to start the show, pitching the WWE Network. It might have seemed strange – pitching the WWE Network to an audience who largely have already subscribed – but that was a pitch to viewers who were still buying the event by traditional, pay-per-view routes. WWE wanted to remind you that there's a cheaper alternative (in most areas) and it's a good use of Hogan to use him as a pitchman.
Dolph Ziggler def. The Miz [c] to win the Intercontinental Championship
Miz has been solid since his return to WWE right after Money in the Bank. He's in his comfort zone as a cocky, arrogant heel. Dolph Ziggler picking up the win, and winning the Intercontinental Title, gives WWE a babyface champion to push now that Lesnar holds the World Title and won't be on television every week.
Paige def. AJ [c] to win the Divas Championship
Paige winning the Divas Championship was a surprise, at least to me. It was done really well and the match was entertaining, especially given the amount of time Paige and AJ were allotted on the show. Paige is a really effective heel, and this is the best wrestling the Divas division has had in some time.
Rusev def. Jack Swagger in a Flag Match
I was confused by the Rusev-Swagger match. Maybe I'm not remembering correctly, but isn't a flag match where each flag is put on a pole, and the winner is who captures their flag first? That's what I remember Bret Hart vs. The Patriot doing back around '97. Anyway, since it was just a traditional match, I liked that Swagger passed out and didn't tap. Makes Rusev look more lethal, and saves face for Swagger.
Seth Rollins def. Dean Ambrose in a Lumberjack Match
Seth Rollins and Dean Ambrose were almost perfect in this match. The pace was off the charts, which fit the feud, and both Ambrose and Rollins took some exceptional risks with dives and brawling throughout the crowd. Damien Sandow almost stole the show in this match, dressed as a lumberjack for the Lumberjack match.
Bray Wyatt def. Chris Jericho
I wonder how long WWE continues to push Wyatt as a heel until they give in and turn him babyface. The pace was slower than the Rollins-Ambrose match, which made sense and it was good for the crowd, but it picked up when it had to. The crowd was just really behind Wyatt for almost the entire match and popped for his win. For all the people who complained last month about Jericho going over clean, this is where it paid off. Jericho came back to put Bray Wyatt over, and he did.
Stephanie McMahon def. Brie Bella
In the turn that didn't seem to surprise anyone, Nikki Bella turned on her sister, Brie, clotheslining her to the mat to set up the pinfall victory for Stephanie, who looked great in the ring considering she hasn't wrestled in 10 years. It will be interesting to see how the audience responds to Brie vs. Nikki from here. In the past, it hasn't worked. Matt vs. Jeff Hardy fell flat as have most other sibling vs. sibling matches. Even Bubba Ray vs. Devon Dudley didn't work, and they were only fictional brothers.
Roman Reigns def. Randy Orton
This was an okay match. It wasn't perfect, and I'm not even sure if it was good. This was supposed to be a star-making moment for Reigns, and it didn't happen. He picked up the clean win, but Orton was more impressive, countering the spear into a snap powerslam and the crowd seemed to get behind Orton the longer the match went. The crowd didn't pop the way I think WWE wanted them to when Reigns finally hit the Superman punch and spear for the win. Orton did the job, but the rub wasn't there for Reigns. There's still plenty of time to build him up for WrestleMania, even if their hopes are to put Reigns against Lesnar, but they need to find a way to get more people behind him, and quick.
Like us on Facebook and follow us on Twitter for all news updates related to the world of geek. And Google+, if that's your thing!