News
WWE SummerSlam 2014: Den of Geek Staff Predictions
The Den of Geek staff looks at the potential winners and losers of SummerSlam 2014.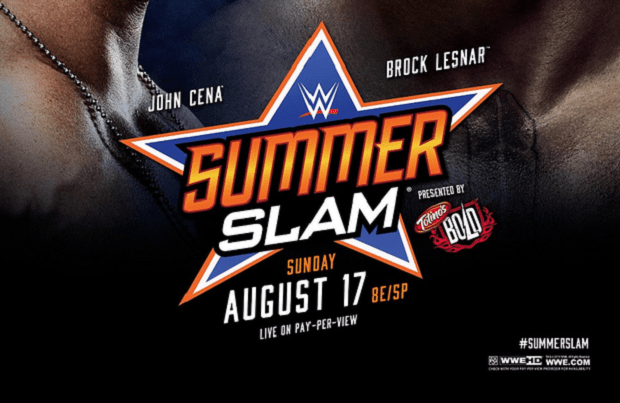 Nothing quite compares to one of WWE's "big four" pay-per-views, and SummerSlam 2014 definitely (well…mostly) boasts a card befitting its marquee status. There's a lot to get through this year, but luckily, there are a lot of us. Join our resident wrestling sports entertainment experts as we break down who we think will walk out of SummerSlam with their heads held high…and who will be carried out on a stretcher. 
The Miz vs. Dolph Ziggler
David Burszan: One of them is a great wrestler giving his best performance in years and has crafted a character that's fun to watch both inside and outside of the ring and deserves attention. The other needs to learn how to dye his roots. Miz wins.
Marc Buxton: Ziggler, on a PPV? Really? Really? Really! It's good the modern day Tito Santana (but should be Ric Flair) is getting a big spot on the second biggest show of the year. I don't think Ziggler will win a big match during this century so look for the Miz to retain. This match could be the sleeper match of the night though as Miz is rejuvenated and Ziggler always brings it.
Gavin Jasper: For the first time in years, the Miz has something resembling direction and an interesting personality. His Johnny Cage schtick is great and he definitely deserves to have gold. I can't imagine why they'd screw up his momentum so early, especially when the company has no interest in pushing the super-popular Dolph Ziggler despite the many fans chanting, "WE WANT ZIGGLER!" The two had a fantastic match a few weeks ago, and I'm stoked to see them keep going on it. Miz will hold onto the gold, which judging from recent history, won't work out for him in the long run.
Jesse Mateja: They just put the title on Miz, and for some reason the higher-ups love him, so he'll keep the belt through some lame finish. Ziggler could use the title since he has a lot of fans, but I just don't see them putting the IC belt on him just yet. Spoiler: stupid finish that makes Ziggler fans mad.
Mike McMahon: The Miz came back with a push, they buried him with Jericho 30 seconds after he returned, and they're building him back up. This should be an entertaining match. Miz has been quite good as a heel since he returned to the company at the end of June. He's arrogant and easy to hate. Ziggler has been on a pogo stick when it comes to his pushes. He's up, he's down. He's up, he's down. They're building Miz here.
Vinny Murphy: So, if you had asked me this in June, I would have had a different answer. I truly believed that this was going to be Ziggler's summer, and though they had him lose some key matches, it seemed that this was building to a breakthrough. With both Bryan and Barrett on the shelf, the landscape of the roster changed and even if those plans were possible, they are very different now. I suspect Miz to triumph and for him to unify the IC and US titles with Sheamus in the near future. But don't fret, Ziggler losing here is better for his future prospects.
Chris Jericho vs. Bray Wyatt
Mike: Chris Jericho returns to put new talent over. That's what he's done for the past two years. He beat Wyatt last month, but before Jericho takes another break to tour with Fozzy, Wyatt will get a clean win. Will it happen here? Probably. Jericho won on a throwaway show last month. This is SummerSlam. It's a big event and there's theoretically more eyeballs.
Marc: It's time Wyatt got his win back. With Rowan and Harper not allowed at ringside, could we be looking at the coming of a new member of The Family? You would think the patriarch of the Wyatt family will take this one before the next Fozzy tour, but it is kind of befuddling that Wyatt lost the first match. Wyatt needs this one to not be perceived as a going nowhere mid-carder with good mic skills.
Jesse: After losing to Jericho at the last ppv, Wyatt needs a win, especially if Rowan & Harper are banned from ringside. If Jericho is leaving in September like he's said in recent interviews, Bray needs a win over Jericho. Then they can have a rubber match at the next ppv and Jericho can leave. But Wyatt needs to look strong right now.
Gavin: Last month when we did our Battleground predictions, I was almost 100% on all my choices. I claimed that Wyatt was going to go over Jericho and instead we got a random ending where Jericho hit the Codebreaker out of nowhere and won, confusing all who watched. Bray Wyatt, the only man to get a clean win over Daniel Bryan in over a year and the man who took John Cena to the limit, lost to a random finisher that rarely ever wins a match. Who could have foreseen that? I guess they just wanted to keep the feud going and it's absolutely logical that in the end, Bray Wyatt will win. He needs the boost (especially after that last match) and Jericho is the master of putting people over. I'm doubling down on Wyatt.
David: Rowan and Harper are banned from ringside, but realize they can just show up anyway. They intentionally disqualify Bray and the three beat up Jericho, leading to a rematch at Night of Champions, because we don't deserve resolution and they reeeeeally need Network subscribers to stick around after the six months are up.
Vinny: So, everyone at Den Of Geek was wrong with this last time, myself included. While we all thought that this would continue to this point, the general consensus was that Wyatt would win his first match against Jericho. Then…he didn't. The WWE has made a clear effort to make this match a big deal, and while it isn't quite getting the reaction they want it to, maybe they have a reason for that. Wyatt is teetering on the edge of megastardom, his losses have proved that he isn't a flash in the pan and that even through these momentum tests, the crowd stays intrigued. This is a rough pick, but I'm going with Wyatt. I expect him to assert his dominance, brutally.
Jack Swagger vs. Rusev
Jesse: Does anyone even really care? They're trying to build Swagger back up, but Rusev is a monster that they need to build up more. Swagger needs to win with some weird finish like hitting Rusev over the head with a flagpole or something like that so that Rusev doesn't get pinned cleanly and keeps his heat as a "brute." Plus it makes the US look good and makes the fans happy.
Marc: This match is a very smart way to give fans a feel good, patriotic moment while still allowing Rusev to look strong. Swagger will raise the flag for THE PEOPLE as Rusev will go down in defeat without being pinned or made to submit.
Vinny: Just a reminder, Rusev won the last match by a count out. If this was not a flag match, I would have put my money on Rusev. He can take the loss, but Swagger can take it better. Unfortunately for The Bulgarian Brute, this is indeed a flag match. Swagger gets the win, firmly establishing his face turn and allowing them to use footage of him vigorously waving the American Flag after his victory at SummerSlam for years to come.
David: Jack Swagger reenacts the remake of Mr. Smith Goes to Washington from The Simpsons and finally beats Rusev, winning the right to decide who's a Real American. The power eventually goes to his head and he starts questioning everyone's legitimacy, leading to him turning heel by calling Bailey a fake geek girl.
Mike: This one is hard. I've read speculation – which I agree with – that Rusev is being groomed for a John Cena feud coming out of SummerSlam after Cena loses (we'll get to this later) the title to Brock Lesnar. For that to carry any sort of weight, Rusev has to beat Jack Swagger, right? But this is America, and Vince McMahon loves America, so while I don't have much confidence in this pick, I'll say … Winner: Rusev
Gavin: Aw, cute. They're actually trying to push Jack Swagger after years of jobbing him out. Normally, I'd continue with last month's prediction and say Rusev would have this, but not this time. They're bringing flags and emphasizing American pride a little too much for them to simply feed Swagger to Rusev. They haven't really made it known how this match is going to work, since a Flag Match has different takes, but I have a strong feeling that the racist American guy we're supposed to cheer for will defeat the racist un-American guy we're supposed to boo. Rusev will probably move on to bigger and better things once this is done, though.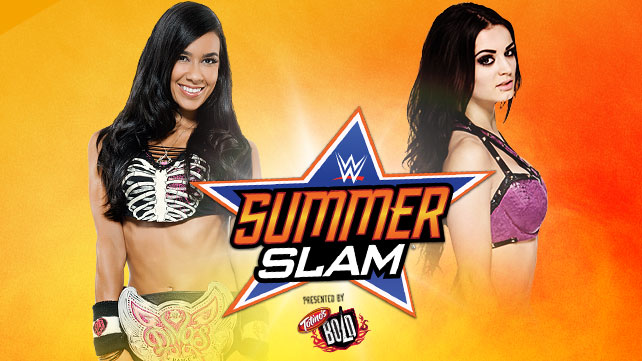 AJ Lee vs. Paige
David: The best non-Brock match on the show. I'm a huge mark for Paige, but she's done such a good job taunting AJ that even I want to see AJ get revenge. I think AJ will retain after an exciting ten minutes, but the feud will continue to Night of Champions. And maybe Hell in a Cell and Survivor Series so they can take the one story where I'm genuinely excited about both participants and really drive it in to the ground.
Vinny: Paige has finally firmed up her heel position and now can go into this match with the ferocity her persona deserves. This match could have benefited from some sort of gimmick, but I think the premise will be served just fine. This could go either way, but I have to go with my gut and say Paige, by heelish means. This would allow for a PPV rubber match and after that we can find out who management is getting behind as the first threads of WrestleMania 31 are woven.
Marc: The other hot rivalry. You just can't go wrong with these two, the best Diva workers since Lita and Trish. This feud has been surprising, unique, and hard hitting and I am very much looking forward to the next installment. Going to go with AJ retaining so this piece of art can continue.
Mike: I honestly don't know what to make of this feud. AJ returned and re-captured the belt, and I don't think it would make much sense to flip it back so quickly. Besides, I want to see more from these two, so I think AJ wins but Paige beats her up after the match, or does something to keep the feud going another month.
Gavin: This is probably the hardest match to call. There are a ton of reasons for each of them to remain champ and they're also the two most interesting and dynamic members of the Diva division, so it's not like there's anyone awesome waiting in the wings that I'd switch anyone out for. That said, considering Brie has been main eventing RAW lately, she'll need something to do with her status once Stephanie's done with. There's a good chance at a Nikki feud, but if not, I can easily see them transitioning into a title feud with Paige. Besides, it's about time we get to WWE punishing AJ for being married to a guy who walked out on them. Let's go with Paige.
Jesse: If you followed Paige in NXT, she had a great "anti-Diva" heel gimmick. But when she was brought up to RAW she was a face and frankly didn't have a good run with the Divas Championship. If she won back the title after turning heel, they could possibly save her character and keep her storyline with AJ going. She needs to win otherwise she might as well be losing to Natalya at house shows.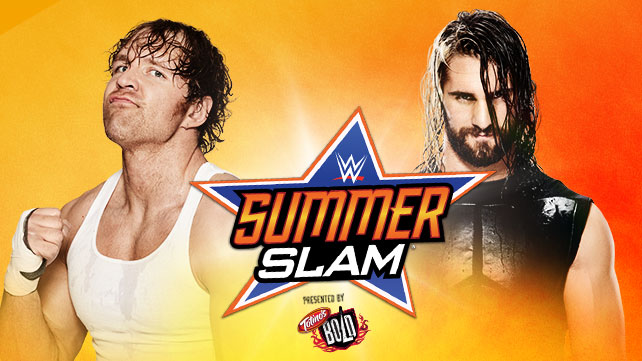 Dean Ambrose vs. Seth Rollins
Marc: A way for the roster to earn their PPV check. It's been awhile since a good grudge lumberjack match. This feud has been the best thing on WWE TV in the past six months. Hopefully, the E will, you know, actually have the match this time. Perhaps? maybe? These two will burn the house down, but it will be Mr. Money in the Bank that will go over as Ambrose will continue to play the hard luck Dusty Rhodes DDP baby face.
David: Dean Ambrose is quickly disqualified from the lumberjack match when he pulls out an axe from the back of his belt.
Gavin: As I said last time, Rollins has the Money in the Bank briefcase, which means he's going to lose more than he should. That's okay, though, because he absolutely should lose here. Dean Ambrose is over as hell and gets some of the biggest reactions in the company. He's really catching on and since WWE has been so good with using the Shield members from beginning to end, he might actually go somewhere. You know, unlike Ziggler. The lumberjack aspect of it is something I can take or leave, but it's going to be two of the best workers going at it in the best feud the company's given us in months, so the real winner is me. Ambrose is going to win, but it won't matter (at least in the bookers' eyes) because Rollins will still have the briefcase. For all the good that'll do him.
Jesse: Rollins has nothing to lose since he will still have the Money in the Bank contract even if he loses this match. But with the ring surrounded by guys that the Shield most likely have attacked over the past two years, it's possible the lumberjacks are going to put a hurting on both guys. Ambrose has the most to lose here, and even if he wins they can keep the feud going.
Mike: Dean Ambrose will win this match, and here's why: He was allowed to choose the stipulation, Rollins has the Money in the Bank contract, and WWE wants Ambrose to win this match. My belief is that WWE wants the Money in the Bank briefcase kept on Seth Rollins, so while it would have been logical for Ambrose to choose a stipulation with the contract at stake, that wouldn't have worked if WWE wants to keep that contract on Rollins and have Ambrose with this match. So it's a lumberjack match, quite possibly the blowoff to their feud, and Ambrose goes over.
Vinny: Finally, we get the match we were promised. Not that this angle has been boring. Since Battleground, Ambrose's torture of Rollins has been the highlight of Monday Night RAW and Friday Night Smackdown. Would you expect any less from arguably the two most talented men on the roster? If I had my druthers, I would have preferred this match be for the Money in the Bank contract. That said, these two will probably do things with a Lumberjack match that we've never seen before. Without the case on the line, and with Rollins more firmly established, I expect Dean Ambrose to win. However, I do not expect this to be the end of the feud.
Roman Reigns vs. Randy Orton
Mike: WWE is looking for something out of Reigns in this match. He's in a high-profile match, on a big show, against an established main-event heel. Also, if you've noticed, WWE has tried to hide Reigns on their show the past few weeks. He's not as polished in the ring as I think they would like, so Reigns has been on the opening match more often than not, and is helped by the fact that the crowd is usually hotter to start the show. That handicap match this past Monday, put that on at 10:15 and the crowd is asleep. Reigns goes over, but this is a big opportunity.
Gavin: Predicting this match is like being given the free space in the middle of a bingo board. WWE has a rocket strapped to Roman's back (a roman candle?) and after he dominated Survivor Series and the Royal Rumble, they would be absolutely insane to not have him run through Randy Orton like a hot knife through butter. Orton's character is losing his luster by the day and he's only here to be food for the strong. At the very least, expect Orton to try his damnedest to carry Roman into something remotely watchable.
David: Roman Reigns will continue his transformation from "cool guy we like" into "John Cena 2.0" by ignoring story logic and injuries he's supposed to have sustained and suddenly recovering to full health and quickly taking out Orton.
Marc: The mega, ultra, super push for Reigns will continue as he goes over the equally stale as Cena Randy Orton. This is actually a huge test for Reigns, can he hold a crowd's interest in a solo match without Shield to back him up? Fans want to love Reigns. This is the match where he could earn it.
Vinny: I like Orton and Reigns. I think Orton and Reigns should be on this show. I am not excited for this match. Though the tale behind the match, Orton having to prove that he should still be Triple H's chosen one, is logical and functions, this is missing that extra bit of heat it really needs to shine. Inject a ladder or a cage and we might have something special here, but I fear what we'll get is something that more belongs on RAW than at SummerSlam. As always, I hope they prove me wrong. I'm going to go with Roman Reigns, Orton is much more interesting when he's frustrated.
Jesse: Orton needs a good win right now. He's so useless otherwise. He has nothing going on, and right now the fans are so into Reigns that it doesn't matter who he has a match with. And that really hurts Orton. I'm going to give it to Orton, but probably with some help from Corporate Kane. That way you can keep the feud going for another month while Cena is occupied with Lesnar.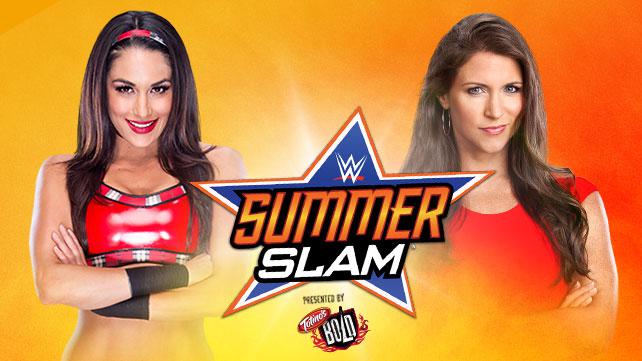 Brie Bella vs. Stephanie McMahon
Vinny: Though the focus of many of the recent episodes of RAW, this is perhaps the least promising match on the card. Existing mostly to continue promotion of Total Divas, and to keep the crowd chanting "Yes!", lets hope that this proxy Bryan/ Triple H feud match is left short and sweet. Expect more of a cat fight than a wrestling match. Without a belt (or much else) on the line, I suspect Stephanie will walk away with the victory here, certainly not a clean one though.
Marc: The biggest waste of time on RAW since Triple H violated Katie Vick comes to a head as Stephanie McMahon takes on Brie Bella. The fact that this nonsense has been built up more than the IC title match or Wyatt/Jericho makes me want to hurt myself. But here it is: I predict I will microwave popcorn and read some back issues of The Defenders while Stephanie wins thanks to a Nikki Bella heel turn.
David: Stephanie McMahon announces that Brie will be allowed to wrestle, but only if she accepts Steph's new condition. Brie agrees; Stephanie tells her that it's now a handicap match and that karma's a bitch. Kharma returns as Steph's tag partner and demolishes Brie and Nikki (who decided to help her sister through twin magic). It's amazing.
Gavin: Stephanie has had many problems when it comes to portraying her on-air character, but she's finally realizing that much like her father, it's best to show some humility once and a while and come off looking like a defeated fool. Stephanie got the last laugh on RAW, so I can't imagine why she would come out the winner. Brie will probably knock her out with a running knee, bringing some kind of closure to last year's Daniel Bryan victory/screw job. While Brie will win the battle, I fully expect that the RAW after will have Steph get her heat back in a way that moves the two away from each other. Probably through Nikki turning heel on Brie.
Jesse: Stephanie doesn't lose easily. We know Steph got that trainer to lie about the affair with Bryan. Even if Steph loses, she can still throw the affair in Brie's face to keep some sort of feud going. This can go a few different ways, but the way to keep Brie with face is have her actually win.
Mike: Unlike Dixie Carter, the McMahon family has always been good about "getting theirs" on television. Members of the McMahon family lose a lot more than they win. Stephanie can lose, she can be humiliated, and still get her heat back on the mic the next night on RAW. Remember a few weeks ago when Vickie gave her a slop bath? It didn't hurt her. Unless they drag this into another match next month, which I see as highly unlikely, Brie wins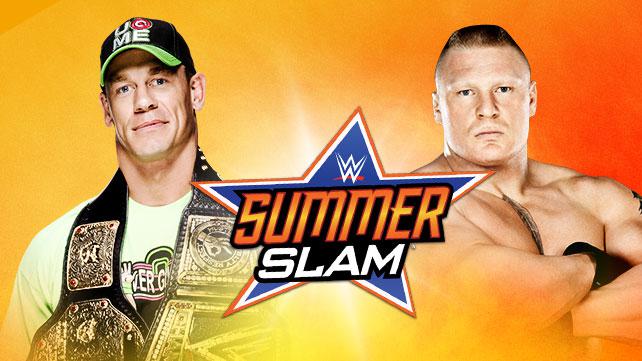 John Cena vs. Brock Lesnar
Jesse: We know one way or another Lesnar is walking out as champ. And it's really the smart thing to do if you're going to bring him back, even for a month. Lesnar always needs heat and to get over somehow, or he's no longer an attraction or dominant opponent. He's really only going to be a paper champion for the next month. Whatever. If they think it will make more people buy the boring Network, bring Lesnar back and have him win.
Gavin: Right now, WWE needs Brock Lesnar. They need a heel champion who isn't just a slimeball trying to sneak away with a piece of metal. They need a monster. They need a final end boss. Someone who you climb a great mountain to challenge. A mighty dragon. A colossus. Lesnar is a special kind of looming threat that WWE couldn't manufacture again if given the chance. He's someone that Seth Rollins would think twice about every time he walked out with that briefcase because he might not have any arms left to hold a briefcase after he cashes it in. Meanwhile, Network subscriptions are coming up in a little bit and WWE knows that the fans aren't happy about Cena as champ. Triple H even dared people to cancel their subscriptions last month. No way is he continuing with the belt. My pick, Brock Lesnar, conquered the Undertaker's streak at WrestleMania and he's going to leave John Cena in a pile of blood, urine, and vomit.
David: Heyman's spin and Brock's unawareness of TV-PG have made the two some of the most entertaining talkers in the WWE, while Cena's blabbering on about how "some of you like me and some of you don't and that's okay" and calling people bitches for having diseases (which I'm sure Make a Wish just loved) in between shooting movies. Cena gets a break to do something different and work in Hollywood uninterrupted and we get the BEAST INCARNATE as champ. Win-win for everyone.
Marc: It's hard to work up any sort of excitement for this one, a stale baby face versus a part time heel. None of that will take away from the fact that both guys will bust their asses to deliver a memorable match, the only issue is, it will be a kick ass match we have seen before. It seems WWE could book themselves into a corner because they have to choose between the ultra stale Cena and the part time Brock. If Cena wins, it's the same old same old; if Brock wins, we won't see a WWE title defense until probably Survivor Series. Smark snark aside, I suspect Lesnar will win. I don't think the E will throw away Lesnar's 'Mania win over the Undertaker just to give Cena more of a rub. At least I hope not.
Vinny: Brock Lesnar is going to win, and (DDP voice) that's a good thing. Most complaints about Lesnar's potential championship reign stem from the part time nature of his contract, the fact that the champion would not be present consistently and that this lowers the status of the rest of the card. Jesse Mateja recently wrote a piece criticizing this potential angle, but I respectfully disagree. The WWE is well aware of the problems of Lesnar being the champion, in fact they're playing it up in nearly every promo for SummerSlam. They even did an hour long mockumentary on the match, in which Cena accused Lesnar of being a selfish mercenary. Forget the extra buys Lesnar brings, what this brings is chaos to the story. A man who shouldn't be champion is champion. A coward who can't be bothered to show up every week has the most important title in the universe. Keep in mind, this isn't all about Lesnar. It's his fall that will count. If played right, beating Lesnar could make someone's career. It all lies in who they choose. Believe that.
Mike: Brock Lesnar is going to win the WWE Title at SummerSlam. He's not going to show up on RAW every week, which is going to piss off fans, but he's a heel. Paul Heyman will be on RAW every week, carrying Brock's title and gloating about how great the two of them are. Brock will wrestle a few contenders between now and WrestleMania 31 in San Francisco, where he ultimately loses to Reigns, who will win the Royal Rumble, and crown a new era in WWE. That's what will occur over the next seven months, in a perfect world.
Like us on Facebook and follow us on Twitter for all news updates related to the world of geek. And Google+, if that's your thing!