News
WWE Smackdown Results: 8/29/14
Roman Reigns' star continues to rise, while the Swagger/Rusev feud appears to come to an end. Here are your Smackdown results.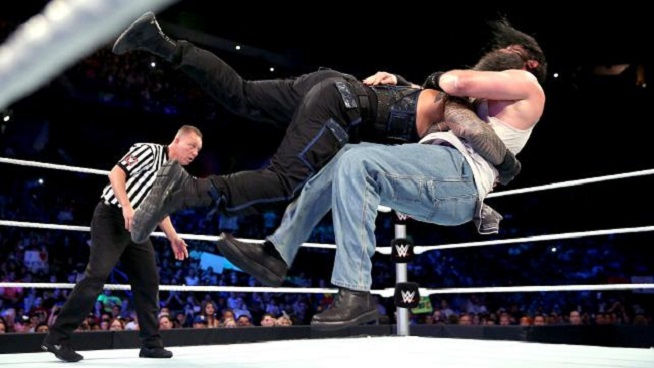 Reports surfaced earlier this week that Vince McMahon and Triple H have differing opinions over what the main event of WrestleMania 31 will be next spring in San Francisco. According to reports, Vince is in favor of Brock Lesnar defending the WWE World Heavyweight Championship against The Rock, in what would be a huge match in name value and star power. In WWE, that sells tickets. It's what Vince has built his company on for years, dating all the way back to the clashes between Hulk Hogan and Andre the Giant. McMahon's strategy has always been to put the two biggest names in the ring together.
Triple H, it's believed, wants to push Roman Reigns to the point where he is ready to be crowned the new champion at WrestleMania, kicking off a new era at the show. It's too early to tell who might win out, but if Friday's Smackdown is any indication, Reigns is going to be kept plenty strong for the next few months.
Reigns picked up a pair of wins on the show, essentially. He opened the program with a DQ win over Bray Wyatt, through interference, and later scored a pin over Luke Harper in the main event in a six-man tag match. The past few weeks, Reigns has been the focal point of Smackdown. It almost feels like this is his trial run. Before McMahon is ready to crown Reigns as the face of his company, he's seeing if Reigns can become the face of WWE's "B" program.
Reigns has done a nice job establishing himself on Smackdown. It's a canned show, so it's hard to tell how much he's been helped by WWE's excellent post-production, but Reigns is showing personality through promos on Smackdown that we just aren't seeing when he's on Raw. In the ring, he's been dominant. Unstoppable.
Here's what else happened on Friday's Smackdown:
Roman Reigns def. Bray Wyatt via disqualification
Erick Rowan and Luke Harper hit the ring about five minutes into the match to cause the disqualification finish. As the Wyatt Family appeared to have the upper hand on Reigns, Big Show and Mark Henry hit the ring to make the save.
It was an odd booking decision. Reigns vs. Wyatt is a match that could have theoretically been built to on a pay-per-view, and all this match was used for was an excuse to setup the main event later in the show. They could have gotten away with just cutting the segment and announcing the main event. I'm not sure it really needed this segment to setup the match.
Seth Rollins def. Rob Van Dam
This series of matches has really taken Rollins to another level. WWE hasn't exactly protected RVD since his return just over a year ago, but he's still a household name, who carries some serious credibility with the older crowd. Rollins isn't squashing RVD – and he shouldn't – but he's picking up strong wins against a strong opponent.
I'm not sure it's helping Rollins in the ring – he's already pretty good as it is – but in the eyes of the people, it's boosting his credibility. RVD, to his credit, didn't look out of place against the much younger, much quicker Rollins.
Good on WWE
Up next, they recapped the Nikki-Brie segment from Monday's Raw. I voiced by displeasures, quite strongly, against the "I wish you died in the womb" line by Nikki, and good on WWE for editing it out of the recap. The line didn't receive as much backlash as I thought, to be honest, but it's a smart move to just chop it.
Page def. Emma via submission
This one was incredibly quick, with Paige locking in the PTO and scoring a submission victory in less than a minute (58 seconds). Emma has done very little on television since she was arrested for shoplifting at the end of June, when Raw was in Hartford, Connecticut.
After the match, things got weird between Paige and AJ, who skipped to the ring with a box of chocolates and gave it to Paige in the ring. AJ coerced her into trying one, but Paige just spit it back out into the box and left the ring. AJ stayed in the ring and ate a chocolate as Paige looked on in disgust. This post-match segment was a big strange, but AJ and Paige are still putting on some of the best stuff the Divas division has done in quite some time. The more these two talents find themselves on TV, the better.
Rusev def. Jack Swagger via submission
This felt like a blow-off match between Rusev and Swagger, likely ending their feud that's been going on for about two months. Rusev won the match with an Accolade; Bo Dallas threw in a towel, which didn't end the match but distracted Swagger enough that Rusev was able to tighten the hold and force the tap out.
Swagger now has a seamless transition into a feud with Dallas while Rusev likely wins some squashes on television the next few weeks, waiting for Cena to get through with Lesnar before kicking off a fall feud, would be my guess. If Cena loses for a second straight month at Night of Champions, he's going to need a big win in a big feud, and finally stopping Rusev might be just what the doctor ordered.
As for Swagger, after berating him on the mic, Dallas attacked Swagger, while Swagger was selling his injuries following the match. If this was the end of Rusev-Swagger, it was a feud well booked. At the end of it, Swagger and Rusev are both in a better position than they were previously. Swagger, who lost more than he won, comes across as a bigger star now than he did prior to his feud with Rusev.
Jimmy Uso def. Stardust via pinfall
A really quick match, with Uso rolling Stardust up out of the corner for the pin.
Prior to the match, Goldust apologized for their actions on Monday's Raw, where it appeared that Goldust and Stardust turned heel, attacking the Usos. He said they just "want the WWE Tag Team Titles so badly." The crowd seemed to accept this response, which was odd. After the match though, Goldust attacked Jimmy while Stardust chopped out Jey Uso's knee.
The Usos were once again left laying by the Dust Brothers, who despite the pre-match promo, are clearly heels.
Sheamus def. Damien Sandow via pinfall
A really entertaining pre-match segment between Miz, Sandow, and Sheamus. Sandow is under utilized, but has been incredibly entertaining doing his bad impersonations every week. I'm still laughing at his lumberjack costume from SummerSlam, when he was a lumberjack in the Rollins-Dean Ambrose match. This match was supposed to be Sheamus vs. Miz, but Miz introduced Sandow, who was dressed as the Miz, as his stunt double. It was good heat on Miz to squirm his way out of a match, and should help make an eventual match with Sheamus feel even bigger down the road.
After the match, which Sheamus won with White Noise, Miz attacked Sheamus and then they tried to run, but Dolph Ziggler tossed Miz back in the ring. Sheamus went to hit the Brogue Kick on Miz's "moneymaker," but he ducked and Sheamus clobbered Sandow with the kick instead. Booking like that won't just make a Miz-Sheamus match feel big, but it should feel like a real big moment when Sheamus finally lands that kick on Miz.
Mark Henry, Big Show, & Roman Reigns def. The Wyatt Family
Harper was the fodder here, with Reigns getting the hot tag late in the match and clearing the ring of the heels between hitting a Superman Punch and a Spear on Harper for the win. The babyface team then celebrated to close the show. WWE still has faith in Reigns as "the next one," and the booking here showed that. Reigns was made to look like a million bucks, saving the match for his team and scoring the win after a hot tag.
The show on the whole was typical of what we have become to expect from Smackdown recent months. There was a lot of recap from Raw, but some good original matches to keep it feel fresh. Most of the angles will be saved for Raw, but Smackdown's pace has been very good the past few weeks, advancing the stories told on Raw with action in the ring.