News
WWE Raw "Season Finale" Leaves a Lot to be Desired
On the eve of football's big return, this week's Raw doesn't give us too much reason to stick around for next week's season premiere.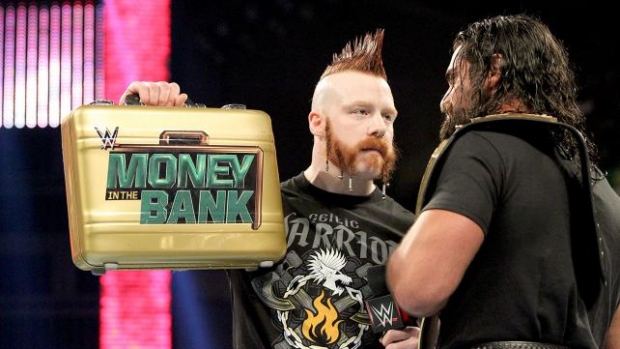 Are you ready for some football?!?!
WWE surely isn't.
Ratings for Raw have been sinking since the move to three hours a little more than three years ago. It wasn't all that long ago that a rating of 3.5 would have been alarming. Then it was normal. Now? That would be a huge increase.
WWE's Raw ratings have been consistently below 3.0 for a while, and with the return of the NFL this weekend — and Monday Night Football in just six days — things aren't about to get better. In fact, they're about to get worse. Probably much worse.
WWE knows it, too. They kept billing next week's episode as the "season premiere" of Raw, which doesn't mean anything, really. They advertised nothing, other than a Tag Team Title match and a Divas match. Good on them for at least advertising something ahead of time, but WWE needed a big hook. They needed a big bang on this last uncontested Monday from the NFL. They didn't do it. Now they're in trouble.
If next week was the season premiere, that makes this past week the season finale? Right?
Most season finales — especially episodic dramas, which WWE likes to bill itself as — have some sort of big hook for the next season. There's a big angle or storyline there to hook the viewer and make you salivate to the next fall when the show returns. Jack Bauer was kidnapped by the Chinese right before the clock ticked down on the final seconds of a season. He disappeared from the grid after faking his own death, too.
There was something there to get people buzzing.
WWE booked Monday's Raw like a typical holiday episode. They expect viewers to be down, and not much happened. Sting destroyed Seth Rollins' statue with a garbage truck. That's about all you missed as far as story advancement.
WWE continuing to drop the ball in this regard is alarming. The people — or more appropriately, the person — in charge just doesn't "get it" anymore. The creative direction of an entertainment company is run by a 70-year-old workaholic. He's the final yay or nay on the creative direction of a product that needs to have its finger on the pulse of pop culture.
The contrast is NXT. That's run by a 40-something former wrestler, but someone who gets what wrestling is supposed to be. He's also a heck of a lot more in tune with pop culture than his father-in-law.
NXT overexposed for five first-run hours every week would water it down and do irreparable damage to the product. There's no doubt. NXT benefits largely from being a one-hour per week show.
But it's also managed better. It's run better. It's more compelling. They do their best to hook a viewer from week to week.
WWE didn't hook anyone last night, and they're going to pull that reel in next Monday, opposite Monday Night Football, and find out that their bait fell off the hook.
Or better yet, they threw the line in the water without even a worm.
The fish isn't going to bite the hook without a little enticement. Television viewers are the same, but Vince McMahon hopes you keep biting down regardless.
Match Results
1. Sasha Banks beat Paige.
2. Roman Reigns & Dean Ambrose beat The Ascension.
3. Ryback beat Seth Rollins in a non-title match after Sting distracted Rollins.
4. Randy Orton beat Sheamus.
5. The Dudleys beat Los Matadores.
6. Cesaro fought Miz to a double count-out.
7. John Cena, Titus O'Neil, & Darren Young beat Seth Rollins, Big E, & Kofi Kingston.
Quick Strikes
1. Seth Rollins was the victim of a few "boring" chants during his opening-show promo. Not all that surprising, unfortunately. WWE has over-exposed him, especially on the microphone. It's at a point now where I wouldn't be surprised to see Rollins re-deliver the same promo on SmackDown later in the week. That's what SmackDown has become. It's not a replay of Raw, but it's essentially a reenactment. There's only so much that can be said before a match, and over-exposing promos has become the norm, especially in the three-hour era.
2. It was good to see Reigns and Ambrose get a convincing win on Raw. They were fodder for getting Braun Strowman over in his early weeks and they needed a rebound match/segment this week. The Ascension, once looked at as a promising team, has become enhancement talent on the main roster.
3. Beating champions in non-title matches is never a good thing. Beating your World Champion in a non-title match is straight up idiotic. I don't care that Sting interfered, it hurts Seth Rollins, doesn't help Ryback and Sting looked silly on screen as a hokey, old guy. Terrible segment that did far more harm than good to almost everyone involved.
4. I'm not sure there has been a wrestler the fans are less excited about, as a Money in the Bank holder, than Sheamus. There was zero reaction for him as a heel in his match with Orton.
The Finish
New Day, in particular Xavier Woods, salvaged the main event with his trumpet playing. New Day needs to watch out, though. They're supposed to be the heels and they're going to end up becoming babyfaces. Overall, a ho-hum show. It is what it is, at this point. There's not much they can do to change the creative direction of the show and product with a three-hour, way-too-long show. The roster isn't deep enough and WWE hasn't done a good enough job developing talent. Meanwhile, ratings are sinking at a rapid pace.