News
WWE Raw Ratings Down Again
WWE Raw saw its ratings plummet again this week as the product struggles to gain any traction with viewers ...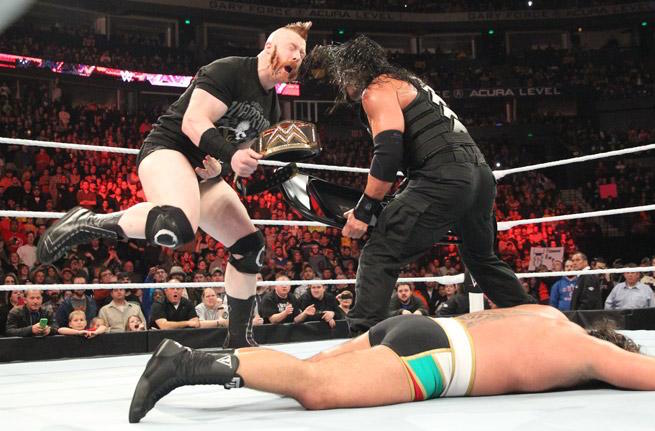 Let's just put the facts out there. This past Monday's WWE Rawdrew 2.96 million viewers and registered a 2.16 rating. That's down nearly a full ratings point and 1.3 million viewers from this same week one year ago.
It's no secret that ratings are circling the toilet at this point. And what's scary is that it can get much, much worse. None of WWE's big, marketable names are on the show, and the audience has almost unanimously gagged on the Roman Reigns vs. Sheamus feud for the WWE Title that's about to unfold. 
There is no light at the end of the tunnel. If there is, it's only the train coming through.
Raw and NXTare vastly different products that are being marketed to different audiences. That's understandable. But something is happening within WWE's structure that's inherently bad. Wrestlers who were thriving in NXT are suddenly becoming members of the main roster and not only faltering, but going by the wayside far too quickly.
The edge or flair that made those acts special in NXT is lacking on the main roster, and it's not the fault of the talent. It's the restrictions they're put under.
It doesn't help that WWE creative is tasked with creating the show to satisfy the tastes of a 70-year-old man that hasn't been "in" with pop culture since MTV in the mid-1980's. 
There are a lot of problems, creatively, within WWE. And it all starts with the man at the top. It all starts with Vince McMahon.
Vince is the ultimate filter for WWE. Everything that hits your television screen first goes through his aging, out-of-touch brain. What comes out is what we're seeing now. An out-of-touch product, which is the creative child of an out-of-touch chairman. 
Sheamus is not connceting with the audience. Reigns is, but he's connecting as a heel. Vince doesn't want to acknowledge that, so we get what we get. 
Just today, WWE Hall of Famer Mick Foley blogged that he might be done watching the product for good. 
Everyone is frustrated and no one is watching. Look at the numbers. There are waves of people flocking away from the WWE product. WWE needs to do something creatively to change that tide, but the fear is that too much damange has been done. Also, the man in charge won't allow it. 
Match Results
1. Bray Wyatt & Luke Harper beat The Dudley Boyz
2. Sasha Banks beat Becky Lynch
3. Neville beat Mark Henry
4. Goldust & The Prime Time Players beat Stardus & The Ascension
5. Charlotte fought Paige to a double count-out
6. Dolph Ziggler & Dean Ambrose beat Tyler Breeze & Kevin Owens
7. Roman Reigns beat Rusev via disqualification
Quick Strikes
1. WWE needs to do something with the Dudley Boyz soon. They just returned to the company recently, and I understand that their goal is to get new teams over and help mold the tag division for the future, but they were in a random Survivor Series match on the pre-show on Sunday, and then getting beat here on Rawthe next night. There's plenty of money left in the Dudleyz if WWE would just use them properly.
2. The Zeb-Del Rio experiment just isn't working. Del Rio is a far better promo than Zeb, at least he was during his initial WWE run, and pairing them together here is actually hurting Del Rio far more than it's helping him. Let Del Rio talk for himself. I'm not even sure where they go from here with Del Rio, other than turning him babyface. But I like him too much as a heel.
3.Charlotte and Paige wil likely go to a third round after they fought to a double count-out. It will be interesting to see what happens, assuming that final match happens at TLCin Boston in a few weeks. It's possible they get a stipulation, which would be a nice, welcome addition to the show. Paige-Charlotte in a ladder match would be very good, I think.
4. Reigns-Rusev was a good main event, especially considering where both guys were just earlier this year. The problem is that nobody cared. The crowd was mostly silent. Nobody seemed to remotely care about Sheamus' involvement, and he's supposed to be the centerpiece. This is bad, and it's not about to get any better. The usually vocal Boston crowd could crucify the Reigns-Sheamus TLCmain event in a few weeks.
The Finish
Blah, with a side of blah.