News
WWE Night of Champions 2015 Results
With the announcement of Undertaker-Lesnar III in a Hell in a Cell match next month, WWE is clearly trying to deliver…
There was fear last year, when WWE launched WWE Network, that the drive for WWE to produce top-quality pay-per-view events would dwindle, because the company would have a locked-in, guaranteed subscriber money in their pockets instead of relying on month-to-month buys in the PPV market.
I guess those fears — which were shared by me — were a little unfounded. At least it seems that way now.
At last night's Night of Champions show, WWE announced that next month, at Hell in a Cell, the main event would be the third installment of the Undertaker-Brock Lesnar saga, with this presumed final match inside a Hell in a Cell.
It was a quirky announcement, just thrown into the early portions of the program — some on Twitter thought it was mistakenly run — but it hammers home the point that WWE is hell-bent on delivering top-quality main events.
Just look at the last few shows:
Last night, Sting wrestled for the WWE Championship against Seth Rollins. At SummerSlam it was Lesnar-Undertaker. BattleGround was Lesnar-Rollins.
Since June, WWE has booked things right. The shows are top-heavy, but that's drawing eyeballs. Paul Heyman had a theory, when he ran ECW, that the fans tune in for the top matches. There were times heading into ECW pay-per-views that there were only one or two matches even announced. Fans would plop down $30 — in late-90s dollars — to see those shows because of the main event, and the ECW name.
WWE isn't in position to rest on its laurels, not with ratings dwindling and network subs one of the company's main revenue sources. They're giving fans something for their $9.99 per month. In fact, for the last three months, they've giving them more than when they were charging them $69 for pay-per-view shows.
The WWE Night of Champions 2015 Results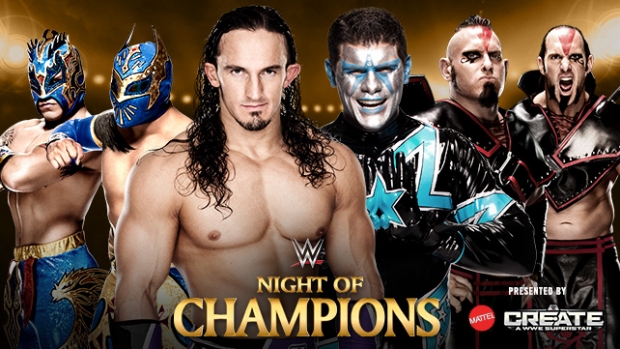 LUCHA DRAGONS AND NEVILLE VS. THE COSMIC WASTELAND
Winners: Cosmic Wasteland after Cody Rhodes shoved his henchman Viktor into Neville, then finished Neville off with the Queen's Crossbow (CrossRhodes).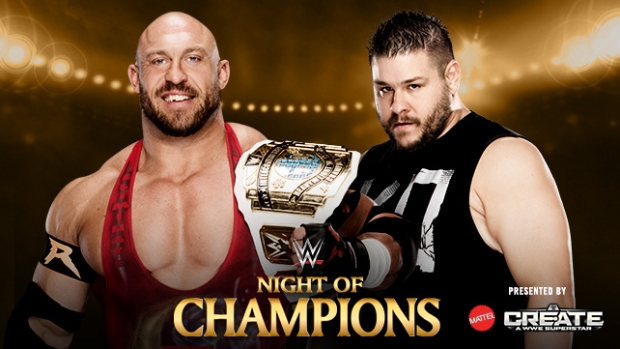 RYBACK (C) VS. KEVIN OWENS
Winner: Kevin Owens, who escaped the Shell Shock by raking Ryback's eyes outside of the referee's view, then rolled him up for the pin.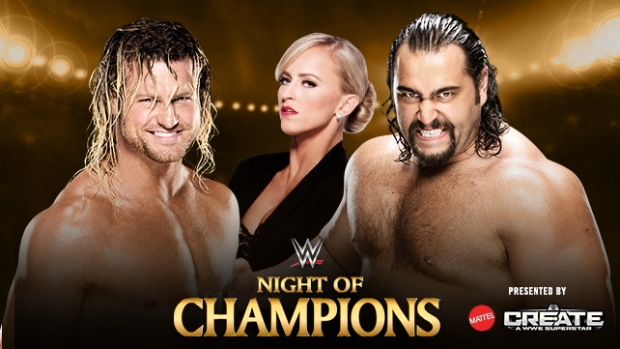 DOLPH ZIGGLER VS. RUSEV (W/ SUMMER RAE)
Winner: Dolph Ziggler. As the ref yelled at Summer Rae to leave ringside, she threw a tantrum, which involved throwing her shoes. Not seeing where she was throwing them, one hit a confused Rusev, distracting him and opening him up for a Zig Zag and a pin.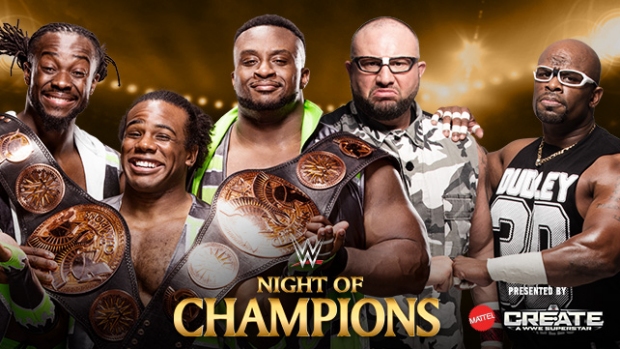 NEW DAY (C) VS. DUDLEY BOYZ
Winners: Dudley Boyz by disqualification. Although the Dudleys had the match won, Xavier Woods (who wasn't part of the match) ran into the ring and broke up a pin. Afterwards, the Dudley Boyz put Xavier Woods through a table with a 3D. Due to the DQ decision, New Day hold onto the titles.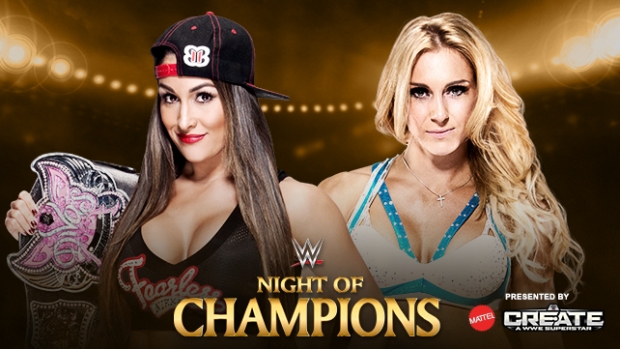 NIKKI BELLA (C) VS. CHARLOTTE
Winner: Charlotte via submission. Paige and Becky Lynch were able to take out Brie Bella and Alicia Fox, meaning nobody was able to help Nikki when she was put in the Figure Eight. With no way out, Nikki tapped.
DEAN AMBROSE, ROMAN REIGNS, AND CHRIS JERICHO VS. THE WYATT FAMILY
Winners: The Wyatt Family. Roman took down Braun Strowman with a Spear, but before he could go for another one, mystery partner Chris Jericho tagged himself in and tried to put Strowman away with a Lionsault. Strowman kicked out easily and destroyed him, knocking him out with his custom bearhug. After the match, Jericho passive-aggressively knocked shoulders with Ambrose on his way out of the ring.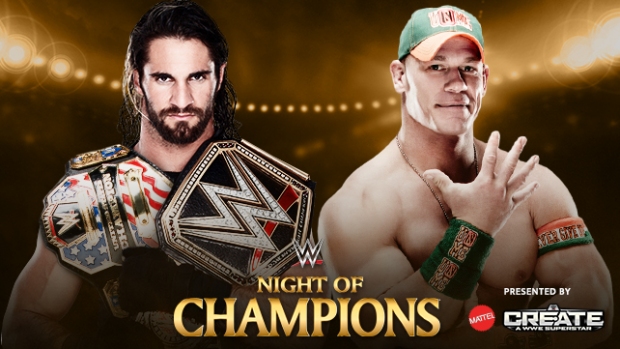 SETH ROLLINS (C) VS. JOHN CENA
Winner: John Cena via Attitude Adjustment. Afterwards, Rollins tried to escape with his WWE World Heavyweight Championship, but Cena got in his way and dropped him with another Attitude Adjustment.
SETH ROLLINS (C) VS. STING
Winner: Seth Rollins by reversing the Scorpion Deathlock into a roll-up pin. After the match, Sheamus ran out and knocked out Rollins with a Brogue Kick. He was fully prepared to cash in the Money in the Bank briefcase, but The Demon Kane appeared for the sake of chokeslamming Rollins. Sheamus egged him on to do it again, leading to Kane chokeslamming Sheamus. Kane Tombstoned Rollins and ended the show standing tall.
Quick Strikes
1. Perhaps I'm naive, but I believe Owens could do for the Intercontinental Title in part what John Cena has done for the U.S. Title; making it a legitimate championship on the show. We never got that with Ryback as IC Champion, and it's no wonder why. He's a limited wrestler and an even more limited promo.
2. WWE is in a tough spot with New Day. It seems their biggest heel tag team is over as one of its biggest babyface tag teams. The live crowd here seemed to want to cheer for both. It's hard for New Day to be hated when they're getting over with their antics, in particular Xavier Woods. WWE either needs to change their dynamic, which could kill their momentum, or turn them babyface.
3. Good to see Charlotte win the Divas Title. It wasn't an NXT-level divas match, but that had more to do with her opponent not being at the level, as a wrestler, as Sasha Banks or Bailey. Still, while the Divas Revolution seems to have its tires spinning in mud, this might help give it a spark.
4. Really good surprise with Chris Jericho as the mystery partner. Kudos to WWE for not only delivering on an actual surprise, but also giving it some context. Jericho has history with the Wyatt Family, so this all made sense. What a change of pace!
5. WWE did what many predicted in having Cena win back the U.S. Title while Rollins retained over Sting for the World Title. Sting looked good without the t-shirt, which makes me wonder why they had him wear it to begin with on television. The only downfall is that we've come full circle. We're at the same place we were prior to SummerSlam.
6. Kane returned by attacking Rollins post-match with Sting. Sheamus teased cashing in his Money in the Bank contract, but Kane chokeslammed him as well. This was old-school Kane, with the mask and long hair. I feel like we've seen these schizophrenic Kane characters all too often in WWE, but the live crowd actually seemed to be getting excited for it, which was telling given that it was so late into the show.
The Finish
Overall, a really solid show. The two main events were quite good, especially considering Sting's ace. For me, it cemented Rollins as perhaps the best in the business right now.