News
WWE News: Sting Wrestles First Match on Raw
Sting wrestled his first match ever on Raw Monday, as WWE went head-to-head with the NFL and built towards WWE Night of Champions 2015.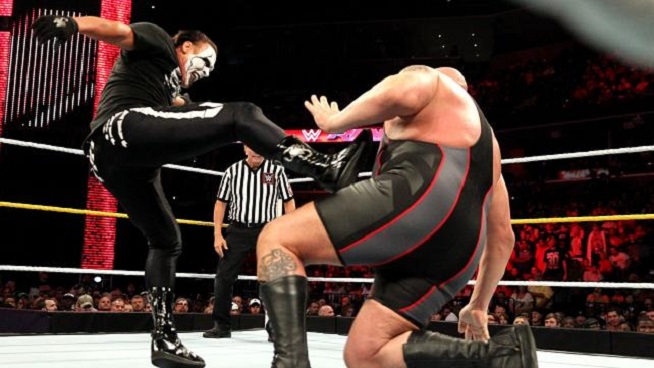 Maybe I was one of the few — we'll find out later today when we learn the television ratings — but I was excited to see Sting wrestle his first match on Monday Night Raw. I'm a child of the Monday Night Wars. Those late-90s WCW shows centered around Sting and Hollywood Hogan, for a time, and it was some of my first memories of watching pro wrestling.
It was interesting decision by WWE to not promote Sting's first Raw match until the opening promo segment, though. That would have been something that, up against Monday Night Football, you think would have been better promoted last week, perhaps. Especially considering the NFL ran a doubleheader on ESPN, so the first game began nearly one hour before Raw hit the air on USA Network.
At least it was a good, short, opening promo segment by Stephanie McMahon and Triple H. Felt much easier than the usual 20-minute diatribes.
Once WWE did announce that Sting was wrestling on the show, it did become a focal point. Michael Cole mentioned at least once per segment, and WWE tried to do its best to keep reiterating the point. Smart. But still almost inexcusable to not promote that ahead of time, especially considering the competition they were going to be facing.
If you don't think WWE was worried about Monday Night Football, then you're wrong. Why else would they promote this episode as the "season premiere," when in reality, it was just another episode of Raw. WWE did the same thing last season. That's fine. They tried to pull out the stops to make sure they retained their rating.
It's the same reason that, at certain times in the fall, WWE will run a strong segment when the NFL game hits halftime. The top-of-the-hour segment might actually hit at 9:15 during football season. All of that is smart, especially when you consider that some games do double, or even triple, the viewership of WWE's flagship program.
Sting's involvement was a big hook for this week, and it was executed well for the most part. WWE didn't overexpose Sting in his initial match with Big Show, and then really protected him by placing him in a tag-team match with John Cena immediately following that disqualification. Sting isn't the Sting of 20 years ago, so not over-exposing his weaknesses before he's supposed to main event a big show on Sunday is smart, and doing so in a tag team match makes the most sense.
But from a promoting standpoint, it was much better to promote a singles match all night rather than the tag match. All very smart promotion by WWE.
The match also did it's job. Sting looked decent after taking the hot tag from Cena and eventually tapped out WWE World Heavyweight Champion Seth Rollins, in an attempt by WWE to plant the seed that Sting could actually have a chance on Sunday. I'm generally not a fan of tapping out a champion, only because it's a tactic that seems overused at this point to build up hype for a big show, but it's OK here if Rollins plays it off as just protecting himself for Night of Champions.
He tapped out almost immediately. The story should be that he did so in order to not sustain damage. That match, to Rollins, didn't matter. Sunday does.
The question for WWE now becomes whether or not they can hold momentum and ratings. Can they deliver a big angle like Sting's first Raw match every week? No. But they don't have to either.
This is a big few months for the company, though. Yes, WWE has always faced Monday Night Football dating back to its debut 22 years ago. However, Raw's ratings have never been in such a state of flux.
The three-hour format is the biggest reason for this ratings dip. There's no question. But if ratings continue to slide and with football potentially being a reason, it could spell disaster. What does NBC Universal have to say if they aren't getting the same in advertising dollars? Does the television rights fees drop? Does NBC have an out in their contract and would they use it, as Discovery Communications is rumored to be doing with TNA? That's unlikely, but certainly possible.
The numbers come out later today, and WWE is going to be paying close attention. They aren't fighting WCW anymore, but they're ironically using one of WCW's biggest stars to fight their new battle.
Match Results
1. New Day beat The Prime Time Players to retain the WWE Tag Team Titles.
2. Sasha Banks beat Paige.
3. John Cena beat Sheamus.
4. Charlotte beat Nikki Bella by disqualification.
5. Cesaro beat Rusev.
6. Sting beat The Big Show by disqualification.
7. Sting & John Cena beat Seth Rollins & Big Show when Rollins tapped in a Scorpion Death Lock.
Quick Strikes
1. Roman Reigns announced on MizTV that he and Dean Ambrose have a third man to partner with them at WWE Night of Champions 2015 on Sunday. Who is that? We don't know. I'd like to see it be Samoa Joe, but regardless of who it is, a surprise would be nice rather than someone on the roster who has already been beat up by the Wyatt Family. It would be a good spot for Daniel Bryan to return, assuming he's healthy.
2. The Cena-Sheamus match was good, considering there was no real hype to it. They aren't feuding, there is no story there, but they made the match work and kept people interested for almost 15 minutes. I believe this match lined up with the first NFL game hitting halftime, which is smart.
3. Ryback had a promo segment, where we were reminded that Ryback can't speak. The Elvis impression was goofy and he just comes across as a big meathead who fans don't seem to really want to cheer. They cheer him because they're programmed to, not really because they want to. He's a better fit as a heel. Not surprisingly, Kevin Owens was terrific in his delivery.
4. Charlotte was very good in getting screwed out of the Divas Title by the Bella switch and a DQ finish. Her disappointment really sold the title well. It's important to her. It's coveted. You can argue the finish was a screwy one, and yeah it was, but it was logical in that it set up the rematch for Night of Champions.
The Finish
This was a good show. All of it worked well for me. Ever segment, minus the Ziggler-Rusev stuff, hit well. There are multiple matches that have been built nicely heading into WWE Night of Champions 2015 on Sunday.