News
WWE News: Sting Returns, Gets Title Shot at WWE Night of Champions 2015
At 56 years old, Sting isn't a threat to Seth Rollins, but a title shot at WWE Night of Champions 2015 could refresh the product …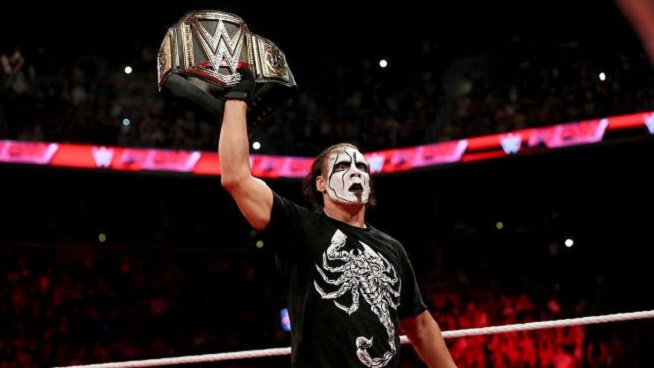 Sting returned to WWE last night on Raw, interrupting the unveiling of Seth Rollins' new statue and attacking Rollins, setting up what will be a WWE World Heavyweight Title match at Night of Champions next month, pitting Rollins against Sting in the main event.
Sting's return to WWE was well met, and even though he's a shell of his WCW self, he's new to WWE. His return could inject some freshness into the WWE product that has been lacking.
The only part of the segment that felt forced was Sting's magical appearance. Rollins was cutting a promo with Triple H and Stephanie McMahon in the ring, and the statue was covered by a curtain. Then the curtain was lifted, the statue was gone and in its place was Sting.
It's the same mythical power stuff WWE has always booked with Undertaker, and although Sting's "Crow" character is supposed to be similar, I've always found the gimmick to be hokey and not based enough in reality.
After Sting was unveiled, Stephanie and Triple H bailed from the ring and left Rollins to fight Sting alone. He failed, as Sting landed a few punches, a Stinger Splash, and then clotheslined him over the top rope before posing with the WWE World TItle.
There's still some questions to be answered, though. Night of Champions is supposed to feature every WWE title being defended. Rollins also won the WWE U.S. Title at SummerSlam when he defeated John Cena. Are those titles now unified? Is Sting wrestling for both titles or will Rollins actually have to wrestle two matches?
I doubt Sting has a chance to win at Night of Champions but he's very much in the WWE fold, now. He's older, but with the face paint it's not that noticeable. He's clearly not the sting of 1998, but he's useable. A Rollins-Sting match is, at the very least, something we've never seen before.
What's more likely to happen is that Rollins-Sting sets up something for Sting at WrestleMania 32 in Dallas. Believe it or not, we're only about seven months away from that show, and this fall is when some of the bigger matches might be booked. Especially considering WWE needs to sell about 100,000 tickets. At the very least, seeds could be planted now.
The Triple H-Sting match felt very forced and thrown together. For example, I'm still not sure why Sting has such an issue with The Authority, considering he's never been in WWE or had any interaction with the group before. It felt like Triple H and Sting were thrown together at WrestleMania just because there was no other real option there.
But at least WWE is sticking with continuity. When Sting was first revealed, my first thought was "what's his issue with Rollins?" and Michael Cole quickly explained it, saying that Sting was still going after The Authority and, of course, he lost to Triple H at WrestleMania. So perhaps he's looking for some revenge? Perhaps this is more about Sting looking to take down Triple H and The Authority than anything it has to do with Rollins personally. At least it seems that way.
Match Results
1. Big E & Kofi Kingston beat The Lucha Dragons
2. Roman Reigns & Dean Ambrose beat Luke Harper & Bray Wyatt via DQ
3. The Bella Twins & Alicia Fox beat Paige, Charlotte & Becky Lynch
4. Ryback, Dolph Ziggler, Cesaro, and Randy Orton beat Sheamus, Kevin Owens, Rusev, and Big Show
Quick Strikes
1. Paul Heyman cut a promo to open the show pointing out that Lesnar beat Undertaker with the tap out. The promo ended when Bo Dallas appeared, and Lesnar ran through him. However, there were some awkward conversations happening around the U.S., no doubt, thanks to Heyman. The show just kicked off, and it was about 8:03 p.m. when Heyman said he understood why people were upset with Undertaker losing his WrestleMania streak, saying it was like when people learned Santa Claus wasn't real.
Luckily my five and three year old were in the other room not paying attention (they usually watch the first 30 minutes of the show before bed) or else that would have been uncomfortable. I mean, whatever, say it if you want to, but remember there are little kids in the audience and WWE markets itself for children. Maybe leave that out of the promo.
2. The Dudley's returned to WWE, attacking New Day and received a huge pop from the New York crowd. In fact, the response for Bubba Ray and Devon was louder than the reaction for Sting, it seemed. They put Xavier Woods through a table and seemed to announce they were back, at least for the short term. It didn't appear to be a one-off appearance, and injecting the Dudley's into the tag team division could really help make that part of the show seem important again.
3. Bray Wyatt introduced the huge Braun Strowman as the newest member of the Wyatt Family. He's 6-8, 385 pounds, and looks every bit of that size. He's enormous.
The Finish
Good show overall. There was some resetting but that's to be expected after a big SummerSlam show and with some of the top talents from that show — Lesnar and Undertaker — now taking some time off.