News
WWE News: Lana and Rusev Romance Exposes Problems With Approach
WWE loves when it gets noticed by the mainstream, but did the Rusev-Lana-Summer angle take it too far?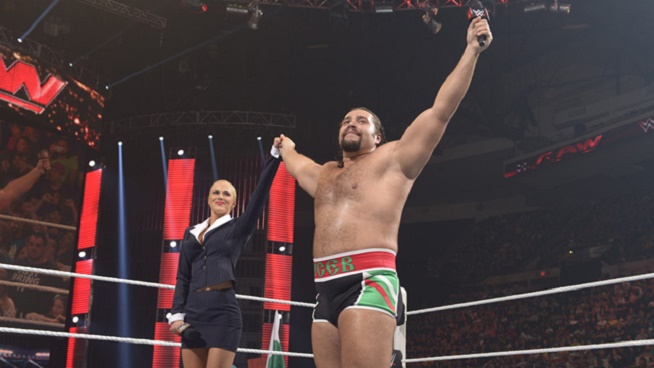 Over the weekend, TMZ reported that Rusev and Lana — the real-life couple not the WWE fabrications — were engaged, and had been for about the last month.
WWE, of course, loves this. Any time Vince and Stephanie McMahon — who I suspect are the main culprits — get noticed by any mainstream media, they practically pass out with excitement. If TMZ was the star jock football player in high school, WWE is the shy girl up against her locker who giggles and blushes when the popular kid acknowledges her with a wink.
It's sad, really. WWE is a major player in entertainment. No other company on the planet produces as much content as WWE, which in many ways is the root of their problem. Yet the company feels the need to fawn over every bit of mainstream acceptance.
Vince McMahon has longed for that since the 1980s, when he partnered with MTV for the first WrestleMania. They got away from it in the late-90s during the attitude era, but since the early-2000s the company has again shifted to a point where they practically wet themselves with excitement any time anyone from a mainstream outlet wants to give them attention.
Look at ESPN, for example. Jeremy Schapp was given unrestricted access to WWE a few years ago and the NXT special they did was fantastic — it was also outside of the box for WWE's usual mainstream ideology — but the fact is that WWE has an addiction to that type of attention.
Raw has gone pink this month in raising awareness for Susan G. Komen and breast cancer research. That seems like a great cause, until you read into just how deplorable Susan G. Komen is, and how little funds they raise actually goes to research or patients suffering with that terrible disease.
It's not universal, I'm sure sure have been helped, but not nearly enough have given the funds that the "non-profit" — and that's in quotes for a reason — raises.
But since the NFL does it, so does WWE.
Stephanie McMahon is Chief Brand Officer — whatever that is — and is a central character on television. She's also an evil character. It's again WWE's corporate mindset that allows this and then, breaking the fourth wall, reveals her to be a caring loving person after she repeatedly is an evildoer on television.
Stick with the narrative, it's all we're asking.
But back to Rusev, Lana, and TMZ. WWE just couldn't ignore it. They had Ryback beat Rusev in a matter of minutes, Summer Rae slapped Rusev AFTER the match, for not telling her he had been engaged for a month, and then the beat goes on.
You might hate the show but it's the only comparison I can think of … when Kaley Cuocco got married — you know, the real person — was Leonard Hoffstadter — you know, the character — all that upset? Is he jumping for joy now that she's getting divorced?
Ugh, clearly I've been reading too much TMZ. But you get my point. WWE can't seem to understand that there is a television universe, and a real-life universe. They don't blend and they don't have to. But WWE is just too giddy to pass up the chance to show its audience that someone as prestigious as TMZ — funny — gave them the time of day.
Match Results
1. The New Day (Kofi Kingston & Big E) beat Randy Orton & Dean Ambrose
2. Nikki Bella beat Naomi
3. John Cena beat Dolph Ziggler to retain the U.S. Title
4. The Dudley Boys beat The Ascension
5. King Barrett & Sheamus beat Neville & Cesaro
6. Roman Reigns beat Braun Strowman via count-out
7. Ryback beat Rusev
8. Kevin Owens beat Kalisto
9. Brie Bella & Alicia Fox beat Charlotte & Becky Lynch
10. Kane beat Seth Rollins in a lumberjack match
Quick Strikes
1. Interesting team between Barrett and Sheamus. Back in the Nexus days, and when Sheamus first debuted, I thought that the pair could have made for an interesting tag team. There's the UK connection, granted from different parts of the UK, but they're both good-looking wrestlers in terms of size and they can both work.
WWE hasn't had a real monster tag team since the Legion of Doom. They could move forward with that team and book them in a similar way — although with less no-selling — and maybe build a real legitimate heel team. They could be great matches for the Dudleys and the New Day, when they eventually turn babyface.
2. Good reset match for Kevin Owens against Kalisto. Another win for Owens makes him look like even more of a heel for skipping out on title defenses.
3. Stephanie and Triple H were "late" for Raw, and in the end never showed up. Imagine if Tom Brady was late for a Patriots game? Or just never showed up?
The Finish
An OK show. The main event finish with Kane beating Seth Rollins was supposed to add intrigue to the match at Hell in a Cell, I guess? All it does is pin a champion for no good reason. It's a cheap booking tactic, and in 2015 no longer works.