News
WWE Needs To Heel Roman Reigns Sunday
Reigns' best bet at succeeding as a character comes with the crowd investing in him as a bad guy, starting Sunday ...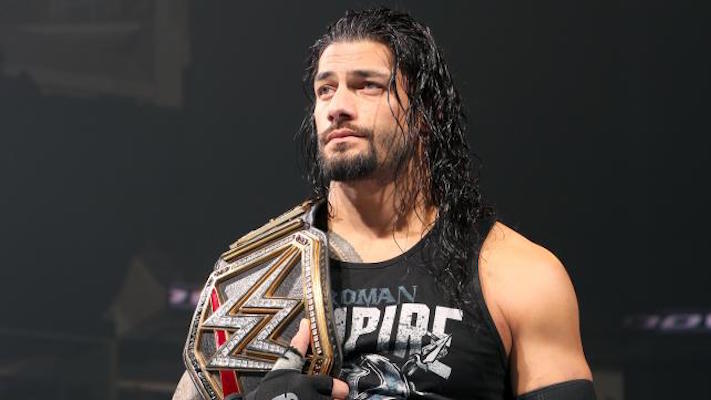 Don't Miss PAYBACK on May 1 – Subscribe to WWE Network to get your First Month Free & Instant Access to All Special Events!
WWE's solution to their unpopular babyface is to make him more like John Cena?
During last night's Raw, WWE ran a promo where Roman Reigns was featured with the Make-A-Wish Foundation.
Firstly, Make-A-Wish is awesome. Please don't misunderstand this as crapping on what they do and who they help. They are an exceptional team of individuals who do some of the greatest work in the world. No question.
But I do question WWE's logic here.
Reigns is wildly unpopular from a certain segment of their audience. That segment seems to be growing. Last night, he was booed in Hartford. Not only is that WWE's hometown, essentially, it's not a major market. This isn't just something that is happening in New York, Boston, Chicago and Los Angeles. This was dingy Hartford … no offense, Hartford folks.
Their plan to solve this problem is by making him appear more like John Cena … the same babyface that, while he has come through it, many of that same audience segment also hates.
The women and children love the Make-A-Wish promo, but they also already love Reigns.
The 18-35 male, who are predominantly the ones booing Reigns at every television taping and live event, see that promo for what it was: a desperate attempt by Vince McMahon to get people to like "his guy."
It's not going to work.
Reigns has dropped subtle hints of a heel turn in recent weeks, and I really hope they go in that direction this Sunday at Payback. It's best for the product and best for his development as a character.
It's much easier for the fans to care about him after they invest in him. The best chance for the people to invest in him, right now, is as a heel. That's the problem with his current direction. There are too many people indifferent about Roman Reigns.
Elsewhere on Raw …
1. AJ Styles beat Sheamus
The biggest takeaway from this match was the appearance from Luke Gallows and Karl Anderson, who look exceptional in their new gear. What a great look. The color tones — black and white — and just the logo design. It was all fantastic. They appeared at the end of the match on the stage, just watching as Styles won.
Speaking of Styles, he didn't seem too thrilled to see them on the stage after the match.
That being said, there was too much back-and-forth in this match for my liking. Not when you have someone like Styles, who is going on to challenge Roman Reigns for the WWE Title on Sunday. He doesn't have to beat Sheamus quickly and easily, but I definitely think Styles would have been better served to be in a match where he picked up a more decisive win, heading into a title match in six days.
2. Anderson & Gallows beat The Usos
There were some loud and audible "Bullet Club" chants during the match. The right team definitely won, with it being their debut, but sort of the same as the Styles-Sheamus match, perhaps Anderson and Gallows would have been better served to go up against a team that they could have picked up a quicker win in order to establish a little bit of who they are.
Certainly a big win over a team like The Usos is a good step, but they showed some vulnerability within the match. A quicker "squash" match, or whatever you want to call it, even against some local guys who were backstage as extras, could have really established them as a hardcore, bad guys.
Also, after the match, Roman Reigns ran down and got the better of Gallows, to an extent. I didn't like seeing that on Gallows' first night back with the company as part of a new, debuting team that WWE can make some money with.
3. Sami Zayn beat Rusev
Very good match and a very good win for Zayn. The highlight of the segment, however, was the video package before the match that highlighted the Zayn-Kevin Owens feud heading into their match on Sunday. What an awesome video package. If you didn't see it, seek it out. It will have you excited for that match on Sunday. WWE needs to do more things like this.
4. Apollo Crews beat Startdust
Another showcase match for Crews. Going back to what I wrote regarding the Styles and Bullet Club matches, this is along the lines of what I would have liked to see them do for AJ and Anderson/Gallows. Give them a Superstars-level opponent and let them get the easy win.
Crews looked good here, but Stardust is just a lame-duck character. It's time for Cody Rhodes to abandon this gimmick. As Stardust, he's hitting a glass ceiling. As Cody Rhodes, with the number of new babyfaces that have been infused into the company since he last played himself, should provide for some fresh matches and feuds.
5. Chris Jericho attacked Dean Ambrose after a promo
Dean Ambrose was, by far, the most over babyface on the program. The live crowd reacted more for him than anyone else on the night for his entrance and especially the early part of his promo.
This feud in general is going to do a lot for Ambrose, just as I still think his match with Lesnar at WrestleMania did for him, despite WWE not really pulling out the best return.
Ambrose was still in a high-profile match against a high-profile opponent on the most high-profile show, and now he's working with another future Hall of Famer in Jericho.
It helps that Jericho is such a great heel and he's pulling more out of Ambrose from a promo standpoint.
6. Natalya beat Emma
Again, same with the Crews-Stardust match, this is the type of path I wish WWE went down with AJ Styles rather than giving him a 50-50 match against Sheamus.
This was quick, Natalya for the win, and she moves on to her title shot on Sunday.
7. WWE ran a tribute video in honor of Chyna
Very class video on WWE's part. Chyna's in-ring career definitely deserved that type of tribute. Given her animosity towards the company and allegations of Triple H from just a few months ago, I think WWE was well within their right to ignore her death altogether, but they took the high ground here and acknowledged her career, as they should have.
8. Dolph Ziggler attacked Baron Corbin before his match
Simple way to sell a match for Sunday. They didn't have a lot of time, so this segment was short and sweet but definitely effective.
9. Miz and Cesaro cut a promo
Fairly typical promo. Miz went for a sneak attack at the end but Cesaro dropped him and went for a swing, but Maryese laid on top of Miz to prevent it. That's a good tease for their match at Payback on Sunday.
10. Roman Reigns beat Alberto Del Rio
Strong match despite Reigns' heel reaction from the live crowd (shocker). The crowd wasn't there for any of it like they were supposed to, booing Reigns' comeback and just not giving him any love.
After the match — which Reigns won with a spear — Anderson and Gallows attacked Reigns.
Styles ran down and talked Gallows and Anderson out of a further attack on Reigns. As they left the ring, AJ turned around and was met with a Superman punch from Reigns.
Anderson and Gallows then hit the ring again, where Reigns took both of them out. At this point, Styles recovered and landed a Phenomenal Forearm.
Michael Cole questioned on commentary whether or not it was collusion … although I'm not sure why part of the plan would be to get beat up after having AJ talk them down. Seems strange and just a forced line by Cole to add intrigue.
But the forearm from AJ at least keeps the question alive as to whether or not Styles is with or against Gallows and Anderson's help.