News
WWE Needs to Dial Back Supernatural Kane
Kane and Seth Rollins seem destined for a feud as WWE heads into the fall …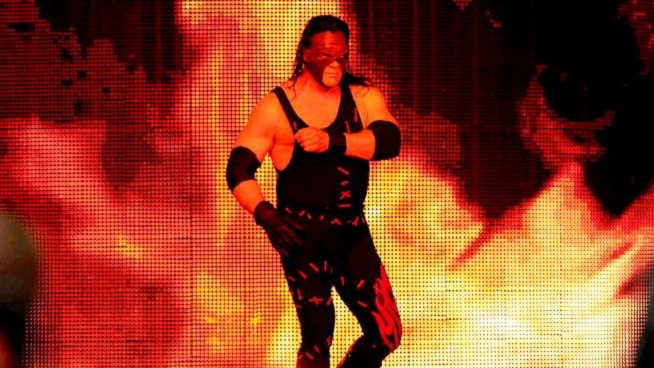 Kane is an old go-to for WWE. Someone needs a couple of good matches? Pair them with Kane.
In all reality, he's WWE's Mr. Reliable. Even now, at almost 50 years old, Kane is still having really good segments with Seth Rollins, and I'm sure when they finally meet in a match, it will be a really good match.
The only problem is I'm not sure the gimmick works anymore. Kane under the red mask is much better than Kane with a suit, but I do wish WWE would dial it back with the magical powers.
Last night, Rollins destroyed Kane's knee with a chair. Just mangled him. Kane was taken to an ambulance and seconds later, smoke filled the ambulance, it emitted a red light and Kane emerged in his red mask, totally fine.
It's something my 5-year-old son thought was the coolest thing in the world. It's also something that kid, when he's 15, is surely going to gag on.
WWE likes to tout itself as being in the "reality era," yet segments like this are filled with anything but reality.
WWE can still book Kane as a monster. He's 6-foot-7 (at least) and 300 pounds. He's a big dude. Keep him under the mask because it's a great visual. But the magic powers? Enough with it.
Match Results
1. John Cena beat Xavier Woods via DQ to retain the U.S. Title
2. New Day beat John Cena & The Dudley Boys
3. Big Show beat Mark Henry
4. Nikki Bella, Brie Bella and Alicia Fox beat Paige, Charlotte and Becky Lynch
5. Luke Harper and Braun Strowman beat The Prime Time Players
6. Neville beat Stardust via DQ
7. Randy Orton beat Bo Dallas
8. Kevin Owens and Rusev wrestled to a no-contes
9. Roman Reigns fought Bray Wyatt to a double count-out
Quick Strikes
1. There's a reason that Brock Lesnar didn't get a fresh opponent on Saturday night at Madison Square Garden and the recycled Big Show match will do just fine. Big Show beat Mark Henry on Raw in a squash match. Henry is a 400-pound job guy at this point, and that's too bad. I don't think WWE trusts him much since he's become so injury prone.
However, heading into MSG, everyone who has watched wrestling for more than three months knows that Lesnar is going to destroy Big Show at MSG en route to his return Hell in a Cell match against Undertaker later next month. Everyone knows Lesnar is going to win no matter who he faces – and maybe that's why WWE went with the older Show match instead of something that might make money for them later. Why waste a Lesnar-Kevin Owens or even a Lesnar-Rusev match on Saturday, when everyone knows Lesnar is getting the win. That wastes a potential match for Lesnar down the road.
At least this way, Lesnar beats Big Show and Show isn't really hurt by it. They've propped him up recently, but he's been beaten so many times on TV in the past 20 years, it won't effect the product.
2. WWE isn't showing a lot of confidence in Charlotte as Divas Champion. Her title win was upstaged by Paige last week, and now this week she's being pinned by Nikki Bella. Sure, it's going to set up a title rematch, but wasn't that coming already? Charlotte should have won the match here, or at the very least, make Becky Lynch take the pin, not your champion. Poor booking.
3. Wade Barrett off TV for a few weeks to film a movie was a good time for WWE to drop the silly King gimmick, but instead they chose to return Barrett on Monday — he took out Neville and Stardust — only to exclaim that the King had returned, or some other silliness.
WWE … where marketing cartoony "king" gimmicks and mythical men with magical powers to magically heal inside of an ambulance that spits out red lights and smokes is what we do in 2015.
4. The Wyatt-Reigns main event was really well done. Considering that feud was starting to feel old and stale, this really gave it some new life. The non-finish was expected and while I'm not a huge fan, it's fine for what it was. These guys have more matches to fill.
The spear at the end was great and the crowd was hot for it, with a lot of loud "Yes!' chants that could be heard audibly on TV as the show went off the air. Really good main event segment that finally woke up a crowd that, if you were like me, was starting to doze off at home.
The Finish
It wasn't a very exciting show. There wasn't a lot here to hook you for three hours. It felt like an episode where, at the end of the night, just not much happened or was accomplished. The Reigns-Wyatt brawl was good, so was the Heyman-Big Show promo, but too much of the show was just bland material.