News
WWE Needs to Be Smarter With Dean Ambrose
WWE creative is being not all that creative when it comes to Dean Ambrose's character …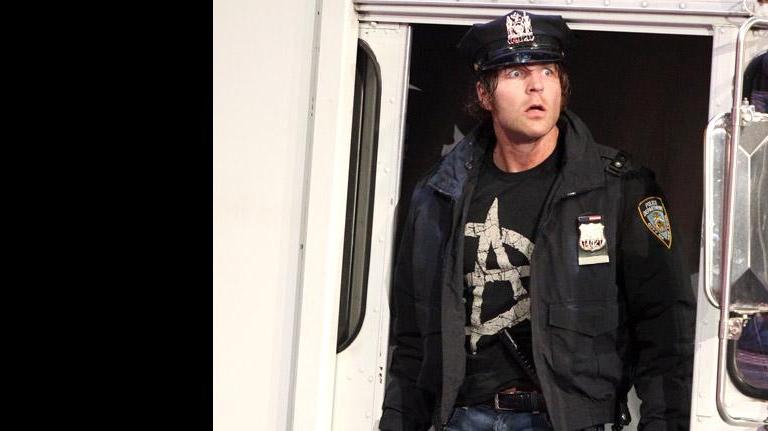 "Stone Cold" Dean Ambrose?
It sure seems that way.
WWE creative is taking an interesting approach with Ambrose's character, and it was on full display Monday night when he had a storyline arc that swept all through Raw. Essentially, WWE is turning Ambrose into a 2015 version of Steve Austin. That's not a bad thing, after all, Austin is the biggest draw in the history pro wrestling. But Ambrose can be different. There's a way to be anti-authority without just rehashing what worked in 1998.
On Raw, Ambrose's story went like this:
He needed to sign the contract for this Sunday's Elimination Chamber pay-per-view or else the match wouldn't happen. The Authority kept making that difficult though, and basically held it close to the vest and told Ambrose he'd have to fight his way through J&J Security, Kane, and even WWE World Heavyweight Champion Seth Rollins in order to put pen to paper.
Later in the night, Ambrose was arrested after he accidentally hit a cameraman in the backstage area during a spat with Jamie Noble and Joey Mercury. In a backstage segment, the cameraman didn't want to press charges and even said he felt pushed into Ambrose, but the Authority had him arrested anyway.
So now, the Authority gloated that Ambrose in no way would be able to sign the contract. The match was off. Until …
Right after the clock ticked past 11 o'clock, Ambrose came driving into the arena in a paddy wagon. He jumped out of the driver's seat wearing a police uniform and ran to the ring wielding a nightstick. Thanks to some help from Roman Reigns, they cleared the ring, Ambrose signed the contract, and the match is on for this Sunday at Elimination Chamber.
Ring a bell?
All that was missing was Jim Ross screaming, "Stone Cold! Stone Cold! Stone Cold! The Ambrose era has begun!"
Austin was the anti-authority figure who drove both a beer truck and a zamboni into the arena to face his era's version of The Authority, known then as The Corporation.
We're almost 20 years after the fact, and WWE just went back to the well with Ambrose. That's not to say it's bad, because I'm not sure how many fans have been around for the past 20 years, and Ambrose's character does have some sprinkles of Austin in it, but I believe Ambrose is strong enough to stand on his own two feet.
Austin was dangerous, Ambrose is borderline psychotic. They both have a "you never know what they're going to do next" portion of their character, but I think it's in very different ways. Also, if WWE is going to continually call this "the reality era," I think they need to do a better job of booking their television with reality. In reality, would Ambrose be able to break out of prison and drive a paddy wagon to the Nassau Coliseum on live television without a police chase down the Long Island Expressway?
Not likely.
They could have used a different angle than the arrest angle, which is so overplayed in pro wrestling and overstayed its welcome even in 1999. Or, if they were dead set on using the arrest angle, come up with a better way for Ambrose to reappear at the arena. Write that the police say the video that 4 million people saw on television, and dropped the charges. Have the police drive him back into the arena and down to ringside with the siren on. At least that would have been different.
Or give some love to Reigns, and have him steal the contract from the Authority, drive it to the jail and give it to Ambrose to sign in a holding cell. Reigns on his way out of the building could grab a camera man and say "come with me, we need to prove this actually happened."
That, to me, is far more realistic than someone breaking out of jail.
Yes, it's pro wrestling. Yes, it's entertainment. The audience is supposed to suspend disbelief, but it's hard to do that when the reality behind the story just doesn't add up. In reality, Dean Ambrose wouldn't be able to wrestle on Sunday because he broke out of jail. He'd be sitting in a holding cell somewhere on Sunday awaiting trial. Guys who break out of prison don't tend to get bail, at least that's my guess.
Quick Strikes
1. Lana's promo on Rusev, confirming their breakup, was spectacular. She's G-R-E-A-T on the microphone, and ripped apart Rusev after he demanded she say she was wrong. If you noticed, while she was yelling at him, her accent began to slip. It wasn't nearly as pronounced as it was just last week. Over time, I'm betting WWE phases it out altogether if she's a babyface, which again, in reality, I'm not sure how that happens. It'll be interesting to see how they explain that one, if at all.
2. Zack Ryder got a chance to shine on the last Raw at the Nassau Coliseum, which is right down the road from where he's from. He answered John Cena's open challenge, and I was happy to see Cena win so quickly. I might be in the minority with my belief that he has done an excellent job elevating talent these last two months, but Ryder has been so beaten down on television, it's hard to believe he'd survive more than a few minutes with someone the likes of Cena.
Ryder did get some near falls early in the match, and the crowd bought them hook, line and sinker. That had to have been a great feeling for Ryder, who still has his sects of fans.
Match Results
1. Roman Reigns & Dean Ambrose def. Kane & Seth Rollins
2. Rusev def. R-Truth
3. Ryback def. King Barrett
4. Neville def. Stardust
5. Sheamus def. Dolph Ziggler
WWE United States Championship
6. John Cena [c] def. Zack Ryder
7. Tamina def. Paige
8. New Day def. Kidd & Cesaro, The Prime Time Players, Los Matadors, The Ascension & The Lucha Dragons via DQ
The Finish
Overall, it wasn't a bad show to build to Elimination Chamber. There were some definite tells here, though. R-Truth lost in under a minute. Hard to see him having a chance on Sunday. King Barrett lost a competitive match to Ryback at least.
Kevin Owens attacked Cena after his match with Ryder, and replicated what he did last week. No doubt, I'm looking forward most to Owens-Cena. Cena has a chance to elevate Owens at this show, and he's done that even in winning matches against Zayn and Neville. It will be really interesting to see where WWE goes with the finish of Cena-Owens.