News
WWE Moving Towards Old Reliables For WrestleMania
Vince McMahon doesn't seem to trust his new stars, especially ones that weren't created under his own direction ...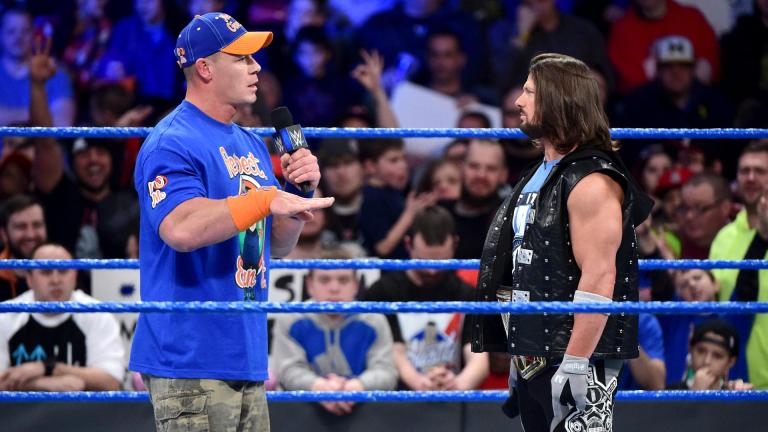 There's a reason WrestleMania has been headlined by part-time stars ever since The Rock first decided that he was willing to re-lace his boots in 2011.
Vince McMahon is scared to death that his new stars, the ones that they love to brag about creating, won't be able to carry the biggest show of the year.
McMahon's ideology isn't evident more in any place than with the feud between John Cena and A.J. Styles, especially after the promo segment on Tuesday's edition of SmackDown Live.
Maybe I'm wrong — and I would love to be wrong — but I'm expecting Styles to drop the WWE Championship either to Cena at the Royal Rumble, or at Elimination Chamber.
You can tell just in the way the promo segment aired on SmackDown last night, that Vince is more apt to go with his established guy at WrestleMania, even if that established guy is the same part-time wrestler he used to admonish publicly.
Is John Cena a hypocrite? Yeah, he kind of is.
In reality, Cena hasn't been full-time in more than a year. Chris Jericho has worked a much more full-time schedule than Cena, who comes in for a few months and then leaves again.
Cena deserves it, but don't thump your chest and tell me about how you love WWE and you'll always be there … and then not show up. For a guy who used to give Rock grief about appearing "via satellite," it would have been great if Cena appeared at all until the buildup for this match against Styles.
But back to Vince's need for going with top stars.
It's very evident here. Cena is the safe route. It also seems very clear that they're going to go with Shane McMahon vs. Styles for WrestleMania, and I doubt that is for the WWE Title. Although, you never know. Considering they were originally going with Shane vs. Brock Lesnar, I guess nothing should surprise me.
Shane vs. Styles gets Vince out of having to use Styles in a main-event role at WrestleMania. WWE will tell you that there are four, or even five "main events" at WrestleMania, but we all know that's a load of bull. There's one main event, and it's the match that closes the show.
Shane vs. Styles isn't going to close the show.
It's still a featured match, because Vince's superhero son is involved, but it's not a big title match on the biggest stage.
Vince never did it with CM Punk. Now he's shying away from doing it with AJ Styles and he needed to be dragged, kicking and screaming, before he did it with Daniel Bryan.
Most of the new stars Vince trusts in those spots are WWE homegrown. Roman Reigns most recently, and The Miz in 2010 before him. You can make an argument for Seth Rollins at WrestleMania 31, but remember, he was never advertised for that match. Vince is worried about putting a non-WWE guy in the advertised main event. He's worried about the draw.
At some point WWE needs to admit to itself that great things can be born outside of their creative room. AJ Styles can, and probably should, main event WrestleMania. But he probably won't.
If WWE pulls the world titles off of Styles and Owens before WrestleMania, and puts them on (let's say) Reigns and Cena, that's a big lens into the mind of Vince McMahon.
An old, out-of-touch mind.
1. Randy Orton beat Luke Harper
This was a really solid opening segment and a good match. Quietly, Randy Orton has been really good since the brand split and he's rebuilding himself as a top star. At the same time, WWE protected Harper here in the loss and he also looked good with a match that extended over 10 minutes.
2. Mojo Rawley won a 10-man battle royal to earn a spot in the Royal Rumble.
To me, this was a complete waste of time. No one believes Mojo Rawley is going to win the Royal Rumble, so this match just doesn't mean anything. It was also only four minutes long. It felt like a match you'd see at a house show right after intermission, where they just jam as many guys in the ring as they can.
3. Dolph Ziggler beat Kalisto
The reaction I read on social media following this match was that it was another opportunity lost for WWE in regards to Dolph Ziggler, sticking him back in a midcard match, but I don't see it that way. Ziggler was in there with a midcard act, but he also beat that wrestler swiftly and easily, in only about 30 seconds.
Ziggler has been repackaged and retooled so many times over the last few years, I really believe this heel turn will fall flat just as it has in the past. But, at least WWE is making a good honest effort with this.
4. Dean Ambrose beat The Miz in a lumberjack match
The show started really well with Orton-Harper, and then fell incredibly flat with the finish of the main event. The lumberjack match totally gave away the big brawl to close the show (shocker, right?) and it also foreshadowed some match between Ambrose and Baron Corbin in the future.