News
WWE Might Have Something Special With Neville
Seth Rollins and Neville stole the show on Monday's Raw during the build to WWE SummerSlam 2015...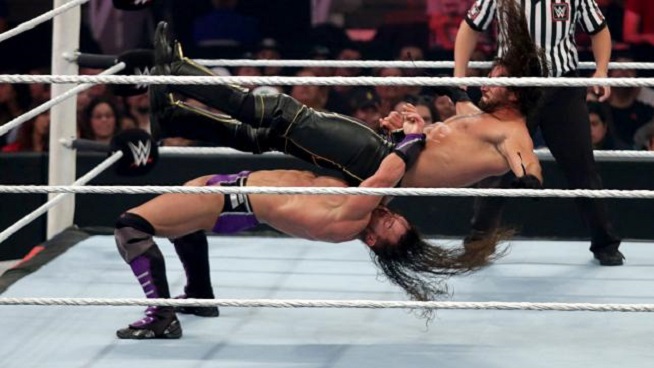 Seth Rollins opened Monday's Raw with a promo. For most, that would induce a yawn. WWE has become known for its opening-segment promo segments, which often last way too long and don't provide enough of a hook to last a three-hour show.
This was different, and the match with Neville that followed it up was fantastic.
Rollins cut a promo, where he said that the match at SummerSlam between Rollins and John Cena would be for both the WWE World and U.S. titles. So after his broken nose last week, it's apparent that Cena will be back for SummerSlam and his semi-main event match with Rollins.
Rollins then continued with his terrific promo on Cena, ultimately leading to an open challenge for the WWE World Hvt. Title, in response to Cena's open challenges for the U.S. Title.
Honestly, I expected Hornswoggle, or some other non-threat for Rollins to squash as a heel and then gloat about his "victory."
But instead, Neville answered the call, and tore the house down with Rollins.
There were some near falls towards the end of the match that were electric, and the live crowd legitimately thought that Neville was going to win the World Title — so did I at home — which I'm sure is a huge compliment. Former WWE star Lance Storm once recalled in an interview a match with Booker T for the WCW World Title, and he said the crowd's electricity on near falls meant more to him than winning the title, because the audience believed he was good enough to be World Champion. Neville should feel the same.
The near fall where Rollins put his foot on the rope as Neville hooked his leg for the pin was spectacular. The fans exploded, actually believing there was a legitimate title change. Neville dominated the match until Rollins won at the end, which put Neville over huge, despite his defeat.
This match proved you can be elevated even with a loss. But it's up to WWE to build on that. If they scale Neville back just to prove a point — it's not like WWE has a history of doing that (cough, Kevin Owens, cough) — he'll suffer. But if they build on this momentum, it could be something that elevates Neville to the next level and right near the main event picture.
Match Results
1. Seth Rollins pinned Neville to retain the WWE World Hvt. Title
2. New Day & The Ascension pinned The Lucha Dragons & El Matadores
3. Charlotte & Becky Lynch pinned The Bella Twins
4. Rusev pinned Mark Henry
5. King Barrett pinned Zack Ryder
6. Paige pinned Naomi
7. Roman Reigns, Dean Ambrose, and Randy Orton defeated Bray Wyatt, Luke Harper, and Sheamus
Quick Strikes
1. A very touching tribute to Roddy Piper opened the show. WWE might do a lot of things wrong, but when it comes to these tributes, they do a lot right. What was interesting is that WWE chose not to edit Hulk Hogan out of the tribute, despite his ongoing controversy. I'm glad it went in that direction, too. Hogan was such a part of Piper's career, it would have been hard to ignore it and Hogan, who was rightfully fired, is still a huge part of WWE's history.
2. There was a lot of Ronda Rousey talk on Raw. WWE has an open relationship with Rousey, who appeared at WrestleMania 31 this past spring. They really seem to be trying to make sure that relationship stays a fruitful one, mentioning Rousey's win multiple times throughout Raw.
3. Mark Henry is now the world's strongest job guy. There's a lot they could do with him, but WWE tends to do this to wrestlers who they label as injury prone, and Henry has been unlucky in that regard.
4. It's great to see the divas continuing to get great television time. The Paige-Naomi match wasn't the best of the ones we have seen them have on TV, but the live crowd was into it, and that's promising. The crowd is buying into the revolution and it's great to see, especially knowing the talent that's coming up through that division already and in the future.
5. The main event six-man tag was OK. WWE really built to this six-man throughout the show, I'm sure in an effort to get the audience to remain engaged, but I'm not sure this six were really what people wanted to see. Going with Rollins' open challenge in the main event, to me, would have been a bigger hook, but perhaps WWE was worried that people would be expecting some sort of swerve in that segment and a massive tune out throughout the program, which is also understandable.
The Finish
A perfectly fine show, overall. It was enjoyable and continued to be a good build for SummerSlam. But the overall PPV promotion seemed to be stagnant here, and the show felt like a breather show, with the exception of the Rollins-Neville match. There was a lot of reiteration of what we've seen the last few weeks.