News
WWE is Building Its Next Monster With Braun Strowman
Braun Strowman has had an eventful two weeks, including collapsing a WWE ring ...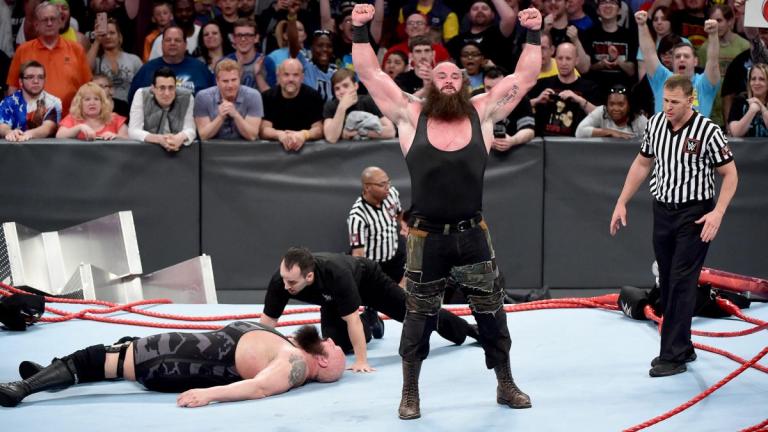 WWE is investing in a new monster.
Braun Strowman beat Big Show in the main event of Monday's Raw, with the ring collapsing in the process. Well, Strowman didn't get an official win, but Strowman stood tall over the fallen Big Show after a top-rope superplex crumbled the ring.
It's the spring. It's post-WrestleMania season. It's time for WWE to invest in new stars and stop relying on the part-time wrestlers they've been relying on to get them through WrestleMania season.
Strowman is someone they're clearing investing in moving forward. After a big night the last two weeks, nearly killing Roman Reigns and now crushing the ring under Big Show, Strowman is getting a big push. With the Universal Champion off television, Strowman's build as a top heel becomes even more important. WWE needs a draw on Raw, and Strowman has the chance, as a heel to fill that role.
Then, later this summer (probably at SummerSlam), there's the potential for a big showdown between Lesnar and Strowman for the title, and it will likely serve as a crowning moment for Strowman.
That is, of course, if they don't succumb to the temptation to make Roman Reigns look like a superhero in his match with Strowman at Payback in about two weeks. That's a legitimate fear. The hope is that WWE is building up Strowman has a legitimate, menacing monster. The fear is that WWE is simply building up Strowman in the short term, in order to give Reigns a win over a menacing giant at Payback in two weeks.
Given how they've handled the booking of Reigns as the company's top babyface, that fear is completely legitimate.
Samoa Joe beat Chris Jericho
This was a really good opener for what turned out to be a solid show. Joe getting a clean win over an established guy like Jericho does a lot for his push. Later in the show, Jericho did an interview where he talked about the loss and I thought that did a lot to put over Samoa Joe as a top talent. It cemented the win, and gave it more meaning that typical WWE matches have.
Luke Gallows & Karl Anderson beat Enzo Amore & Big Cass
Good match, but I struggle with the setup. Gallows and Anderson were supposed to face the Golden Truth, but they were both attacked backstage by Braun Strowman. Gallows and Anderson called out "any team in the back," and out popped Enzo and Cass, in full gear. Why? Were they backstage waiting for a match later in the show? Nothing was ever explained.
They're also finally playing into Gallows and Anderson's past in Japan. Anderson brought it up in a pre-match promo.
TJ Perkins beat Jack Gallagher
It's to a point where I would prefer they just keep the Cruiserweights all on 205 Live. These matches aren't getting over on Raw. The arena was a funeral palor during this match.
From a booking standpoint, it was put together well to get heat on the heels. Corey Graves was good on commentary as well, putting over Perkins new heel persona the way a heel announcer should.
Alexa Bliss beat Nia Jax, Sasha Banks and Mickie James in a four-way match to become No. 1 contender to the Raw Women's Title
This was a really fun match with a surprise winner. Everyone, myself included, thought that Jax was going to get the win here. Although, when Michael Cole said Jax was his pick, it immediately made me believe she wasn't going to win the match.
Bliss and Bayley should be a really fun feud for both wrestlers.
Finn Balor beat Curt Hawkins
It's good to see that Balor isn't seriously injured after reportedly suffering a concussion last week on Raw. There were reports that he was going to be concussion tested on Monday, and obviously he passed here.
I got a kick out of Hawkins' promo before the match, too. He talked about how someone who wanted to main-event Raw next week should wrestle him, because he's a starmaker. Hawkins embracing his loss last week was clever.
Jeff Hardy beat Cesaro
This was a really fun match, but the build wasn't proper. They barely announced the match prior to it happening. This was Jeff Hardy's first singles match in WWE for almost eight years. There should have been more build than a mention prior to the commercial break.
The crowd didn't seem to know who it wanted to win, which is understandable considering they're both babyfaces.
Braun Strowman and Big Show wrestled to an apparent no-contest
A fun ending to an overal fun show. It's nice to see WWE moving away from the part-timers now that we're out of WrestleMania season. Brock Lesnar, Undertaker, Triple H … none of them were anywhere near this show.
Hell, they main-evented the show with Big Show vs. Braun Strowman, and not only did they get away with it, it went over really well.
Even though the collapsed ring was a little predictable with the LCD screens missing, it was still fun despite the teases earlier in the match. The crowd gave it a huge reaction despite the most of them knowing exactly what was to come. And kudos to the referee, who took the hardest bump of the three people in the ring!