News
WWE is Blowing it With Daniel Bryan
Our worst fears about the WrestleMania 31 plans for Daniel Bryan have come true. There are none.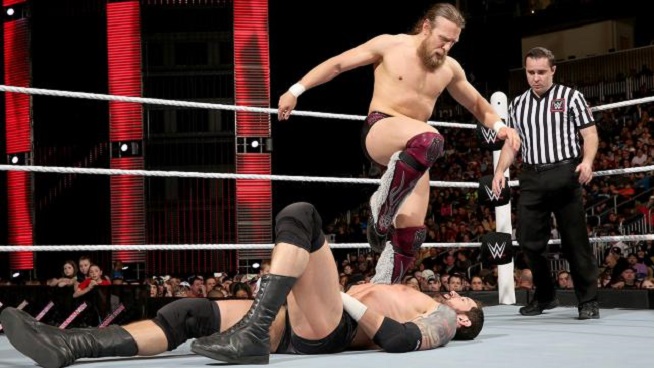 WWE has absolutely, positively no idea what to do with Daniel Bryan. I know what you're saying. "What else is new?" Right? But it's not rocket science. This really shouldn't be that difficult.
Once Bryan lost to Roman Reigns at Fastlane last month, I was willing to see what WWE's plans were for Bryan at WrestleMania. OK, so he's not their top priority, that's clear, but surely they must have something planned for the guy getting the biggest pops on the roster.
Right?
Wrong.
Bryan is going to end up in a ladder match for the Intercontinental Title. He's going to be lost in a spotfest filled with a group that includes R-Truth, who, no offense, has been doing jobs on television since he teamed with the Miz to wrestle the Rock at Survivor Series in 2011.
If WWE didn't want Bryan in the WWE Title picture, then fine. I can accept that. But there are other options are their disposal that would certainly appease the Bryan fanbase, and make for a much, much better match. Most of Bryan's most ardent fans are guys like myself. 20-somethings or 30-something males. We're that loud, vocal "minority" that has been driving the Yes! movement, for the most part.
Guys like us, we like pro wrestling. We enjoy things like, say, Ring of Honor.
Oh, what's that you say? WWE has one of the biggest ROH stars in recent memory, Kevin Owens, on their NXT roster?
I'm upset WWE isn't listening to its fanbase and featuring Bryan in the spot he deserved, but if it gave Bryan's vocal supporters a dream match against Kevin Steen, er, I mean Owens, I think that's something we could all swallow just fine.
There could be several dream matches on the horizon for Bryan. Owens. Adrian Neville. Finn Balor. Hideo Atami. Sami Zayn. Solomon Crowe.
And if WWE signs Samoa Joe? Yes please!
So there's a way to satisfy the Bryan fans if WWE really wanted to do it. But they don't. That's the problem. They see Bryan as a midcard act. They see Daniel Bryan as not much more than R-Truth. And that's what makes this entire Bryan situation so frustrating. If WWE doesn't think he's champion material, then so be it. But there are ways to still give the audience what it wants!
Are you telling me they couldn't have put together some sort of story to debut Owens on WWE television where he cost Bryan his title shot against Reigns, so say Bryan makes a shocking appearance in NXT, costing Owens the NXT Title in a rematch with Zayn? The entire angle could be set up in two weeks. Bring Owens to Raw and give him a backstage interview. Say they're inviting NXT talent to Raw to show them what it's like. Make something up. Maybe give Owens a squash match on Raw. Feature him a little bit.
Then let him cut a promo. Make it like the Oscars. He's going long, the show needs to move on, a referee tries to take the mic away, he refuses, out comes Daniel Bryan for his match against whoever. Owens feels disrespected, shows up unexpectedly at Fastlane to cost Bryan the belt and give him a beatdown similar to Zayn. Owens and Zayn rematch on an NXT show, Bryan shows up as a surprise and costs Owens the title. Eye for an eye.
Then you have an angle which takes Owens and Bryan away from the respective titles, and puts them in a personal issue for a match at WrestleMania. Kevin Owens could even bring up his time as ROH Champion.
"All I ever heard was Daniel Bryan did this when he was champion, Daniel Bryan did that. When I became NXT Champion, and it was my time to talk to the WWE audience, who has the gall to interrupt me? Daniel Bryan."
You know these two are money and you know they would deliver.
I know Owens just debuted on NXT in December, but he's been wrestling for 15 freaking years. I think he can figure out his way around a WWE ring.
If you don't want to bring a guy up, put him one-on-one with Rollins.
But that's not going to happen. Daniel Bryan will be lost, instead of featured, at the WWE's biggest showcase of the year.
No! No! No!
Quick Strikes
1) Wade Barrett, the Intercontinental Champion, has lost his last four matches on television. Either put him over, or give someone else the belt! If WWE really wants to know why their secondary, or "mid-card titles" don't mean anything, look no further than this insane methodology. When you've been treating your U.S. and Intercontinental title holders like just any other jobber for more than a decade, you ruin the value of those belts. It shouldn't be breaking news, but apparently it is to some people who work in Stamford, Conn.
2) Guess what? WWE also had its Tag Team Champions lose!
3) John Cena and Rusev is official for WrestleMania after a good segment where Cena had the STF locked in on Rusev, and wouldn't let go until Lana agreed to his demands.
4) Randy Orton is a babyface again. He turned on Seth Rollins in the main event, allowing Roman Reigns to pin Rollins in a handicap match.
5) Bray Wyatt cut another great promo on Undertaker, who responded by sending some magic to burn Wyatt's chair. It was typical Undertaker theatrics, but it's also what the people want to see at this point. That match is official for WrestleMania.
Match Results
1) Daniel Bryan def. IC Champion Wade Barrett in a non-title match
2) Dean Ambrose def. Stardust
3) Ryback and Erick Rowan def. Big Show and Kane
4) A.J. Lee def. Summer Rae
5) Rusev def. Curtis Axel
6) New Day def. WWE Tag Team Champions Tyson Kidd & Cesaro in a non-title match
7) Naomi def. Natalya
8) Los Matadores def. The Usos
9) Roman Reigns def. Seth Rollins & Randy Orton in a Handicap match
The Finish
YAWN! It's supposed to be WrestleMania season. It sure doesn't feel that way.