News
WWE Ignores Royal Rumble Results, Tweaks Wrestlemania Main Event
WWE looked like they buried Roman Reigns on Monday Night Raw, but don't be fooled …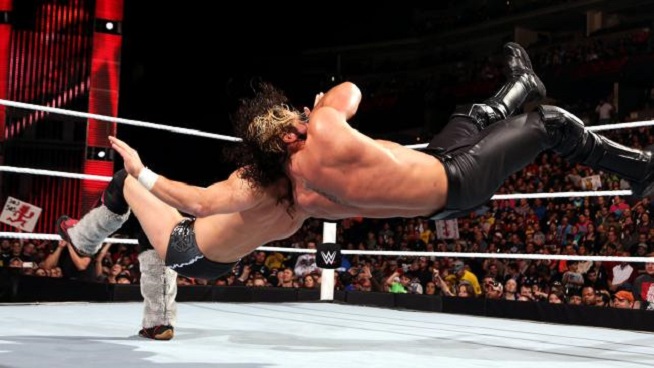 If history is any indication, Roman Reigns will be imitating Superman more and more on his road to Wrestlemania in March, and it will stretch far beyond just his finishing punch. Monday Night Raw kicked off with the announcement that Reigns will have to do more than just win the Royal Rumble match in order to earn a shot at WWE Champion Brock Lesnar at Wrestlemania. For a second straight year, WWE has stripped the Rumble match of its integrity, changing the rules just weeks after the decision was made.
In Raw's main event, Seth Rollins wrestled Daniel Bryan for the right to face Reigns at Fastlane. The winner of the match with Reigns would go to Wrestlemania to fight Lesnar for the title. Bryan won, ironically with some help from Reigns, and WWE seems to be giving the fans that booed Reigns at the Royal Rumble exactly what they want.
Well, if you believe that, I'm afraid I've got some bad news …
Roman Reigns will beat Daniel Bryan at Fastlane. The seeds were planted last night. I wrote in this space last week how I thought WWE might be priming Reigns for a heel turn, and there were still some subtle hints to that on Raw, but after watching more of the evidence unfold, it seems clear that WWE is going to stick with its original plan.
After Reigns was duped into the stipulation, Triple H immediately set up a match with Big Show, which Reigns lost. It was a curious booking decision, and not a good sign if you're Daniel Bryan. By the end of the night, Reigns was the one standing tall. He speared Big Show into next week during the main event between Bryan and Rollins, and then helped Bryan win the match. It's the same booking philosophy WWE has utilized with John Cena for years. They stack the odds, then Superman … or SuperCena … Or SuperReigns … gets what's his in the end.
By setting up the match between Bryan and Rollins, they're also taking away the notion that Reigns was just handed this opportunity. It's all perception. If WWE believes this is going to quiet the portion of its audience that doesn't believe Reigns can cut a promo or wrestle a good main-event match, then it has another thing coming. But WWE is trying to change Reigns' perception.
In a backstage back-and-forth with Bryan in the locker room, the lines fed to Reigns even gave him more of an edge. He was showing more heel tendencies. It's the same clues that made me believe they were thinking of turning Reigns last week. After watching Raw unfold, I think it's more WWE trying to give Reigns an edge so that the vocal portion of the WWE audience accepts him.
John Cena is booked as a hero. Steve Austin wasn't a hero, he was an antihero. They're trying — and we'll see how this goes — to give Reigns some of that same edge. There are still avenues they could take to turn Reigns heel; avenues I still believe are better for his long term growth as a top star. It's easier to make the crowd hate you than it is to make the crowd accept you. If you can get over as a top heel, when you're turned, you're automatically a top babyface.
WWE could cave to the pressure and put Daniel Bryan against Brock Lesnar in the main event. Bryan could go over, and the fans get what they want. In the meantime, Reigns is fuming. He only accepted the match stipulation at Fastlane because of pressure from the fans. Pressure from the fans that booed and told him he wasn't good enough. Reigns could blame the fans for his loss and turn on them in a promo.
Boom, you have a new heel.
It also opens the opportunity for Paul Heyman to work with Reigns, showing him the ropes of a good promo. After Brock leaves, Heyman recruits Reigns and as his representative, gets him a title shot against Bryan. We spend April, May and maybe June with Reigns and Bryan on top in the main event, feuding for the WWE World Heavyweight Title. Bryan teaches Reigns how to work, Heyman teaches Reigns how to speak. In a few years, once he's established as a top heel, they can turn him babyface, and he's a made man.
That's what I would do … but it's not up to me.
Quick Strikes
1) Triple H and Stephanie discussing backstage how they aren't even allowed to put Reigns in that match at Fastlane, with cameras present but apparently not noticeable to them, is infuriating. They show wrestlers watching the show on monitors in the back all the time. No one saw that interaction? No one watched it and decided to go to Reigns and say, "Hey, Roman, I just heard Triple H say on national TV that he can't even take that title shot away from you." It's lazy writing.
2) Dean Ambrose cutting a promo on the Intercontinental Title once again makes the title sound really important, which is great. I thought they were heading in this direction when Ziggler won the belt last month, and we all know how that ended.
3) WWE seems to be setting up a Goldust vs. Stardust match at Wrestlemania after Stardust walked out on Goldust last night.
4) Who wrote that John Cena promo? He came across as a heel, bringing out Ziggler, Erick Rowan, and Ryback, but spent more time ignoring them and talking about himself. It was sort of a waste to even have those three guys out there, and made Cena look like a self-centered heel. Even later, he didn't help Rowan when he was in trouble with Rusev. Why?
Match Results
1) Big Show def. Roman Reigns
2) The Ascension def. The Dust Brothers
3) Ryback def. Luke Harper
4) Cesaro def. Jimmy Uso
5) Bray Wyatt def. Dolph Ziggler
6) Paige def. Alicia Fox
7) Sin Cara def. The Miz
8) Daniel Bryan def. Seth Rollins
The Finish
The first hour made me question why I still watch the show, but the final two hours were really good, with some great matches. Everything after the Cena promo was terrific.