News
WWE Hints at Behind the Scenes WrestleMania 31 Problems
There are plenty of rumors about WrestleMania 31 flying around, and WWE seems to be playing with them on camera.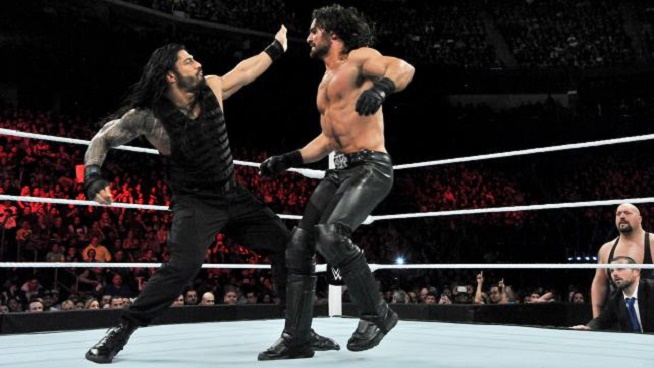 There were a lot of moments on Monday's Raw that would make the insider-fan tilt their head a little to the side in interest. With so much going on backstage, the biggest being a reported rift between WWE World Heavyweight Champion Brock Lesnar and WWE head honcho Vince McMahon, is what's going on in front of the camera a wink, or perhaps more than that, to what's going on behind the curtain?
Let's start with the obvious: Seth Rollins beat Roman Reigns, 1-2-3, in the middle of the ring. Now Rollins had help from Randy Orton, and the result of Orton's interference resulted in an infuriated Reigns clearing out the entire Authority at ringside, but it did make me question whether or not WWE is working towards a backup plan, should something with Lesnar fall through before WrestleMania 31 in California later this month.
All indications are that Lesnar will fulfill his contractual obligations. But WWE would be smart to have a backup plan. After all, Lesnar has a history of being somewhat stubborn.
If the issues — they're reported as being business related, and not booking — aren't resolved before Wrestlemania, and Lesnar does fulfil his obligation and has a match with Roman Reigns, what will that mean for the main event? Assuming those issues aren't cleared up and Lesnar is walking away from WWE after the show, it could spell disaster. What's Lesnar's motivation to really put on a strong showing? As I mentioned last week … do you remember Wrestlemania 20 against Goldberg? What a gong show that match was.
There were other instances on Monday that would leave one wondering if there were more shoes to drop. There was a reference to Eric Bischoff, which is the second time in one week WWE has mentioned Bischoff (he was cited on the WWE website last week). With Triple H vs. Sting evolving into WWE vs. WCW, you wonder if Bischoff might be brought in before Wrestlemania.
Paul Heyman's promo in Lesnar's absence also could have raised some eyebrows. Heyman mentioned UFC's Ronda Rousey by name, just two days after Lesnar was cageside for Rousey's title defense against Cat Zingano, sitting next to UFC president Dana White.
Lastly, but the biggest, was John Cena's reaction by the New Jersey crowd. You knew it was coming. The Northeast — Philly, Boston, N.J., New York — typically aren't the most Cena-friendly crowds. Newark was no exception. Stephanie McMahon was cheered when she mentioned that Cena might not even be on the Wrestlemania card.
Aside from keeping Cena off the show altogether, there isn't much WWE could have done with the exception of taking the promo out of the program. Perhaps it would have played better on Smackdown or even next week in Pittsburgh. In two weeks they'll be in Des Moines, Iowa, and that's likely to be a Cena-friendly audience, but this wasn't and it played very poorly.
WWE has to know that Cena's going to get that reaction in certain markets. Why put him out there in that situation then? Maybe it's just because they have to on the road to Wrestlemania, and to get from point A to point B. I doubt that's how they want Cena perceived.
Or is it?
Quick Strikes
1) Tyson Kidd as a heel has been winning me over. His very reaction to his wife, Natalya, suffering an ankle injury was as heel as it gets. His facial expressions were rock solid and his delivery, without uttering a word into a microphone, could be categorized as one of the better promos of the night (aside from Heyman's). He's undersized in WWE, but it's good to see good in-ring workers finally getting pushes. Rollins, Ambrose, Bryan (when they want to) and now Kidd are all emerging at an opportune time.
2) Triple H tried to re-establish himself as a heel in a promo on Booker T, who was the fill-in for the part-time Sting. Triple H "fired" Booker, only to tell him he was just joking a few minutes later, and it was example of the power he had. As I wrote last week, WWE has planted seeds for a Triple H babyface turn at or right after Wrestlemania, but going into the match with Sting, he needs to be the heel. This promo didn't establish anything new between Sting and Triple H, but it did reiterate that he was the heel.
3) The Seth Rollins-Jon Stewart Daily Show promo had the potential to be a train wreck, but instead it was really, really good. From when the Shield split to now, Rollins has become a new man on the mic. He's hitting home runs with his promos and his ring work is some of the best in the company. Stewart, to his credit, didn't come off as a typical celebrity. He has a knowledge of the product — he referenced he was at Money in the Bank in Boston this past June — and he showcased that on Raw. He questioned whether the Authority had Rollins' best interest in mind.
If Stewart wanted to make semi-regular (once per month) appearances doing a similar segment in the future, I think it would be a good thing for WWE. Stewart really knew what buttons to push and what points to hit. He was funny, but more importantly, evolved a storyline in a good way.
Match Results
1) Dean Ambrose def. IC Champion Wade Barrett in a non-title match
2) The Usos & Naomi def. Tyson Kidd, Cesaro and Natalya
3) John Cena def. Curtis Axel
4) Paige def. Divas Champion Nikki Bella via DQ
5) Daniel Bryan def. Luke Harper
6) Seth Rollins def. Roman Reigns
The Finish
These are the types of Raws we're going to get in an era where the show is three hours, and three of the top matches at Wrestlemania feature a guy who isn't around (Lesnar, Sting, and Undertaker). Bray Wyatt continues to be on point with his mocking Undertaker promos, but sooner or later we'll need to see the Dead Man respond. Even if it's just a message on the screen.
Rusev did well reacting to the crowd on his side in his promo, but WWE has still failed to answer what they're going to do with Daniel Bryan following Fastlane and heading into Wrestlemania. They teased adding him to the Intercontinental Title Ladder Match, but still nothing was named. Bryan wrestled in an unadvertised match, for crying out loud.
It definitely seems strange to see both Cena and Bryan involved in secondary-title feuds, but maybe that could do something to bolster the value of those belts?
It would be nice to see the Intercontinental Championship especially become that "worker's title" again, where it's usually held by the guy who can "go" the most in the company. That tradition was set with Razor Ramon, Shawn Michaels, Ricky Steamboat, Mr. Perfect and Bret Hart. Maybe Bryan could be the one to reignite that flame?