News
WWE has Wrestlemania plans for Daniel Bryan and Roman Reigns
WWE seems to be embracing the Roman Reigns reaction as he continues to show heel tendencies on the Fastlane to Wrestlemania …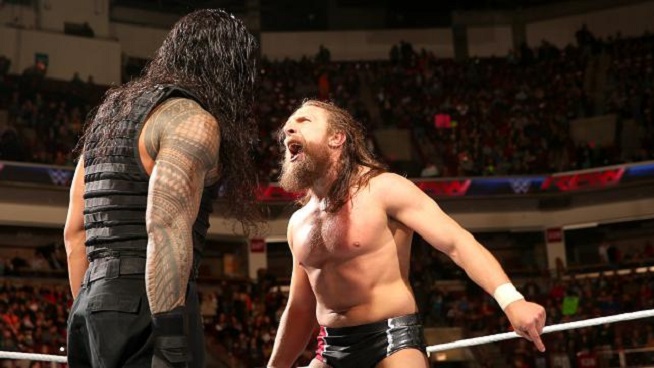 With now two years of the live crowds hijacking WWE's Wrestlemania plans, you would think – or at least hope – that the message has been sent. No matter internal management's view on Daniel Bryan, he's a top guy in the eyes of the WWE audience. That can't be denied. He's not the corporate vision of what a leading man is, but the corporate vision also isn't buying merchandise, tickets or network subscriptions.
Steve Austin wasn't considered a "top guy" by WWE management either. He was small for WWE standards, and when he first broke into the company in 1996 he was told by Vince McMahon that he was never to speak, and when he did, it should only be in a monotone.
Shawn Michaels wasn't supposed to be a "top guy" in WWE. He was far too small. But his athleticism and charisma captivated audiences, and he is surely one of the best ever. Same goes for Bret Hart, who broke through as a "top guy" in an era where size dominated.
Daniel Bryan's story is a similar one, yet there seem to be more roadblocks put up in front of him. Needless to say, he keeps bulldozing them down. The Paul Heyman promo on Raw last night seemed to set the stage for a three-way match at Wrestlemania. Vince McMahon doesn't like three-way matches, and I don't fault his reasoning, but in this case, it's hard to argue that it's not "best for business."
Heyman spent equal time cutting his promo on Reigns and Bryan. When Reigns and Bryan interacted in the ring, Reigns continued to show heel tendencies. His facial expressions were smug and arrogant when he and Bryan were jawing in the show's opening promo segment.
When they tagged against Big Show and Kane, and Kane moved to dodge a flying knee from Bryan, resulting in the knees slamming into Reigns' face, Reigns got up and shoved Bryan to the mat. From the viewers' perspective it was clearly an accident, yet Reigns reacted with force towards Bryan, the fan favorite.
Later in the show, Triple H put together a 5-on-2 handicap match, putting Bryan and Reigns against Big Show, Kane, Seth Rollins and J&J Security. Reigns won the match with a pin, but only after Bryan did all of the work. Reigns was down on the apron for much of the match while Bryan looked like the hero, fighting off all five competitors. Not so ironically, it played into the criticism many had of the Royal Rumble match, where Reigns didn't really do enough in the match to showcase what he can do.
After the match, Bryan was the one upset with Reigns, who blind-tagged into the match as Bryan was going for his finisher and stole the pinfall victory. That's a pretty self-centered action on Reigns' part. Bryan's reaction was a bit more subdued than Reigns' earlier in the show, though he did return the favor by shoving Reigns.
Here's the kicker, though. Reigns then speared Bryan to the mat, and the show went off the air with Reigns standing over an injured Bryan, who did all of the work for his team to win the match. That's a clear message that Reigns might be heeling. At the very least, he's becoming a tweener.
In an interview with Steve Austin last week, Triple H said the worst thing you can do to a new talent trying to get over is to make them a babyface. That statement is 100 percent correct. People nowadays gag on what they feel is being forced down their throat.
Was that an indication that WWE is embracing the jeers Reigns has received? Perhaps. For the good of his character, they should. It's much easier for Reigns to establish himself as a top-level heel as a singles star before turning babyface and becoming that "face of the company" WWE is looking for.
John Cena was a heel before he was a "top guy." Steve Austin, Shawn Michaels, Bret Hart … they were all heels before they were babyface world champions. Telling the crowd they have to love Reigns is going to get them nowhere. Allowing the crowd to hate him will set him up for future success.
Quick Strikes
1) It's really amazing how much Rusev has improved in less time than Reigns has, on the same television show. Since WWE has started Rusev speaking, he's become a much better promo. He also thought well on his feet, playing up his music skipping while he made his ring entrance by blaming it on "them" trying to keep him quiet for being an outspoken Russian. His beatdown of Cena on the ramp was a strong showing from him as well, planting the seed that Cena might really be in trouble at Fastlane. My guess is that they actually put Rusev over – Cena's immune to losses anyway – and then give Cena his rematch at Wrestlemania, where he'll be the first person to pin Rusev clean.
2) Sting accepted Triple H's invitation at Fastlane for a face-to-face in an awkward segment where they had a fake Sting, who looked nothing like Sting, in the ring and mysterious superimposed text on the screen. It worked, but it's giving Sting a very Undertaker'ish vibe.
3) WWE began the build to Bray Wyatt vs. Undertaker at Wrestlemania, depicting a video of Wyatt in what looked like a smokey cemetery, talking about "you" and how he doesn't fear "you" anymore and it was time for "him" to go home. Very cryptic, but also very telling.
Match Results
1) Daniel Bryan & Roman Reigns def. Kane & Big Show via DQ
2) Ryback def. Seth Rollins via DQ
3) Paige def. Brie Bella
4) Bray Wyatt def. Dolph Ziggler
5) New Day def. Goldust & Stardust
6) Cesaro & Tyson Kidd def. The Usos
7) Sin Cara def. Damien Sandow
8) Dean Ambrose def. Curtis Axel
9) Roman Reigns & Daniel Bryan def. Kane, Big Show, Seth Rollins & J&J Security
The Finish
WWE continues to build well to Fastlane. The Bryan-Reigns match has received significant hype with a lot of undercard matches also getting some good billing. Not everything is announced yet, but Reigns-Bryan, Cena-Rusev along with the Triple H-Sting promo should make it a solid February show before Wrestlemania.