News
WWE Has Fixed Roman Reigns
It's hard to believe, but WWE may have finally solved their Roman Reigns problem.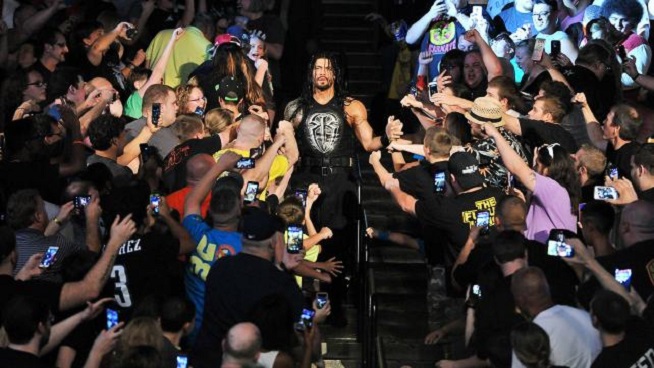 It's kind of funny, looking back, at what WWE did with Seth Rollins and Roman Reigns. Think about the progression for a minute. The perception was that Reigns was "hand picked" by WWE to be the heir apparent when he won the Royal Rumble back in January. The WWE fans then gagged on that story, booed Reigns, and forced WWE to change its plans.
What's funny to me, though, is what WWE did to change the plans.
They went with putting the belt on Rollins, who The Authority has "hand picked" as the "new face of the WWE." They basically took reality, and made it into storyline. Clever.
It's also worked quite well. Reigns is no longer being booed as a babyface and he's "earning" that spot with some good matches and better promo work. This feud with Bray Wyatt is going to elevate him to another level, I believe. He's going to get to work on some out-of-the-ring mechanics, including his promo and acting abilities. Playing him off as a family man also hits home with the audience, especially since WWE isn't doing it in a gagworthy way.
Basically, WWE has done what looked like it was impossible to do back in February and March. They've made Reigns a believable babyface. There are still some cracks there that need some spackle, but the overall transformation, in such a short period of time, is very good.
Doing what they did at WrestleMania has also clearly elevated Rollins. When he does drop the title, whether it's to Lesnar or someone else, he'll be a main eventer. He's at that level now. He's also under 30 years old, which is alarmingly rare in this era of WWE. Rollins probably has 15-16 good years of full-time work, if he wants it, as a main eventer still ahead of him. Chris Jericho is now part-time, but worked full-time well into his 40s. So did Triple H and John Cena is pushing 40 himself (he just turned 38 in March).
So looking back at what WWE did with the albatross that was its main-event picture around WrestleMania, it's amazing that they've fixed so much of that damage in just three short months.
Match Results
1. Kane defeated Dean Ambrose: This match began to tell the arching storyline throughout the night of Rollins trying to reunite The Authority. Rollins' music played, which distracted Ambrose, and allowed Kane to get the win. It gave off the undertone of Rollins trying to make sure his house was in order heading into his match with Brock Lesnar at BattleGround.
2. The Primetime Players defeated The Ascension: This wasn't anything more than your basic tag team match. I never really liked the idea of champions wrestling in non-title matches, though. Doesn't make much sense to me. So if the Ascension, who is "ranked" lower and not worthy of a title shot, would automatically be entitled to one if they beat the Prime Time Players? Just doesn't make sense to me.
3. Sheamus beat Roman Reigns by count out: I really liked the finish to this match. Wyatt appeared on the screen and appeared to be talking to Reigns' daughter, who then darted backstage and lost by count out. Wyatt was actually talking to an empty chair. The storyline in itself is kind of lame, but it's adding some dimension to Reigns and Wyatt's promos have been great again.
4. Neville defeated Kofi Kingston: All that stuff I wrote about a few weeks ago with Kofi Kingston maybe being in line for a big singles push, please delete that from your memory. Kingston lost here, convincingly, and when WWE announced the July 4 special on WWE Network, they advertised Brock Lesnar, but didn't announce who he would be wrestling. So yeah, just forget it. It's over.
5. King Barrett beat Zack Ryder: The crowd was so quiet during this match, I thought someone was being tended to by paramedics at ringside or something.
6. The Bella Twins defeated Naomi and Tamina: WWE at least made this match make some sense. But it was still the standard WWE Divas match, without much time or depth to it. With three hours on the show, you would think that they would be able to come up with more things for this division to do at this point, especially given the talent. If you're a divas under the WWE umbrella, and you don't mind less pay (I assume), you're much better off in NXT right now than you are on Raw or Smackdown.
7. Ryback defeated Mark Henry: Ryback made a good effort trying to be a babyface, talking about reuniting his parents the night he won the I.C. Title. I'm not sure how over it got, though. This was one of those things that felt very scripted, and with something that was probably really personal to Ryback, it would be much better just letting him speak his mind and go a little off-script.
8. Dolph Ziggler beat Adam Rose: This match made my brain hurt. Ziggler and Lana are kissing, Rose and Rosa said they could kiss better, and Rusev is backstage falling down on his crutches when Summer Rae walked by. Rusev was a brutal monster and WWE is turning him into mush. I don't mind the angle for Ziggler, because he pays that cocky, full-of-himself role, but I have no idea what WWE is doing with Rusev here.
The Finish
The overall show wasn't terrible, but I didn't think it was great either. The Rollins-Authority storyline was very good and I liked that arching detail. The Cena-Owens promo was also very good in the middle of the show — and I had no problem with Cena not selling the back injury … it's been two weeks — but everything else felt like a lot of filler. And with a three-hour show, that's not good.