News
WWE Has Been Ahead Of The Curve On Raw
WWE has been booking main events ahead of time for the past two weeks, and it's given fans something to look forward to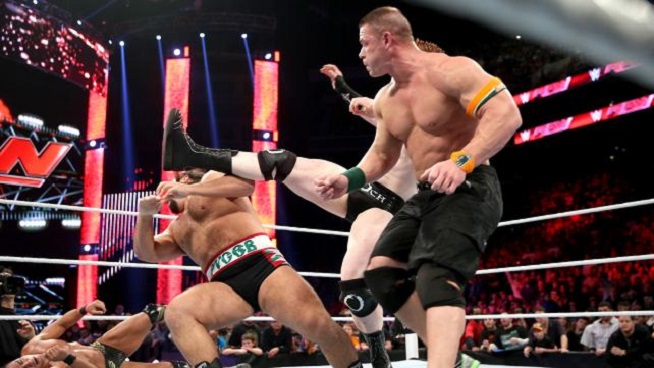 Roman Reigns and Sheamus will wrestle in a WWE Title match next Monday on Raw, kicking off the new year in style for WWE. The special guest referee will be none other than the WWE chairman himself, Vincent Kennedy McMahon.
Two weeks in a row, WWE has actually done some advanced-booking ahead of next week's show. It's provided a much-needed hook for fans to at least look forward to something every week. The booking-on-the-fly philosophy never sat right. Booking main-event matches in the opening promo segment never made any sense to me whatsoever. You're going on the air with a three-hour broadcast of a live wrestling program, and you don't have a main-event match booked?
Imagine buying a UFC pay-per-view, only to find out who was fighting after you tuned in.
Last week WWE let the audience know that this week's main event was John Cena, in his return match, against Alberto Del Rio. This week they pre-booked the Sheamus-Reigns main event. That's all they need to do, really. They don't need to tell the audience everything that's happening, but at least the main event should be known before the previous show goes off the air, with the exception being weeks where WWE runs a live special on WWE Network on Sunday nights.
Also, once the show is written and put in that proverbial sealed envelope, why not announce more matches? Let the audience know who they are tuning in to see. It would eliminate the randomness of some of the show, where it feels like matches are just thrown together for no apparent reason.
This is also where a ranking system could come into play. WWE also runs the Top-25 on its website. Why not use that on-air? Let the audience know on Thursday or Friday that Monday night on Raw, we'll see No. 4 Kevin Owens against No. 2 John Cena. And if Owens wins, that means he'll move up. Cena needs the win to stay that high in the rankings.
It's an easy formula. It might give the creative team more direction as well.
But let's take it one thing at a time. For now, the pre-booking is a welcome change.
Last night's opening segment saw McMahon arrested after semi-assaulting a police officer. He made bail later in the show and then booked the title match for next week.
We can only hope that Vince comes to the ring wearing his cutoff referee shirt.
Something has to happen here. I doubt that WWE puts the title back on Sheamus, so there needs to be some sort of out. Either an unexpected turn — maybe Triple H or Stephanie turns on Vince, allowing Reigns to retain — or some other angle that will surely take place during this match.
That's what makes this advanced booking so much more exciting. You know going into a match like this, something has to happen. It's not going to be a basic match with a run-of-the-mill finish with Vince as referee. There's an angle here. The way WWE has been utilizing Reigns, I'm actually excited to see where this goes.
Match Results
1. Neville beat Kevin Owens
2. Sasha Banks beat Becky Lynch
3. Kalisto beat Kofi Kingston
4. Big E beat Sin Cara
5. Ryback beat Big Show via count-out
6. Sheamus, Rusev & King Barrett beat Dean Ambrose & The Usos
7. John Cena beat Alberto Del Rio via disqualification in a U.S. Title match (Del Rio retained the U.S. Title)
Quick Strikes
1. WWE booked Kevin Owens perfectly on Monday. He lost to Neville in 22 seconds, but came out of the night far more over as heel than he did entering it. The post-match beatdown on Neville was a sight to behold, including a menacing clothesline that sent Neville twisting and twirling through the air. He took a heck of a bump there for Owens. Then later in the night, Owens attacked Intercontinental Champion Dean Ambrose, driving him through the announce table. Owens isn't truly big enough to be booked as a "monster," but he came across as a legitimate threat to just about anyone who steps in his path. With rumors that Owens could be lined up for Brock Lesnar at WrestleMania 32, this would be a good start to building him up as a big, menacing bully who can't be stopped … until he runs into the beast incarnate.
2. Becky Lynch and Sasha put on another great match in Brooklyn, home of the Sasha-Bailey epic NXT Takeover match the night before SummerSlam. But here's a question — Sasha won the match with a rollup pin where she grabbed Becky's tights, and the announcers blatantly ignored the fact that the heel grabbed Becky's tights. This isn't the first time WWE has done this either, and it's equally baffling every time. Put over the heels doing heelish things, it puts sympathy on the babyface and also points out that the heels are heels.
3. There's no better example of WWE's frustrating even-steven booking than New Day and The Lucha Dragons trading wins in back-to-back matches. This could have been because WWE was also running a house show in Allentown, Pa. last night, which is typically what WWE does on the holidays (double tours for the full week), but the two matches essentially canceled each other out. The needle didn't move for either team.
4. The creative team is back on the Big Show train. He was the first wrestler to declare for the Royal Rumble match last night. The cool twist here was that he said he would enter the match No. 1 and then go on to win the whole thing. I can't' remember a wrestler voluntarily taking the No. 1 spot in the past. The only criticism here is that I would have liked to see them do that with a babyface. Heels should want to enter at No. 30 and get the easy win, not enter at No. 1 and "prove himself" as a winner. Unless they're turning Big Show, or there is another shoe to drop elsewhere in the storyline in coming weeks, this doesn't make much sense.
5. John Cena was very good in his return to Raw. The pre-match promo against Del Rio was different. Cena had more of an edge — perhaps it had to do with him coming out at a later hour and not being on the mic during the 8 p.m. hour where more kids are generally watching — and his use of hip-hop elements was a throwback. Near the end of the promo, when Cena said that the Brooklyn crowd was tougher than Del Rio, and then brought up Notorious B.I.G. and Jay-Z, it seemed to genuinely turn the mostly adult, smart crowd on Cena's side. It was a good example of what that segment of the audience wants to see out of Cena. Just a bit more edginess.