News
WWE Didn't Waste Balor's Entrance on Raw
Balor's persona is special, but it's not going to make or break his drawing power in WWE ...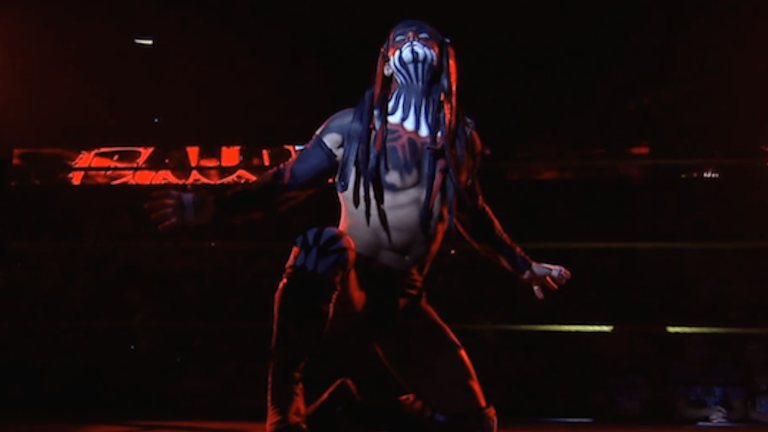 The big debate out of WWE television this week was whether or not WWE did the right thing in having Finn Balor make his "demon" entrance on Raw, rather than wait until Sunday's SummerSlamshow to bust out the new toy.
Personally, whatever.
Balor's "demon" entrance was never a big thing to begin with, if we're being honest. The paint looks cool and it's different from most other entrances in WWE today, but it's just a ring entrance.
Take the Den of Geek 2016Reader Survey for a Chance to Win a $100 Amazon Voucher Right Here!
In NXT, Balor only utilized the paint and "demon" persona for big matches. Giving it away as part of a promo on Rawdid feel like it was straying too much from the formula. That's not to say everything done on NXT has to translate to the main roster, but this would have been better if they were sticking with the script.
That said, if you're like me and you don't feel like the entrance is a big deal to begin with, you probably don't care.
While I thought WWE should have saved that spectacle for Sunday, I don't really care that they threw it out on Raw. It's a decision I would have made differently, but it's not a hill I would be willing to die on, either.
But let's get back to the entrance.
When Balor makes his "demon" entrance, to me, he just looks like a skinny Boogeyman.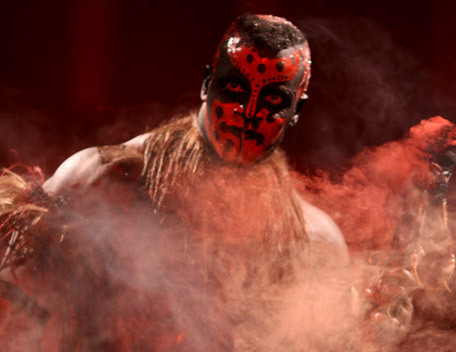 What impresses me more about Balor is his work in the ring. He's technical but he can also fly. He has a cool look without the paint. 
The point here is that the paint and the persona isn't something Balor needs. It's a gimmick, and every wrestler needs one to a certain extent, but it's not what makes Finn Balor special and it's not what is going to make him a main-event player for WWE for the next several years.
Should they have saved it? Yes. By not doing so are they hurting Balor's drawing power moving forward? Absolutely, 100 percent not.
Raw Results
1. Sami Zayn beat Sheamus
This match accomplished a few very good things. Most importantly, from WWE's perspective, the feud between Cesaro and Sheamus was boosted heading into SummerSlam this Sunday after Cesaro distracted Sheamus for the finish. Cesaro was also strong on commentary here. Lost in the shuffle a bit is the fact that Zayn picked up a good solid win over a former World Champion. Zayn has been just shuffling along since his feud with Kevin Owens ended earlier this summer, and while it was somewhat of a cheap win, the visual of Zayn pinning a former two-time champion is still a good boost for him.
2. New Day beat The Dudley Boyz
Could we be witnessing another Dudley Boyz breakup? It certainly seems that way. The Duds returned to WWE just about one year ago, the night after SummerSlam, and two weeks in a row now have hinted at a break up. Last week, Bubba glared at D-Von following a loss and now this week, D-Von "accidentally" hit Bubba to cost them a match. With SmackDown's roster lacking some star power, it might be best for WWE to move Bubba back into his Bully Ray persona from TNA and shift him to the blue brand for a strong push as a singles wrestler. 
3. Nia Jax beat Rachel Levy
Another good squash win for Jax. They can't do enough of this, in my opinion. The longer the build the better.
4. Big Cass beat Kevin Owens via DQ
From a booking standpoint this finish made a lot of sense, with the heel team of Owens and Chris Jericho getting heat on Enzo and Cass ahead of SummerSlam on Sunday.
5. The Shining Stars beat The Primetime Players
It was a short-lived reunion, as is to be expected. Titus dropped Darren Young with a Clash of the Titus which led to his team losing in just about three minutes.
I'm not sure this accomplished much, however. Titus isn't getting much of a heel reaction, albeit this was a town that doesn't typically give great reactions to begin with.
6. Neville beat Jinder Mahal
WWE seemed to make a big deal out of Jinder Mahal signing a few weeks ago, and yet he's jobbing almost instantly. Who said 3MB wasn't still together? Mahal should lose to Neville, but I would have preferred they gave their newest signing some wins before beating him so quickly. It would have made Neville's win seem a lot more important.
7. Luke Gallows & Karl Anderson beat The Golden Truth
New Day brawled with Gallows & Anderson after the match. Typical ho-hum stuff as part of a go-home show. They should be touting the tag titles a bit more than they are.
8. Charlotte beat Alicia Fox
This segment had little to do with the match and more the angle that took place afterwards. Charlotte invited Sasha in the ring and then Dana ran in and attacked Sasha. Charlotte locked Sasha in the Figure Eight and Sasha sold her knee after referees pulled them apart.
9. Roman Reigns beat Rusev in a non-title match
Huh? I'm not a big fan of giving away a pay-per-view match a mere six days before the pay-per-view. It adds intrigue with the title on the line Sunday, I suppose, but Reigns seems like a guarantee to lose now, after they've planted the seed with a win this week on Raw. That's classic 50-50 WWE booking.
It's also another example of why the three-hour show isn't working. They wouldn't have to do this otherwise.
SmackDown Results
1. Jimmy Uso, Jey Uso, Chad Gable, Jason Jordan, Mojo Rawley and Zack Ryder beat Aiden English, Simon Gotch, Konnor, Viktor, Tyler BReeze and Fandango
There were more people in this match than minutes in the length of this match.
2. Heath Slater beat Randy Orton via DQ
Slater has become a sympathetic loser. Orton came off as a heel beating up Slater until the referee DQ'ed him for not listening to his orders. 
3. Dean Ambrose beat Erick Rowan
Bray Wyatt watched this match from ringside and it appeared that he kicked Rowan out of his family after the match? Wyatt left Rowan's mask on the rocking chair and left him alone after he took the loss.
4. Becky Lynch & Carmella beat Natalya & Alexa Bliss
Nothing of real consequence happened here, except with Noami and Eva running around ringside. No one came off particularly well in this match.
5. John Cena beat Alberto Del Rio
Cena shouldn't lose to Del Rio, but this match makes a lot more sense after seeing Del Rio was suspended for violating the WWE's wellness policy earlier today.
Cena-Del Rio felt like a big match. It felt almost too big to be thrown together on a SmackDown like this. But WWE likely learned of Del Rio's suspension earlier in the day and wanted to get something out of him going away for a month, and jobbing to Cena was what they wanted to get.
They did a nice job building up Cena's history with Del Rio, dating back to their match at Hell in a Cell last fall.
After the match, A.J. Styles got involved but Cena came out on top and stood tall to end the show.