News
WWE Boo Birds Back Flying After Reigns' Fastlane Win
Roman Reigns became the No. 1 contender at WWE Fastlane, and no one was excited about it ...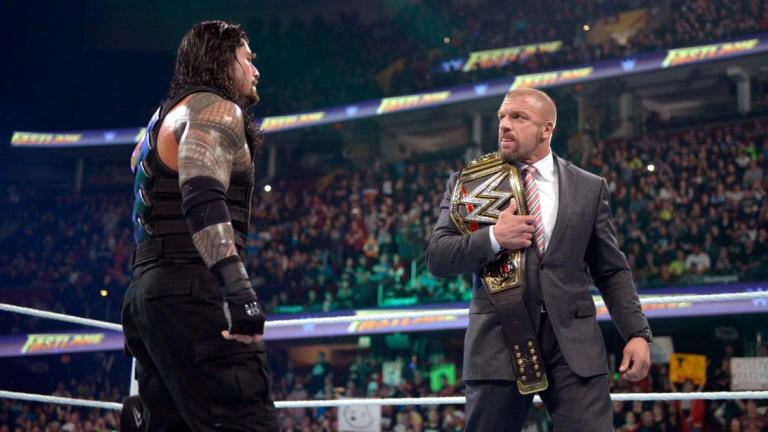 Predictably, WWE went with Roman Reigns winning the main event of its Fastlane show on Sunday night, setting up a main event at WrestleManiabetween Triple H and Reigns for the WWE Title.
Also predictably, the crowd booed. 
At this point, I don't think the booing is on Reigns personally. He's limited, sure, but so have been other WWE champions. Was Hulk Hogan a ring technician? Ultimate Warrior? There are many examples of wrestlers the crowd loved at the time, and still adores now, yet no one cared they had five moves and nothing else.
With Reigns, I do think the audience has evolved, which hurts him. The audience is smarter now, and they want to see more athletic wrestling. 
But the booing of Reigns isn't even directed at Reigns. It's directed at Vince McMahon and WWE creative.
Vince McMahon wants to push Roman Reigns no matter what anyone else thinks. He wanted to do it last year, and the audience hijacked those plans. He sure as hell isn't going to let that happen again. Reigns is the pawn in the middle, and he's catching the brunt of the reaction from the crowds.
Triple H vs. Roman Reigns doesn't feel main-event worthy for WrestleMania. While Triple H is still in good shape and, given his name, should be utilized on a show like WrestleMania, it's difficult for me, in 2016, to see him main-eventing a show like this. WWE hopes to put 100,000 people in AT&T Stadium in Dallas, and truth is, they probably will. It's not that people are so drawn in to Triple H vs. Reigns, or any other match for that matter, but WWE has been succesful in changing the mindset of the audience.
Sorry, they brainwashed you.
100,000 people will go to the show, and millions more will watch on the WWE Network, not beacuse they're excited about the match, but because they're there to see the WWE and WrestleMania brands. 
It's corporate. It's gross.
But that's the truth in 2016. WWE has become the traveling circus or Disney on Ice. 
Which is why Vince McMahon and WWE creative doesn't have to listen to you. When you boo, we hear it. I hear it. Vince does too, he just doesn't care. You want to know why? Because he already has your money. He already has all of our money, and the booing isn't a large enough percentage of the audience that it will affect WWE's bottomline one way or the other should all of the boo'ers decide to hit the bricks, and never watch again.
That might be the most ironic part of it all. The people booing, it's the same people who will buy a ticket the next time WWE is in town. Why? Because we're wrestling fans. 
WWE isn't a wrestling company. That's the infuriating part. 
WWE doesn't book for wrestling fans. They write the show for … themselves? It sure seems like it lately.
Match Results
1. Becky Lynch & Sasha Banks beat Naomi & Tamina
2. Kevin Owens beat Dolph Ziggler to retain the IC Title
3. Kane, Big Show & Ryback beat Luke Harper, Erick Rowan & Braun Strowman
4. Charlotte beat Brie Bella to retain the Divas Title
5. AJ Styles beat Chris Jericho
6. Curtis Axel beat R-Truth
7. Roman Reigns beat Dean Ambrose & Brock Lesnar to become the No. 1 contender for the WWE Title
Quick Strikes
1. There's some weird interplay going on between Michael Cole and Kevin Owens. After Owens retained his IC title in a really good match with Dolph Ziggler, Owens ewnt to the outside and stared down Cole, who stood up and congratulated him on his title defense. At some point, you can tell that this is going to lead to Owens attacking Cole, and probably giving him a vacation for a week or two. However, I'm not sure that's going to be an effective way to put heat on Kevin Owens. Cole isn't exactly beloved, and while he's at least no longer playing that ridiculous heel play-by-play man, Owens attacking Cole is going to get him babyface cheers far more than it's going to generate heat.
If WWE thinks that attacking Michael Cole is going to get him the same sympathy and draw the same heat as someone attacking Jim Ross 10 years ago, then they are tragically mistaken.
2. There was a very surprising finish to the Wyatt six-man match, with Harper, Rown and Strowman losing clean. Then, with no interference in the main event, it appears that the rumored Wyatt-Lesnar match could be off as well. It would be good reasoning to believe that if WWE truly had big plans for the Wyatt Family at WrestleManiathen they would have done something meaningful on this show.
3. Styles vs. Jericho III was a very good match, as you would expect, however I couldn't stand the spot where Jericho kicked out of the Styles Clash. I liked how Styles won the match, submitting Jericho and then WWE touting that it was the first time in four years that Jericho has tapped out, but it still kills off what should be a meaningful move for Styles. Why should anyone be afraid of that move if the first person Styles faces in WWE is able to kick out of it?
Nevertheless, Jericho did his job and built up Styles during his intro to WWE. My guess is that Styles is on his way to face Kevin Owens for the IC Title at WrestleMania,with Owens even starting to tease it on Twitter after the Styles-Jericho match concluded.
4. What happened to the third hour of this show? The Edge & Christian segment, which I had great hopes for, was flatter than flat and then the Social Outcasts match against R-Truth? it was good to see those guys on the show, but it made a "special event" or "pay-per-view" or whatever they're calling these shows nowadays, feel like an episode of Raw. Straight down to treating the time between 10:10-10:30 feel like you're slipping into a coma.